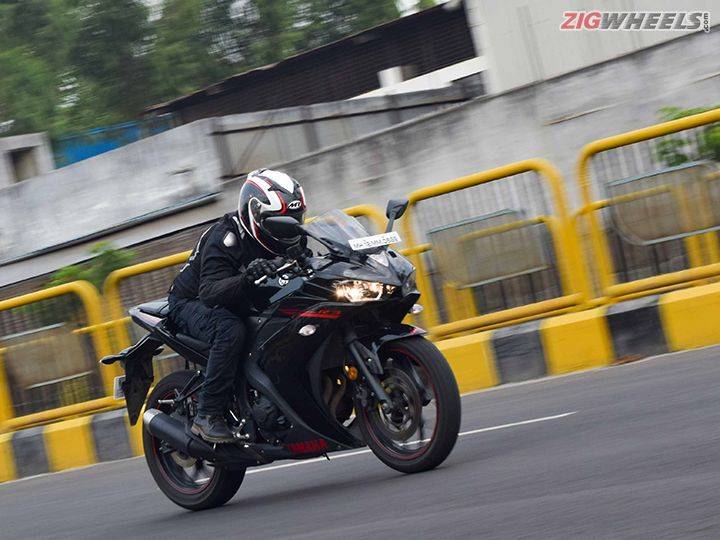 Having shifted to Pune from Mumbai last month, I had to bid goodbye to the Mahindra Mojo, a motorcycle that I'd grown rather fond of, despite being ambivalent about its looks at the outset. Now, it is a criminal offense to be in the city of two-wheelers without, well, a two-wheeler, so naturally I had to have one. But even then, I didn't expect that I would be getting my hands on the Yamaha YZF-R3.
You see, despite being inducted into ZigWheels almost a year and a half ago, and having been withdrawn from Indian showrooms recently, the R3 is still the undisputed queen of our garage, the most coveted and desirable two-wheeler of them all. Sure, it is not exactly in the best of conditions – even though its odo has clocked only just over 10k, it has been ridden pretty well and hard, as vehicles handled exclusively by auto journos usually are. But it has always been a spiffy performer and nothing was going to change that spirit.
It is also an understated machine, which is just the way I like it. Thanks in no small measure to the all-black paint scheme with just a smattering of red livery, the R3 gets dismissed for just another R15 by almost everyone but the very eagle-eyed. Which speaks volumes, considering how few of them there are on Indian roads. A "sleeper" bike, if there ever was one, then.
The first order of the day upon getting my hands on her was to take her in for a thorough service. The fading brake pads were replaced with grippy new ones, a great boon in navigating Pune roads where fast stretches are abruptly cut off by unmarked speed breakers. The engine oil had been changed recently by Ben, my colleague and the R3's previous owner, so there was no need to do that again, but all the rest of its fluids were replenished.
Cubic capacity remaining the same, there's just no substitute for more cylinders and the R3 reaffirms this notion. While its power and torque figures are middle of the road for its class, the parallel-twin mill is the R3's centerpiece. Silky smooth and stress-free right up to the redline, it is a joy to live with. The equally buttery gearbox holds up its end of the deal well too. False neutrals is an alien concept for the R3, and the gear ratios are so well spaced that you will rarely, if ever, find yourself in the wrong gear, be it overtaking or slicing up that empty new b-road. Average fuel efficiency, at 22.5 kmpl in the city, could've been better, but it is a small price to pay for the fun it offers.
One of the complaints that we've always had with the R3, right from the time it was launched, was that it could have done with better tyres. Although they would've been competent enough for most Indian motorcycles, the Nylogrip Zappers are just about adequate for the R3's handling prowess. And with more than 10k of hard riding under their belts, their edge has been blunted a lot more. The R3 is screaming for a new set of tyres–especially now that the rains have begun–something that does it justice and imparts me more confidence in the wet. If she were my own machine, I'd have dug deeper into my pocket and forked out just a bit more for properly sticky stuff like those newfangled Metzelers and Pirellis that the newer kids come from the factory with.
One of the advantages of Pune over Mumbai is the easy access you have to good biking roads. From wide and arrow-straight six-lane highways to winding ghat roads, the options are aplenty for some invigorating weekend rides. However, before I could settle into the city enough to have spare time to take her out for a long ride, the weather changed, the skies turned grey, and the rains started playing spoilsport. The R3 will have to wait a bit to stretch her legs properly, and so I'm off for yet another prayer to the sun gods.
Log
Date Acquired: December 2015
Total Km to date- 11,482km
Efficiency- 22.5kmpl
Costs Incurred- Rs 1,000 (Service)
Cheers- Comfort, butter-smooth engine & gearbox, looks
Sneers- Tyres, fuel efficiency, lack of ABS for the price