Tata Kestrel Infantry Combat Vehicle
Feb 12, 2016
Views : 30065
---
It's not every day that a civilian gets a drive in an eight-wheeled infantry combat vehicle, that can drive on land and through water. We give you the first-hand experience of Kestrel Infantry Combat Vehicle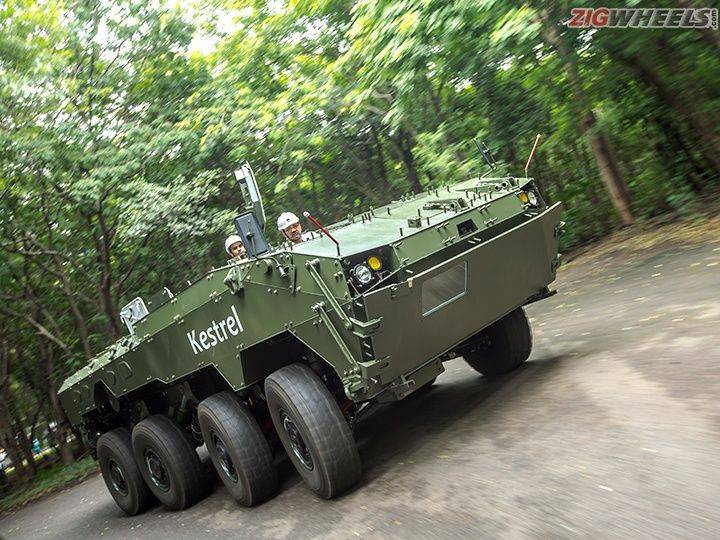 The battlefield air smells of gunpowder, with bullets whizzing past. The merciless opposition army is showing no signs of slowing down and continues to shower bullets at us. My ears are numb with the constant detonation of military hand grenade. But we have to move on, against all odds, and bring back our fellow soldiers surrounded by the enemy in their territory. Our last hope is an impromptu rescue mission. What we need is a quick, multipurpose armoured vehicle that can help us dive in the line of fire; protect us from enemy wrath and explosives; drive over slush, sand and even wade through water; and have enough power to briskly carry a dozen of our comrades back to safety.

And that's precisely what Tata Motors and DRDO joined hands to ingeniously develop — the Kestrel 8x8 — a multi-wheeled, armoured amphibious personnel carrier. Based on a modular design, this Indian armoured vehicle is aimed to operate in the frontline, ferrying soldiers expeditiously into the battle zone, and at the same time providing enough protection and firepower.

Coming back to real-time, and shaking off my imaginary battlefield scene, we are happy to report that we actually got a chance to visit the Tata Motors plant in Pune and get a ride in the company's latest vehicle. An eight wheeled monster, which stands over two meters high and has a length of just under eight meters.

Although it was first showcased to the public a couple of years ago in the 2014 Defence Expo in India, we finally got a ride in it recently. Powering this beastly figure is a Tata Cummins diesel engine that punches out 608PS. Tata is yet to reveal the torque figures, but purely by the way this 22.5 tonne, 8-wheeled armoured army vehicle catapults out on the company test track and steamrolls over broken roads and tarmac, we're sure there's no shortage of torque either. Tata claims that the Kestrel can achieve 100kmph on land, which is no mean feat.

Being an amphibious vehicle, the Tata Kestrel can also wade through roof high water without any prior preparation. There are a couple of water-jets mounted at the back of the Indian Infantry Combat Vehicle that claims to propel through water for up to 10kmph.

The engine is mounted in front left of the hull, making ample room at the back for the troop. This special military vehicle can carry up to 10 soldiers at the back and two crew in front. The crew has individual roof-hatch to get in and out, and it goes without saying that we hopped in just to get a feel of things. The narrow ingress proved that we're not half as fit as the lean soldiers who would be actually operating this mean machine. And for the ride, we got in to the rear cabin through a power operated ramp, although there are a couple of roof hatches as emergency exits.
The seating at the back is in typical combat back-to-back position, which also gives the soldiers easy access to the gun ports. The seats are specially designed and are attached to the roof so that they absorb energy, protecting the soldiers from the impact of blasts to reduce their chances of injury.

Tata claims that the ballistic protection can withstand threat levels ranging from Stanag I to Stanag IV, depending on the modular application. Even the bottom of the hull comes armoured to shield the Kestrel from blasts up to Stanag III level.
And for firepower, the Tata Kestrel armoured vehicle will come equipped with various guns and cannon launches such as a 30mm Remote Weaponry System (RWS), turret mounted cannons and missiles and will also house a 7.62mm co-axial MMG along with an Automatic Grenade Launcher.

This Indian made armoured vehicle comes equipped with four-wheel steering on the front two axles, which give it a comparatively short turning radius of 19 metres. The independent hydro-pneumatic suspension, smaller wheels with long wheel travel, help the Tata Kestrel take on uneven road with relative poise. Furthermore, the run-flat tyres are equipped with Central Tyre Inflation System (CTIS) as standard.
Tata Motors is one of the first companies in the country that is seriously pursuing the Make in India in Defence, and the Tata Kestrel is one such example that the nation should be proud of. And in the short passenger drive, we also realised that Kestrel is a great first attempt by an Indian company. Kudos