Rolls-Royce Ghost : First Drive
Aug 1, 2011
Views : 62224
---
It isn't really hard to spot the Rolls Royce Ghost one moment and then completely lose sight of it, after all, this is the Rolls you drive fast in!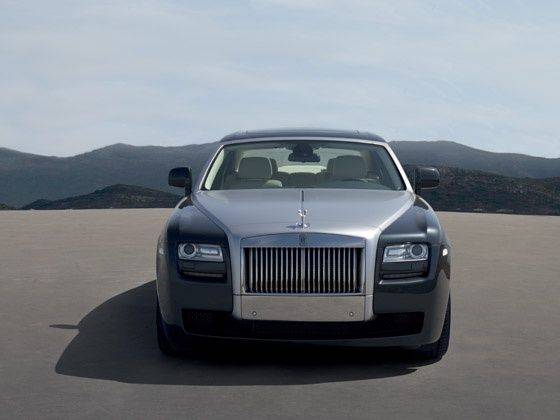 When luxury meets performance, strange things happen. The skies darken out, thunder roars and a beautifully crafted timeless piece of metal, leather and pure horsepower come together as one to create some of the most evocative vehicles known to mankind. A certain spirit takes over and when things get slightly downsized, you get the Ghost with the 'Spirit of Ecstasy' proudly mounted on the hood. Rolled out in proper RR fashion, it is a striking machine - replete with everything that makes a Rolls Royce a Rolls Royce. But the Ghost isn't about the way it looks - it's all about the way it drives.
Armed with 6.6 litres of pistons, valves and gears that work in perfect unison to splurge out 560 PS of power, the Ghost is fast all the way from when you set eyes on the brochure. It's got the kind of specs that will make you want to pop open the hood and see for yourself if all that is real - and then it throws the massive V12 badge right in your face. But displacement alone isn't the secret of the Ghost's supernatural-for-it's-size performance. Feeding that heavenly 12 cylinder configuration is a pair of turbochargers that act like steroids to the muscle. Power is but one aspect of the equation though - it's the torque that will really blow your mind and there are loads and loads of it!
The humble piece of paper in the brochure says it's just over 700 Nm but when you're strapped in the driver's seat and you floor the throttle it seems like an enormous amount more! It's a surreal experience that - get in, belt up, foot on brake, parking brake disengaged, tiny gear lever on steering stalk pulled to D, brakes off and throttle floored. All's good till yet, but then you get pinned to the back of your seat, your brain goes knocking on the back of your skull and the engine screams in delight as you hurtle forward to achieving 100km/h in 4.7 seconds.
Then the engine quiets up and settles into a whisper but you notice that you're still accelerating hard. Lest you think that way, that isn't a flaw - you see, the Rolls Royce types are all about luxury and silence is a good measure of it, which is why the Ghost has been deliberately engineered to be silent. After all, if you wanted noise you'd get a cramped Lamborghini or maybe a spacious BMW 7-Series. But that isn't just the same as getting an RR Ghost now, is it? Or is it?
Over the years platform sharing has become common practice and with Rolls Royce now owned by BMW it is but natural to suspect that the smallest Royce shares its platform with the biggest Bavarian – the 7-Series. But while many people may misunderstand and say that the Ghost is just an expensively clothed 7 with a legendary symbol on its forehead, it isn't. The Ghost gets the full Rolls Royce treatment and if your automotive history is sound, you'd know what that means.
The Spirit of Ecstasy leaves no stone unturned in providing the most luxurious experience on four wheels that money can buy which seeps all the way down to the 'tiny' Ghost. So if you're one of those lucky few on whom the Almighty has bestowed not only loads of that green paper but also exceptional taste, you get to customize your Ghost just the way you want it. And when Rolls Royce say customise, they're not talking about just selecting from a few pre-selected options off of their brochure.
There's a huge list of boxes you can check ranging from exactly how much technology you want on your car to the colour of the fabric and paint to just about anything you can think of. Speaking of which, if you're willing to go that extra mile, you can specify any colour on this planet – even if you don't really know what to call it, and Rolls Royce will make sure the paint on your Ghost matches what you've prescribed! While at it they will have part of the wheels' spokes painted up in the same shade as well. Personalisation doesn't really get any more personal than this!
But the extent of attention to detail on the RR Ghost doesn't stop just at visual treats and driving pleasure. There's a whole lot of ergonomics blended in as well. For example, the suspension rides on a blanket of air (to put it in rather layman terms) and the car balances itself out when going hard through a corner; so there's no body roll and subsequently none of the occupants will feel like throwing up! Alternatively the car can be lowered for that little bit of extra-easy ingress and egress – especially for the ladies wearing intricate party ensembles. The suicide doors at the back form a natural corridor to mark the premises of the car.
There are cameras all round which also give you a bird's eye view of the car making it easier to park. We could go on and on but that list is so endless that maybe it's just better to take a look at the Rolls Royce Ghost's brochure after all – mind you, it may take days before you get to the end of the options list! So there you have it – the Ghost is a machine that is as good to drive as it is to catch attention; just like any other Rolls Royce. And if you happen to be fortunate enough to get a ride in one of these, do pay special notice to the umbrellas neatly tucked away in all four doors – these guys have thought of everything, haven't they!