Riding Sideways In Style - Harley-Davidson Flat Track Racing India
---
Learning to master the skill of going sideways in a corner is more than just throttling and going round in circles.
I have always looked at flat tracking as a crude and ruthless sport. Why is there so much hype about struggling with each other to go round in circles, I wondered. But then, words cannot express the ferocity and thrill involved with actually riding on the flat track.

First impressions: It takes a lot to be really good at it. It's completely different to being on the street; the back end gets loose and you are all over the place. It's not just about putting your foot down and drifting through the line by chucking the bike into a corner. You really need to get some dirt on your boots, see how it feels to be at the edge of traction and charge your opponent in a cloud of dust, leaving you clueless of the left turn ahead. To best describe it in words, it is scary, unnerving at first, but fall a few times, grow some chest hair, and you start to get the hang of it.

My flat track experience started the moment my colleague sent me a video compilation of flat track crashes, which was received the moment I switched on my phone after landing. You must be thinking what a messed up way to kick-start the journey right? Well, the feeling was mutual.
Day 1 - Flat Track session

Starting from Le Meridien, where we were put up for two days, it took us nearly an hour and a half to reach our destination - the John Singh Speedway. Based in the middle of nowhere and surrounded by mountains, the speedway is spread across an extended farmland owned by Vijay Singh, founder of Rajputana Customs. And Vijay also holds the distinction for being the designer of the custom-built H-D Street Rods for our flat track session. Customizations included modification to the handlebars, seat units, fuel tank, exhaust, wheels, tyres and even removal of the front brakes.

To top things off, H-D had even arranged for the World Flat Track Champion Marco Belli to train us himself in the art of going sideways in style. But the reality of riding on the track is a whole different story compared to understanding it in theory, and you do need a lot of practice to get a feel for it.

Getting astride the flat tracker, I had this rush of adrenaline as I was running the briefing in mind. I have never raced on a flat track before and I didn't really know how I would end up at the end of the day.

The training kicked off with two sessions. The first one allowed us to understand how to enter and exit a corner. So basically, you go flat out on the straights, rolling off the throttle about half way as you enter the corner.

Mid-corner though, when you feel the bike's weight tip to the left due to lack of inertia, you gas it! This allows you to make the most use of the corner and have the rear spinning, with the tail stepping out in the opposite direction. Bear in mind though, that you need to gradually open the throttle or else you will end spinning out, like I did, eventually falling down.

The trick here really is to master fine throttle control and your riding posture.

Session 2 was designed to help us understand weight management and ergonomics. When it comes to ergonomics, you really need to unlearn your riding posture. Move as close to the tank as possible. Never place your toes on the brake pedal, instead place it on the foot pegs. While entering a corner (only left handers on the speedway), you need to have your right buttcheek off the seat and sit only on the left cheek, with your left leg off the bike and in the air.

Then, with no pressure on the left leg, you need to tip the bike in and instead of leaning your body into the corner, like you would on a tarmac, you need to push your upper body in the opposite direction. Trust me, getting this riding position in sync with your natural instincts is like playing pinata with your senses. I ended up falling again, twice! But then, it all started to come together.
Day 2 - Flat Track session

Feeling more confident after the training we received from Marco and having gained some insight from the earlier crashes, we felt a lot more positive on this day. Most of us though still decided to play safe, not pushing ourselves to the limit.

Each of us got one practice lap to get a hang of the track. But once out there, we just seemed to forget everything that Marco taught us. There was no racing line or method to how we were entering and exiting corners. We just ended up going crazy and busting a few bikes as well. In the end, it felt mental and outright fun. I had my hands shivering from the rush of trying to go sideways on the loose surface of the speedway.

I for one predicted a pile-up, plenty of smoke and blood. But I'll tell you what, it's a sport worth trying and one that's easy to get addicted to as well. It's also a great sport to build up some cojones as you learn to overcome the fear of falling down (even though it's something that you'll end up doing plenty of times). But at the end of the day, you'll have plenty of stories to share, not just of the tribulations, but also of the triumphs - those few moments, when everything came together, just right!

Harley Davidson Street Rod Video Review
More on Harley Davidson Street Rod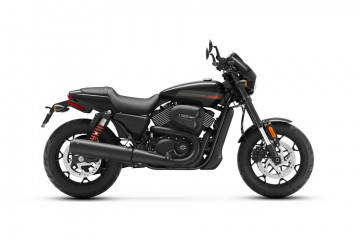 Rs. 5.99 Lakh Onwards
Ex-showroom, Delhi