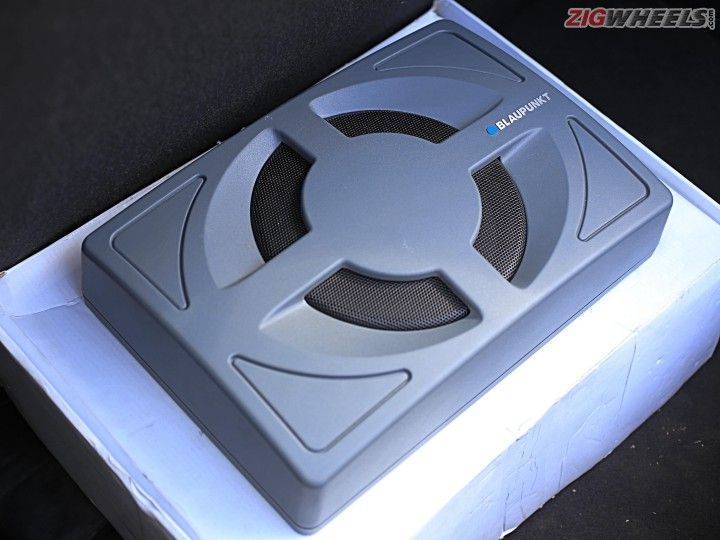 Price:
Rs 18,990 (www.blaupunkt.com/in)
Options:
JBL GT-X1300T Subwoofer Tube: Rs 8,490 (www.harmanaudio.in)
Pioneer TS-WH500A: Rs 21,990 (www.pioneer-india.in)
Alpine SBR-S8-4: Rs 24,699 (www.amazon.in)
Who can do without a good audio system in their cars these days? I certainly can't. As expected of a Ford, the Figo 1.5 Automatic that I am using has a pretty fine audio setup. While the display and the menus for the sound settings look a bit dated, the audio quality that you get is crisp and enjoyable. As a result, I was a bit reluctant when Blaupunkt asked us to test out their XLF8A subwoofer. The first concern was that I didn't want to sacrifice precious boot space for a bass tube. No, I was told, the XLF8A is designed to be compact. I relented. I prefer to leave cars or bikes stock, so the idea of cutting wires is something that I abhor.
During the installation, the system was connected by tapping into four wires and the overall installation time was less than an hour. For this, the head unit fascia was removed, but it was only a few light smudges on the silver panels that suggested anything had been fiddled around with as well. A quick inspection of the cabin and the boot showed no additions. It was only when I spotted an unfamiliar blue light peeping at me from under the front passenger seat that I realised that I had located the new Blaupunkt system. In terms of dimensions the unit is maybe a bit longer than a shoebox but only half as tall, and as such slots in under the seat easily. Packaged into the grey ABS plastic case is an 8" aluminium compound cone. That aside, it is clearly packed with some heavyweight equipment as the weight feels quite substantial. You have to worry about moving it around.
Recommended Read: Review: Blaupunkt CapeTown 840 - Android Touchscreen Head Unit
The other specs that can be bandied about here are the max power of 320W and a frequency response range of 20 - 150 Hz. It also has a low pass filter that operates in the range of 50 - 150 Hz to fine tune where you want the bass to kick in. There are three dials on the unit to set it up as per your liking, so that means making changes can be a bit fiddly. But once it is set up the unit doesn't need to be switched on or off, and it just works with the standard music system.
While I am yet to fiddle around with the settings, one thing is for sure – there is a newfound joy in the audio experience now. There is a lot more body to the music and it brings a substance to guitar chords making the experience more immersive. That said, if you are expecting the big bass - boom-boom - window rattling experience, then this Blaupunkt speaker might not be the right fit for you. But, for my usage, this Blaupunkt setup seems just right. Also, if the Rs 18,990 price tag for the unit seems a bit steep, a Google search shows that the XLF8A is available at lower prices, which makes the setup seem sweeter still. We have some concerns as to how it weathers prolonged use, whether the bass kick bothers the front passenger or whether the box eats into the foot space for the passenger in the rear. We'll post more on the system as we explore.
Recommended Read: Review: Rockford Fosgate Punch Series
Positives:
Doesn't eat into boot space
Sturdy build quality
Adds body to music
Negatives:
Price is on the higher side
Making adjustments is a bit fiddly as unit is under seat