Similarity is a strange characteristic, since it almost always incites a direct comparison. Carrying the same displacement of 250cc, the newly launched Honda CBR250R and the Kawasaki Ninja 250R suffer from a similar fate. I say suffer, since anyone who has ridden the two bikes knows that apart from the cubic capacity, there is little similar between the two bikes, and that is unfair to both. For the Kawasaki, it is about being pitted against a much cheaper motorcycle that should technically be one segment below itself. And for the baby-CBR, it's about needing to punch way over its weight, a street-spec single-cylinder going up against a scaled-down, multi-cylinder sportsbike.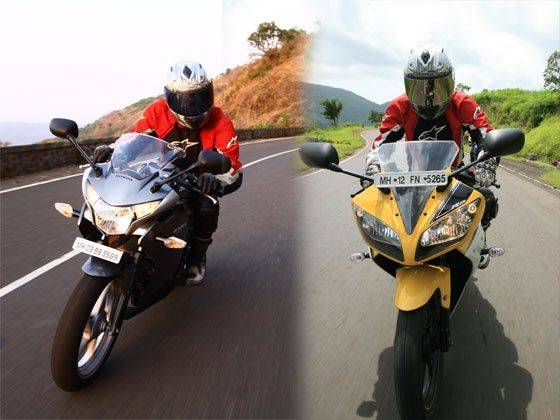 So we decided to do a quick comparison between the new Honda and the scalpel sharp Yamaha YZF-R15. A quick comparison is what we churn out from our office desks - it means we didn't take the two bikes out on the road side-by-side but having ridden enough of both, decided to pen down the thoughts off the top of our heads to paint a better picture. On paper again, the two bikes are very dissimilar for a straight scrap, but we know too many of our readers, who find the Ninja 250R way beyond their budgets, were looking at an R15, and would want to know if they should shell out the extra money for the CBR instead. Short reply – if you are not a cornering junkie, yes.
If you are into learning the art of cornering and wish to have a race-replica that's affordable though, there still is nothing that comes close to the R15. I have been using it as my long termer for quite a while now, and everyday I ride it makes me love it even more. The bike does everything right – it is neutral in its handling, light and nimble enough to change direction at the speed of thought, has beautiful brakes that can comfortable bring you to a halt from whatever speed the bike is capable of – and all that is wrapped into a chassis that speaks to you but never shouts. The engine is refined and revvy, and match the best in its class in terms of acceleration and top speed. It has its shortcomings as a city commuter though, starting from the seating position, and ending thereabout. Fantastic bike. But too focused.
That's where the Honda CBR250R takes the game away. Of course, it has a lot more power and grunt which means its comfortable cruise speeds are higher than the R15's. It also has a significant 'big bike' feel to it when compared to the minimalist Yam. The seating position is more comfortable too, which means the CBR is set to become the de-facto sports tourer for the nation. But take it out on a set of demanding twisties, and the 45 kilo additional weight compared to the R15 begins to show as clear as the sun. The soft suspension which soaked up everything in its path suddenly becomes the root of all nervousness mid corner. Exits are quick and effortless, but big front-end dive under brakes makes the whole corner entry experience less spontaneous. Don't expect to get your knee down anytime soon. This is a bike to take things easy on.
By the end of our quick comparo, we get a feeling of being unfair once again, but that's just the CBR250R's fault for straddling the sparse Indian performance bike space so well. Or, looking at it another way, it provides the perfect rung to climb on to if the R15 is too little and the Ninja too much. Plus, if you are the sort who does not have a sufficient explanation to the patent question about why the R15's rear tyre is so skinny, you won't have to face that question again. At an additional cost of about Rs 70,000, you get a bike that cannot do things half as well as the R15 can, but can do twice as many things instead.
HONDA CBR250R