Nissan recently showcased the LEAF in India. This zero emission car is set to usher in a new era in mobility and while it has already made its global debut a few years ago; this was its first visit to our shores. Vikram Gour got to take it for a spin and discovered a whole new world of zero emission mobility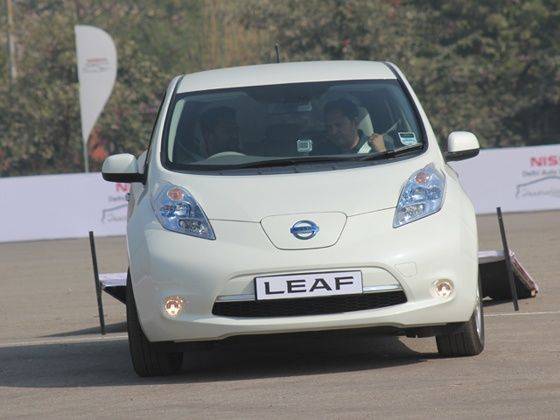 The Nissan LEAF made its global debut in the later part of 2010. When Nissan first set out to produce such a car, they were adamant that it had to be a real world vehicle, something that was affordable and not just a corporate image booster. Set to redefine mobility, the LEAF lives up to the promise of being an affordable offering.


Every aspect of the LEAF is related to its ecofriendly abilities including how the car is designed. Aerodynamics play a big role in aiding fuel efficiency and all that logic has been applied in the designing of the LEAF. The sharply raked hood with large bubble LED headlights is an unmistakable face that this car possesses and more importantly these features help the car split and redirect airflow away from the door mirrors in order to reduce noise and drag and therefore have a direct impact on overall efficiency.

The body boasts of smooth lines and the rear has a unique bump, which again is a result of tedious testing in the wind tunnel to make this car slip through the air and in the process face the least amount of drag. Another aspect that is directly noticeable on the exterior is the lack of a tail pipe, which again hints at the fact that there isn't a conventional engine under the hood. Overall the design is extremely new age and to be honest it's a little too sci-fi and might take some effort for people to actually appreciate its quirky design language. Nevertheless, it will turn heads!

The interiors follow a clean and functional layout, however done up in a very stylish set up to create an environment that feels clean to an extent that the materials look sterile. The "blue earth" color theme used in the dashboard lights and instrument cluster illumination adds a level of vibrancy that again gels with the whole eco-friendly nature that the car possesses. The LEAF has been designed as a family car and space is abundant for a small family which also lends to the practical aspect that this car was designed for.
Hit the start button and you are greeted with silence. It's eerily silent inside the LEAF and this is all thanks to the fact that the super silent electric motor on board. It's so quiet that Nissan has actually fitted the vehicle with a 'noise' system that imitates the sound of an internal combustion engine in order to be heard by pedestrians especially those who might be visually impaired! That is one of the many aspects of making an electric car feasible in today's environment and from the sound of it; Nissan has obviously not left any leaf unturned. Anyways, back to the elements that power the LEAF.
Fitted with laminated lithium-ion batteries that generate an output of over 90kW, the electric motor which runs off these batteries eventually delivers 80kW of power and 280Nm of torque to the drive wheels. Being an electric vehicle, the torque is available right from the word go and the LEAF is highly responsive in nature, which surprisingly makes it a fun to drive vehicle that actually measures up to a number of internal combustion engined powered cars.

Amongst various features on board, the LEAF also offers two distinct drive modes; while one offers an economy the other lets the driver enjoy a more spirited drive. Of course the range of the LEAF drops if it is used in the spirited mode, while it is in the economy mode that the LEAF can attain a driving range between 160-180 kilometers on a single full charge. No doubt, the drive range doesn't measure up the normal 600-700 kilometers that conventional gasoline or diesel powered vehicles offer, however extensive research points out that the range of the LEAF is suitable to suffice close to 70 per cent of the world's consumers who drive cars on a daily basis.
For those who need an enhanced range, the good news is that the LEAF can be recharged up to 80 per cent in under 30 minutes with a quick charger, however if you were to charge the car at home through a conventional outlet it would take close to eight hours. The batteries are said to have a life between 5-10 years under modern use, which again fits in with the conventional ownership period of a car.

Being a tech savvy car, Nissan decided to employ an exclusive information technology system on board. This system is connected to the global data center which can provide information, support as well as entertainment for owners 24x7. The LEAF employs a number of cool features as well which include using your mobile phone to turn on the air-conditioning or even set charging functions in the car.
It's all very James Bond and though I didn't get to try it out myself, a representative from Nissan was kind enough to explain these functions and offer a demonstration. In the future, this IT system is being beefed up to play a larger role which includes car to car communication, live updates, emergency services and many more.


While my time to fully explore the LEAF was rather limited, it made me realize that though this car is a present day reality, it is a sign of what the future holds for the automobile. While on one hand it retains elements that are conventional, it ushers in technologies and information systems that are vital to the evolution of the automobile. I won't say it's a car before its time; however the LEAF is a definite eye opener to encourage car enthusiasts to embrace the future.