New Mini Cooper D 3-Door India Review
Jan 9, 2015
Views : 40169
---
The Mini isn't your typical, everyday hatchback. It is pricey, not the most convenient and is anything but sensible. But, if you like driving, it is a must-have, even in diesel guise.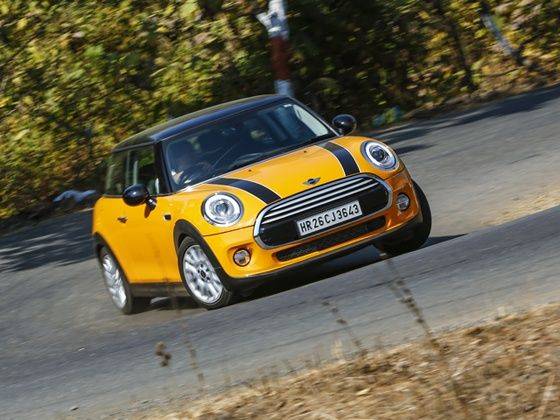 Let's get the most crucial fact out of the way first: the new Mini you see here in 3 Door guise, isn't your typical value for money, practical, or easy to live with and drive sort of hatchback. Hell, it's not even cheap! What it is, is an accessory. It is here to help you look good; add to your personality; and make you stand out.
Yes, the new Mini - and there have been a few - needs to tick very different set of boxes from what we are used to ticking off here at ZigWheels. It needs to be charming to look at; funky on the inside; but most of all, it needs to be great fun to drive.
Exterior Style / Design: rating_4.0_rating
Now, this is a new generation car. And with it Mini has gone a bit bold. For starters the new Mini isn't as cute as it used to be and some might even find it a little less palatable, the front in particular. That's down to its head lamp design. These continue to be round but now house semi-circular LEDs. But it's the way these are positioned and angled that look a bit odd.
Now barring its eyes, the new Mini retains its favourable proportions; the minimal overhangs, the floating roof and the lack of any pronounced lines running along its sides. But it looks tauter than before. Furthermore, the new Mini still has that gaping grille, those large and rounded rear view mirrors, a chrome line that encircles the cabin area and of course, the signature big, dominating tail lamps. So, yes, the new Mini is still charming to look at but just not as likeable as before.
Interior & Space: rating_3.5_rating
The inside of the Mini is still funky, nonetheless. It is dominated by circles. Apart from the steering (which is a bit obvious), the steering mounted controls, the central display, the climate control, the aircon vents, the speakers as well as the door handles are all round. And what isn't round, is oval. So, again, the interior of the Mini might not look too cutting edge, but it is agreeable. And true to its price, it looks and feels upmarket too.
Now space management on new generation Minis has never been strong. The same should be true for this 3 Door hatchback given it sits on a smaller wheelbase compared to the 5 Door Mini (also on sale in India). But to try that, there's the task of getting into the rear, which isn't the easiest thing to do. And once you are seated at the rear, you immediately realise that the knee room is seriously limited and there isn't much shoulder room to talk about either. The head room, however, even for full sized adults, is more than acceptable.
Equipment & Features: rating_2.5_rating
The Mini Cooper D 3 Door is priced at a little over Rs 30 lakh. But, it gets very little as standard equipment. Our test car though, is fully equipped and costs significantly more over the standard car. For the extra money you get a multi functional steering wheel, dual zone climate control, driving modes, head-up display and a high-end and nice sounding multimedia system complete with navigation and Bluetooth.
On the safety front, ABS and ESP come as standard. And the new Mini also gets cornering braking function and front two airbags. But, given the car's price and positioning, we feel the Mini is at least four airbags short of what is expected at this price.
Engine & Performance: rating_4.0_rating
In an interesting move, Mini hasn't brought in a petrol engine for the hatchback at all. It only comes with one diesel engine. And the engine itself isn't a fire breather. It is a three cylinder unit that displaces less than 1.5-litre in capacity. The power rating at 114PS isn't headline grabbing either. It is mated to a conventional 6-speed auto. On the road, this translates into a 0-100kmph time of 9.2 seconds; it isn't what we would term as fast, but a sub-10 second time can't be termed as slow either.
Also the engine is a bit noisy, especially in the upper reaches of the rpm band. And since this is a 3 cylinder unit, there's just no getting away from the hum and vibrations at idle. The torque spread meanwhile is good and along with the 6-speed auto, the new Mini Cooper D makes overtaking and cruising at three digit speeds on the highway almost completely effortless.
Ride & Ease of Driving: rating_3.5_rating
The Mini for all its unconventional style and positioning is also a relatively easy car to drive and live with in the city. Yes, we know it's not a priority for such a car, but it helps. The visibility is good and the controls aren't heavy. The throttle is light and predictable, the power is linear and accessible and the ergonomics, well thought out. The ride however still needs sorting. It's an improvement over the older car for sure; it's less jumpy, rude and noisy. But it is still pretty stiff and at times crashy. So comfort clearly isn't the Mini's strong point, the supportive and well padded seats notwithstanding. Finally, there's the wind noise which gets intrusive even at 100kmph.
Handling & Braking: rating_4.5_rating
But when it comes to dynamics the new Mini really has no equal, at least in its class. It has a good driving position which sets the tone. Then there's the quick steering, the almost non-existent body roll, and a chassis that feels so alive and chuck-able, you wish that the twisties never end. And though it is front wheel drive there's hardly any understeer to deal with even when tackling tight hairpin bends. The front end bite is phenomenal be it getting in or out of corners. Best of all, it loves to be taken by the scruff of its neck and be thrown around. And if you opt for driving modes, the sport mode only makes the car even more enjoyable. To top it all, the brakes are great; both powerful and progressive.
Price & Fuel Efficiency: rating_3.0_rating
The pricing might not be great for the Mini Cooper D given the standard car doesn't offer much in terms of pampering equipment. And when you spec it up to class standards, it just comes across as an expensive proposition. But, because the Mini now gets a new age diesel engine, the fuel efficiency is surprisingly good. The ARAI figure for the new Mini Cooper D 3 Door is over 20kmpl! Now that's one aspect where the Mini can compete against our sea of affordable, fuel efficient hatchbacks.
Verdict: rating_4.0_rating
The new Mini might not be comfortable, quiet or even half as luxurious as its price demands. But like we said before, it needs to tick a very different set of boxes, which it does, comprehensively. Sure, it isn't the cutest Mini to have roamed the roads, but it still stands out... especially in this yellow hue. It has funky interiors too. But, it rules the roads where it matters the most - driving fun. Yes, we would have liked a peppier engine, preferably a quicker revving turbo petrol, but this diesel isn't a deal breaker either. As for us here at ZigWheels, we love it!
Recommended Variant :
3 Door Cooper S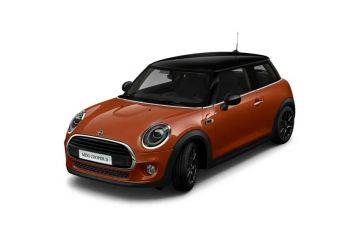 Contact Dealer
View On Road Price