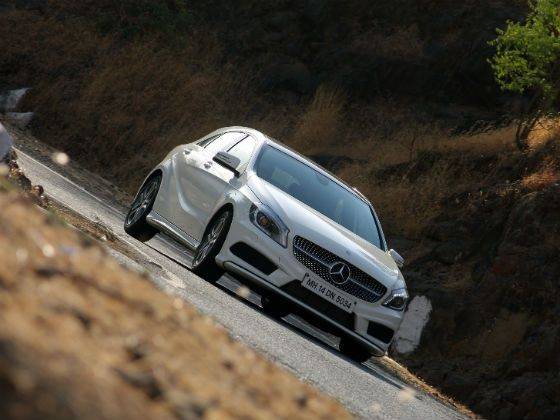 It's been a long day at the shoot. Almost 7:30 in the evening and its still quite bright thanks to the long days in peak summer. As I sip my 'cutting chai' at a ramshackled tea stall on the highway, I see my parked ride gleaming through the last rays of the setting sun. It looks simply gorgeous and even though it's a little compact my normal Mercedes-Benz standards, there are hordes of people ogling at it. The subject of the discussion here is the all new A-Class, which after a lot of anticipation has finally arrived on Indian shores and is pretty much one of the most significant launches for Mercedes-Benz India. Why you ask? For more than one reason actually. Besides the fact that the car must muster good sales numbers, this is actually uncharted territory for the world's oldest car maker.
I say this because not only does this baby Benz need to appeal to a hatchback buyer, it must also appeal to a potential Benz buyer who until now has only seen the big and dare I say 'mature' side of Mercedes-Benz. The A-Class represents the younger face of the Stuttgart based manufacturer and hence is targeted towards a much younger and not to mention well-heeled customer base. Now most of our readers must have already seen how sensational the car looks from our previous international first drive reports, but then the A-Class will need to be more than just a pretty car if it intends to make a mark here. So does it make the cut? Let's find out...
Compact Muscle
Before we get to the new car, let's talk a little about its predecessor. The outgoing A-Class was a game-changer when it was launched 15 years ago. It was vertical where cars until then had been horizontal. It was snub-nosed and had an ingenious "sandwich" floor which meant all the stuff was under you, not in front of you. You sat up and looked out. But the haters and naysayers made life hard for the little pioneer and Mercedes has gone back to a more traditional format. It's as if they have stood on the old A-Class and flattened it out. But if their aim was to create a premium, family-friendly small hatch, it's worked. And people love the familiar.
Now the silhouette might be conventional, but design is definitely not. The first thing that hits you is the size. The pictures simply do not do justice to the actual dimensions of the car. Sitting low with that long nose and a very dramatic rear, Mercedes has given a fresh interpretation to the classic two-box design. The front looks absolutely menacing thanks to the wide bumpers and the pronounced lip spoiler. The massive grille too is unlike any seen on a Merc before with chrome stars filling it up and a big Avant-Garde style three pointed star in the centre. The swoopy headlights along with the strip of LED lights look like angry eyebrows and add a lot of visual drama to the front.
And it gets even better from the side. The roof looks like its been slammed down resulting in a very minimal glasshouse. Evoking further 'oohs and aahs' are the feature lines on the side which provide the much needed muscle along with those delicious 17 inch 10-spoke alloys. Rounding off the rear are the one piece horizontally structured LED tail lights extending far down the sides. The wide bumper along with the black grained diffuser insert project out dual stainless steel exhaust pipes completing what is one of the best rears seen on a hatchback. As far as styling is concerned Mercedes-Benz have simply outdone themselves and this baby Benz is sure to evoke the same amount of glances that your bigger E or C-Class does.
Style over Substance
With such fantastic exteriors, Mercedes must have had a hard task to match it with the interiors, but they have managed well. The doors open wide and ingress into the car is quite an easy affair. You are welcomed by swathes of black and some fantastic F1 inspired sport seats. Getting the right seating position took some time but once you get it, it's perfect. While the layout is typical Mercedes-Benz, the details scream sporty, right from the flat bottomed steering wheel, the red stitching throughout, carbon fibre like material on the dash and the drilled pedals. There are lots of soft-touch surfaces on the dash and the hard plastics on the centre console have a quality feel.
Seat comfort is good, and there's lots of adjustment in both the seats and the steering column. The front seating position though feels rather low too – but this could be because the window line seems rather high. Time to move to the back since this is after all a full sized family hatch. There is decent leg and knee room, but a shortage of headroom thanks to intrusion from the arching C-Pillar. Seating three abreast is easily possible; however, it's best comfortable with four. The dark interiors and the limited glass area does make it a little stuffy inside, but should you choose to ignore the optional panoramic roof option, the rear seats feel even more claustrophobic. Other than that storage should be quite adequate with 341 litres of boot space and a 60:40 split should you require more space.
Smooth, quick and more than a sipper!
Just like in the other models, the A-Class too gets a range of models. But India gets the A 180 CGI and possibly the A 180 CDI. The test car we got was the petrol A 180 CGI which boasts a high-tech 4-cylinder 1.6 litre unit featuring a turbo, variable valve timing and direct fuel injection. Camtronic is another feature that made its debut with this engine, adjusting the valve lift on the intake side restricts the amount of fresh mixture used in the partial load range thereby reducing consumption.With all this techno-wizardry aboard, the 180 CGI pushes out 122 PS @ 5000 rpm and a meaty 200 Nm of twist between 1250-4000 rpm. Now these numbers don't exactly scream performance, but manages to feel 'just right': neither too slow, nor too fidgety, nor too soft.
Sure, when the drive selector is in Eco mode, it can feel a tad sluggish, but throttle response sharpens up dramatically in Sport mode. But whichever the mode, the seven-speed twin-clutch 7G-DCT automatic rarely puts a foot wrong with gear selection, and, unlike some twin-clutch transmissions, handles standing starts as smoothly as a conventional auto. Talking about numbers, the A 180 CGI with its slightly portly 1375 kg weight managed to hit the ton in 10.7 seconds with electronics keeping the front wheels in check (yes, this Merc is a front wheel drive). Not exactly quick but still fast considering the slightly damp figures it churns out. In gear acceleration is pretty good as well. Putting my foot down at 50 km/h, the car took 12.33 seconds to hit 120. If you miss the stick from your manual car, the paddle shifters behind the wheel are good enough to have some manual fun and going up and down the box in boy racer mode is an absolute blast. And it stops just as well as it goes. With 295 mm discs up front and 276 mm discs at the rear coupled with ESP, ASR, ABS and Brake Assist, the A-Class stops with reassuring confidence.
While performance figures are good, the mileage figures are pretty much average. With that kerb weight and the automatic transmission, the A 180 CGI is definitely not the most fuel efficient car out there. Around town, in bumper to bumper traffic it managed a best of 6.8 kmpl while on the highways the figure rose to 12 kmpl. While those city figures are pretty much the best the car could manage, I still feel mileage on the highways can improve with slightly better speeds. The 7-speed gearbox felt like it is not operating in its optimal cruising range at speeds of 80- 100 km/h, however on expressways where a steady 120 km/h is easily doable, the A 180 CGI should manage slightly better highway figures. With a 50 litre tank and an overall figure 8.1 kmpl, the A should easily see over 400 km before the next fuel stop.
Who said front wheel drives don't handle?
The next time someone says your front wheel drive A-Class can't handle as well as his rear driven German, you can pretty much make him eat his words. To make sure the A-Class delivers on the performance front, performance specialists from AMG were involved in the development of the compact class from a very early stage. The dynamism promised by the design and drive system is realised by the suspension. A noticeably lower centre of gravity and a new 4-link rear axle provide the basis for this. Also the electromechanical steering in the A-Class has been completely redesigned to offer better feel. Turn-in is extremely swift, and the car is easily placed. Although it's easy to get the tail to step out a bit, an undefeatable stability-control system is par for the course. Body roll is extremely minimal and the A corners pretty flat giving you oodles of confidence to push harder.
Yes it can handle, but does it ride as well? Well there's a yes and no here. Owing to its sporty nature, ride quality is on the stiffer side and what makes it even worse are the 17 inch rims with 45 profile tyres. The thin sidewall is understandably stiff and when you do encounter a broken patch of road, the ride feels quite brittle. Sharp bumps need to be negotiated cautiously and the same goes for our monster speed breakers thanks to the very low ground clearance. Clearly, there is a tradeoff here for better handling over ride quality. I still think 16 inch wheels with better profiled tyres will strike a better balance between ride and handling. But if it's a sporty hatch that you need, the baby Benz is sure to keep you smiling till you hit that rough patch!
Worth the buy then?

Now the A-Class comes across as a fantastic product. It's a small car that drives like a big car, feels like a big car, packs in features like a big car and even drinks like a big car. What Mercedes has done is pack all the virtues of its bigger products in a compact, agile and a very young looking package. With the prices pegged at Rs. 22.73 lakh for the A 180 Sport and Rs. 21.93 for the A 180 CDI, the A-Class does come across as an expensive proposition. And it's not just how loaded the car is, Mercedes has also made sure that A-Class is benefitted with service products like Star Ease and Star Care. There is also a special pricing for the A-Class spare parts which on an average are lower than other segments of Mercedes-Benz India. The simplicity of shared architecture will result into optimized cost of labor which is also passed onto the customers thereby further enhancing total cost of ownership. Mercedes-Benz has indeed pulled out all stops to make sure that the A-Class provides a complete three pointed star experience.

But is that enough to churn out the numbers? Even though it's a complete and fantastic product it's going to be a difficult task for Mercedes-Benz to convince Indian customers to put that kind of money on a hatch. History clearly indicates that expensive hatchbacks that cost as much as sedans (read Honda Jazz, the first gen Skoda Fabia) are taboo on Indian shores. But Mercedes thinks this jinx can be broken with the new A-Class with its fantastic styling (which Indians love), rich attractive interiors and loaded to the brim technology. And this segment is all set to expand as well, with Volvo, BMW and Audi to join in with the V40, 1 Series and the A3 Sportback soon. But until then this baby Benz definitely has all our attention and we hope it succeeds where others have failed!
Related Mercedes-Benz stories:
Mercedes-Benz A-Class launched at Rs 21.93 lakh
Mercedes-Benz A-Class launching on 30th May
Mercedes-Benz A-Class: Design Evolution
Mercedes-Benz A-Class, A 180 CDI (Exteriors) : In Pictures!
Mercedes-Benz A-Class (Interiors) : In Pictures!
Mercedes-Benz A-Class (Design Evolution) : In Pictures!