Maruti WagonR AMT vs Hyundai Santro AMT: Comparison Review
Jul 27, 2019
Views : 3312
---
Two tallboy AMTs argue about who's better and then realize you can have different strokes for different folks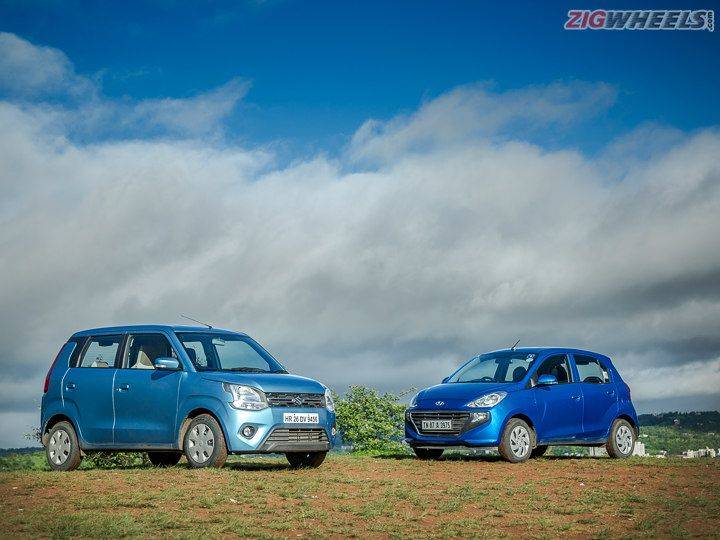 There is no wrong choice! Let's get that out of the way first. If you wanted a budget petrol automatic hatchback, you'd be fine with either the Hyundai Santro AMT or Maruti Suzuki WagonR AMT.
But if we stop and take a closer look, you find that while both speak of the tallboy look and have automated manual transmissions, that's where the similarities end. Each car brings its own set of competencies, helping them, individually, cater to certain needs better than the other.
So who should buy the Santro and who's the WagonR for?
Drive Stories
Smooth. If we had to describe the Santro AMT's behaviour in one word, this'd be our term of choice. In a regular drive scenario with gentle throttle inputs, the Santro AMT offers nearly seamless gear changes with minimal headnod. It gets through the gears calmly. Combine that with the old yet refined 1.1 litre engine and you get a daily drive experience that's hard to beat if you want something relaxed and hassle free.
Additionally, the Santro is also the lighter sipper, delivering better fuel economy in the city or out on the highway. As you'd expect, even the steering and controls in general are very light to use in tight traffic. So whether you want a second car as a beater for the daily office commute or if this is your first car and you'd like something that's not a handful to use, the humble Santro works just fine. You also get the creep function, that unlike in many AMTs doesn't engage with a jerk.
| | | |
| --- | --- | --- |
| Fuel Efficiency | WagonR | Santro |
| Tested City | 12.19kmpl | 13.78kmpl |
| Tested Highway | 18.74kmpl | 19.42kmpl |
Light to drive & a light sipper; deal closed then? Not quite. As easy to drive as the Santro is, it also offers very mild power delivery at low revs. So anything beyond crawl traffic and it will need some throttle input to keep up with cars in front of you. The average low rev performance also brings two other disadvantages.
One, on inclines, there isn't enough grunt in the creep function for it to double up as hill hold. Let off the brake and the car will roll back. On slightly sharp inclines, it rolls back by as much as a car's length before the transmission catches it and pulls it forward again. You will need to use the handbrake to be safe and because you need to dial in more revs to make it pick up again, lift off gets a little jerky.
Second, city speed overtakes too need a little planning. Power delivery is progressive, not instantaneous, and this warrants a little patience. Also, as smooth as the transmission is, it's quite eager to shift. It shifts up quickly to make driving more fuel efficient, but with the engine's mild low rev performance in stop and go traffic, the transmission has to drop gear again quickly after. The eagerness to upshift also manifests itself as a negative while driving downhill. Where you'd expect it to hold gear or downshift, it goes up a gear and makes the car speed up instead! So if you're driving downhill, use the manual mode and avoid cooking your brakes.
The relatively weaker performance also reflected in our test figures, with the Santro being significantly slower from a dead stop or picking up speed after a downshift.
| | | |
| --- | --- | --- |
| Test Figures | WagonR | Santro |
| 0-100kmph | 13.58s | 16.77s |
| Kickdown 20-80kmph | 8.15s | 10.10s |
This also means that the Santro isn't ideal for driving with a full passenger load, since any low to mid-range performance drawbacks get amplified.
But driving solo, the Santro works very well. Relaxing drive experience aside, the premium interior quality makes it a nice place to be in. Everything from the steering controls to the shift lever feels well built and there are no signs of cost cutting when it comes to finish quality.
However, there have been some silly corners cut on the features list. The driver window doesn't get the one touch down or up function, you can either use the windshield washer or wiper but not both at the same time, and there's no tilt steering. The last miss is particularly annoying if you're 6ft tall or over, as the steering can't be raised nor can the seat height be adjusted. This makes turning the steering tricky for larger folk. If you're tall and like the Santro, take a long test drive to see if the driving position suits you, because this can be a big hindrance.
The WagonR, though, presents no such issue. Even the dashboard is shaped well to accommodate tall knees. But that's hardly the WagonR's main virtue. What India's most famous box offers in spades is punch! It picks up pace quickly and is far more lively to drive. Throttle response is quick and overtakes don't need to be planned.
This is, at its essence, the same powertrain as the Swift AMT and while you don't get the same dynamics with a tallboy, you do get similar low rev performance. Taking 13.58 seconds for the 0-100kmph sprint, in our road tests, it's quicker than even the Hyundai Elite i20 CVT (16.18 seconds)!
The gear changes aren't as smooth as the Santro AMT's but it's still impressive by AMT standards, standalone. The biggest differentiator, though, remains how quick it is to drive. It's easier to use while darting through traffic and even manages highway driving or high speed overtakes with more ease than the Santro. That grunt also makes it nicer to drive in hilly areas, where the Santro needs to be kept on the boil.
It's also more comfortable through bad roads, where the Santro feels stiffer and lets its occupants feel the bumps more. Back the ride comfort with the low rev competence and you find that it hauls more people better too, and doesn't feel as burdened by the added weight as the Santro.
It doesn't roll back on inclines as much either. However, we'd still advise using the handbrake on medium-sharp inclines, as it will still roll back. The only difference is that the creep function catches the rearward roll sooner i.e. it doesn't stop it entirely.
Also, while it does have the gusto of the Swift AMT, bear in mind that there is body roll and it's not a car that feels nearly as planted through corners. It feels very un-WagonR like with the punch on offer but the handling is still very, umm, WagonR. Also, if you're confused between the 1.0 litre and 1.2 litre engines, just get the bigger motor. The price premium of Rs 30,000 is an investment you will reap the benefits on everyday.
Family Matter
Not only is the WagonR AMT better at driving with load, it offers the cabin space to make the occupants feel comfortable too. There's endless headroom available, plenty of footroom and knee room too. Two 6 footers one behind the other? No problem at all. Additionally, the glass area is simply enormous, and there's a great sense of space too.
However, perhaps that glass area also turns the cabin into a greenhouse as it does let in a fair amount of heat. And when it comes to cooling the cabin down, the WagonR's AC feels lacking.
Not an issue in the Santro, though. The AC is more effective and you get rear AC vents too. However, as a four seater, it's not as palatial as the WagonR, nor can it seat 3 at the rear with as much comfort.
The WagonR also has the Santro and some bigger hatchbacks beat when it comes to boot space, offering 341 litres to the Santro's 235 litres. The WagonR may not have the sex appeal many of us look for in our cars, but from the perspective of functionality, its scores big!
Kit Comparo
Where the Santro scores big is features. Both cars get manual AC, power windows, steering mounted controls, powered mirrors, keyless entry and touchscreen infotainment systems.
Features unique to the Santro include rear AC vents, a four speaker music system vs two in the WagonR, and a rear camera, where the WagonR's system is only rear camera compatible.
The bigger takeaway, though, is that the Santro AM T Sportz, which is the top spec Santro automatic, offers all this for a little less money than the WagonR Vxi option, which misses out on a lot of kit in comparison. The misses include a tachometer, rear defogger, front fog lamps and wing mirror integrated indicators, among others.
Adding rear parking sensors, which are oddly not standard in the Santro, will put the cost on par with the WagonR VXI (O). Unfortunately, tilt steering is something you will have to miss out on in the Hyundai.
Chicken Dinner?
The Santro comes across as a good pick if you're primarily looking to drive by yourself. It gets the nicer interior, more features for less money, better fuel efficiency and is very smooth to use as a city car.
Prices (Ex-Showroom Delhi)

WagonR

Santro

VXI 1.0 AGS

Rs 5.26 lakh

Magna

Rs 5.21 lakh

VXI 1.0 AGS O

Rs 5.33 lakh

Sportz

Rs 5.60 lakh

VXI 1.2 AGS

Rs 5.57 lakh

VXI 1.2 AGS O

Rs 5.64 lakh

ZXI 1.2 AGS

Rs 5.91 lakh
However, the WagonR is the better all rounder. Its offers more space, punch and practicality for family usage and works better in the hills or on the highway. The price premium the WagonR ZXI AGS commands over the Santro Sportz AMT gets you more versatility. So, while the Santro AMT does a lot, the WagonR AMT does it all.
Add Your Comments