Mahindra Gusto: 3,000km Long Term Review
---
After riding it for more than 3,000km, how impressive does the Mahindra Gusto feel?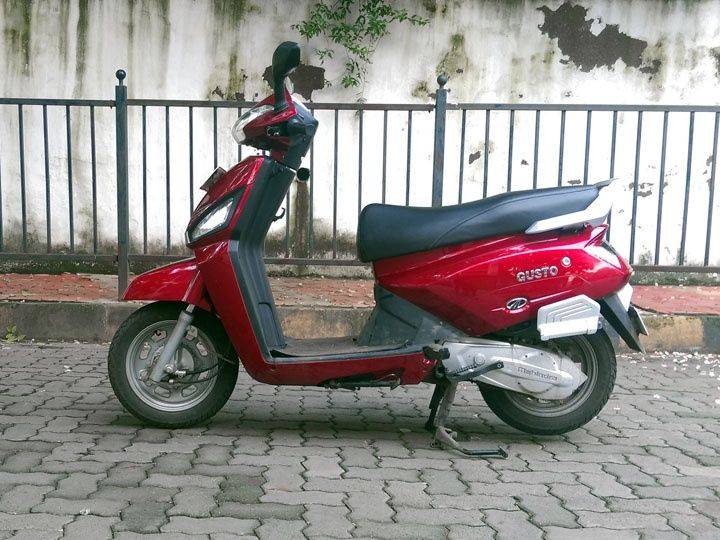 The Mahindra Gusto has been with me for more than three months now and although a lot of scooter buyers will beg to differ, I am gradually starting to like the way it looks. Yes it has an extremely boxy design, but I like it purely because it makes the scooter stand out from the crowd. Unlike most other scooters in this class, it doesn't have a smooth front fascia but a sharper design that makes it look larger.
Another interesting design feature is the way seat opens up. Now in most scooters with seats opening from the back, one has to hold the seat upright when refuelling. Not in the Gusto which opens from the front and need not be held to be kept open while refuelling. Talking about seats, the Gusto is the first scooter in India to get a seat height adjustment which makes riding it rather easier for pint sized people.
At the heart of things, the Gusto has an 110cc unit that makes 8.2PS and 9Nm. These figures are more or less at par with the competition, what sets the Gusto back is its 120kg weight. Standing at a red light, the Gusto isn't the quickest scooter out there to get off the line. But once in the mid-range, it manages to keep going fairly well. Another noteworthy feature of the Gusto is its ground clearance. Considering the condition of Mumbai roads in the monsoon, the 165mm of ground clearance of the Gusto really is a blessing. Another factor that sets the Gusto back is its efficiency, it continues to return around 40kmpl overall which is considerably lesser than its immediate competition like the Honda Activa and the TVS Jupiter.
Even after three months and over 3,000km it has been a fair journey with the Gusto if you overlook a few shortcomings. For next month I wish to take it for a short highway haul to see of the weight make it a bit more stable than the rest of the scooter offerings. Until then, ride safe!
Date acquired: June 2015
Total km till date: 3,153km
Overall fuel efficiency: 40.3kmpl
Cheers: height adjustable seat
Sneers: weight, efficiency