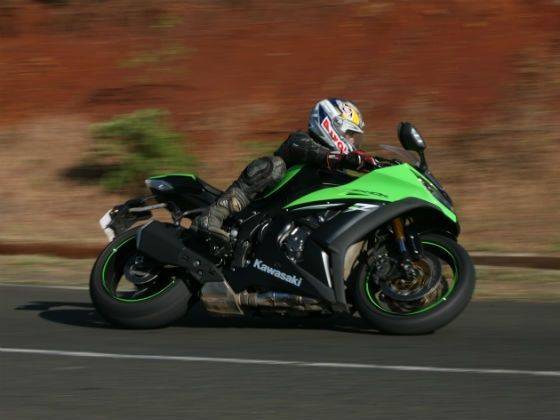 I haven't slept properly the whole night yet I have no signs of fatigue, I am up by 5am without my alarm shouting its head off to wake me up which normally is a futile effort. Why this excitement one might think? Well when you know that one of the fastest production motorcycles is all by yourself for a day and it is resting in your parking lot then sleeping isn't an easy task as exhilaration kicks in which no amount of caffeine can pull off. These were the feelings which were running through my mind and body as I braced myself to ride the Kawasaki ZX-10R ABS over the beautiful twisties on offer en route to Lavasa. The Kawasaki's litre-class faired offering is among the elite motorcycles on sale globally but surprisingly it made a late foray into the Indian market years behind its traditional Japanese rivals, Honda's CBR 1000RR, Yamaha's R1 and Suzuki's GSX-R1000. So was the wait for the ZX-10R worth it? Let's find out…
Looks that matter:
It seems the front is where the designers have focused their attention as it sports a very sharp and beaky kind of façade with that twin eagle-eye headlight being separated by a ram-air system vent. Also it has a very low slung and aggressive stance as if to convey that it wants to pounce on its victim and it is ever ready for an opportunity to attack. Other details which make the front of the Ninja so appealing are the nicely sculpted windshield, rear-view mirror integrated turn lights and the beautiful finish of gold on the forks which add so much drama. The 10-R becomes more striking due to its vibrant shade of Lime Green which is highlighted intricately by black ascents on the bike. It sport an all-digital instrument cluster with LED tachometer, which also acts as a custom shift indicator and below it a LCD info panel which displays a plethora of information.
One of the major design trends followed by two-wheeler manufacturers around the world is to make their bikes as compact and small as they can and the Ninja is no different. The 10R feels chunky in the front but looks skinny at rear and even with its hefty exhaust pipe, the rear feels a little incomplete and un-proportionate. This would have been done by the designers with aerodynamics in mind and we can understand it, but it misses out a little in terms of design aesthetics. The other major disappointment for me was the 3-spoke forged aluminium wheels which looked like more than a decade old with respect to their form. In terms of overall design and concept, the ZX-10R is a well-rounded package and has to be the most striking motorcycle when compared with its Japanese rivals but loses out a little to its Italian counterparts.
What lies beneath the skin?
Powering the Ninja ZX-10R is a 998cc, four-stroke, DOHC, inline-four mill with four valves per cylinder. The poweplant pumps out a mind boggling 213PS at 13,000rpm and boasts a torque figure of 112Nm at 11,500rpm. The bike tips the scale at just 198kg which translates to a power to wait ratio of an incredible 1075PS/Ton! The engine is mated to a cassette-type six-speed transmission along with an adjustable slipper-type back-torque limiting clutch that improves stability under heavy braking. To keep all that absurd amount of power in check, Kwasaki has developed a special traction control system called as S-KRTC (Sport Kawasaki Traction Control).
The system crunches a wide range of data, including throttle position, wheel speed, engine rpm, wheel slippage and acceleration, with help from a speed sensor fitted to each wheel. The traction control system has three different power setting which the rider can choose depending on his skill and riding conditions. For better handling and stiffness, Kawasaki has endowed the 10R with an all-aluminium alloy frame and similar material has been used for the construction of the swingarm crafted from just three pieces.
Time to ride:
Now it was time to ride and as I swung my leg over the bike, the first thought that stuck me was the compactness of the machine and the relaxed riding position. I wouldn't say that it is your best bet for touring but its riding ergonomics is the most comfortable among all the superbikes on sale in the country. As you twist your hand little aggressively, the whole backdrop transforms in to a blur, the acceleration is just brutal and gives you an adrenaline rush which most illegal drugs could only dream of. Even with this ferocious acceleration it doesn't scare the rider as due to spot on riding position he is always in charge, well most of the time.
Power is available in any gear at any speed; I purposely rode the bike at 30km/h in fourth gear and opened the throttle after a slight hitch, which is understandable there was a spontaneous and smooth flow of power which talks highly about the potent engine. I was able to negotiate the turns and bends on offer with immense joy as the 10R possess a neutral and pleasing riding dynamics and one doesn't feel the weight of the bike burdening you down while flicking it from corner to corner. Its handling prowess can be credited to the new Ohlins-Kawasaki electronic steering damper, which in sync with the Big Piston Fork's reacts to current speed along with the rate of acceleration and deceleration to provide the apt amount of damping force across a wide range of riding situations.
Braking responsibilities are taken care of by Tokico dual semi-floating 310mm petal discs with dual four-piston radial-mount calipers at front and single 220mm petal disc with aluminum single-piston caliper. Also for the Ninja 10-R, Kawasaki collaborated with Bosch to develop a special system called the Kawasaki Intelligent Anti-Lock Braking System (KIBS). The KIBS works in conjunction with the traction control system to provide better braking. I felt the brakes did their jobs fantastically but my only grouse was that they didn't offer much feel or feedback.
To see how the 10R can cope with city traffic conditions, I rode the bike in rush hour Pune traffic and returned amazed. It was a breeze to cut past the traffic and even though engine temperature went up till 115°C my legs weren't getting toasted and all I could feel was a breeze of warm air at the bottom of my left leg and it is the most comfortable litre-class bike I have ridden in traffic by a huge margin. Another point I would like to mention is the exhaust note which is subdued at revvs below 4,000rpm thereby not attracting much attention. But once you open the throttle past 7,000rpm, the inline-four mill comes to life filling the surroundings with a melodious and bassy roar as bystanders gawk astonishingly.
Verdict:
As my time with the ZX-10R was coming to an end, my admiration for the bike was increasing constantly. The 10R has all the numbers to make it among the fastest litre-class offering in the world while at the same time it is also one of the most easy to ride and live with superbikes on sale currently. The 10R was developed for the track and it reeks in its DNA but at the same time you can take it for a spin around your city without looking like a worker who has returned home after a days of hard work.
Also, with the various traction controls and other electronic aids, one doesn't have to be an exceptionally good rider to ride this beast but that doesn't mean any novice can do whatever to his whim and yet return to tell his tale of absurdity. The Kawasaki ZX-10R has been priced at Rs 15.7 lakh (ex-showroom Pune) and given its credentials it is among the best litre-class superbike money can buy in our country along with the Aprilia RSV 4, which is its closest rival as the BMW S1000RR is way overpriced. Well I would like to say the wait for the ZX-10R was well worth it and I would like to sum up the Ninja in just three words, "Greener, Meaner and Leaner.'