Isuzu D-Max V-Cross: Review
Sep 30, 2016
Views : 48078
---
The Japanese bring us a rare beast in the form of the V-Cross. Is it a showpiece or a showstopper?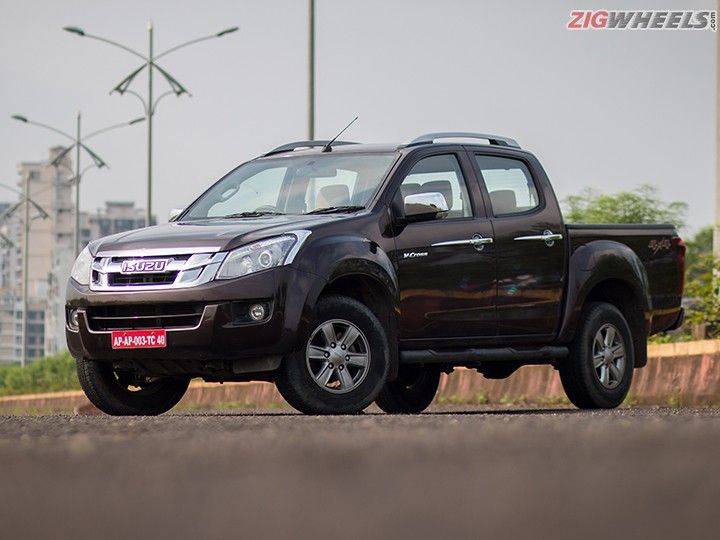 The job of an auto journo is definitely one that many envy. I'm a middle-class bloke with a fierce passion for anything with an engine and understand the alphabet well enough to put sentences together. As a reward, I get to test a lot of fancy cars that I can't afford, but honestly, electronically complex luxo-barges don't tickle my fancy much. I'm a bit of an anarchist and prefer cars that I can thrash and mistreat, only to have them come back and ask me "Is that it?"

So when I learnt the Isuzu D-Max V-Cross was mine for the testing, I couldn't help but rejoice, thinking about the guilty pleasure that awaited. I relate to the V-Cross quite a bit. It's a big, bulky and old-fashioned creature in the sea of small and more fashionable machines that adorn India's roads. As a 6.5ft tall chap who weighs about the same as the average economy hatch, I'm not one to be easily intimidated, but the proportions of Isuzu's latest and literal beast made me think about handing over my lunch money.

The Xenon XT features in this pick-up's limited list of rivals, but while the Tata is hardly petite, the V-Cross is longer than even the Mercedes-Benz S-Class. Add to that the plus-sized chrome grille, chunky projector headlamp clusters that look down upon you in amusement and bulbous wheel arches, and you've got a machine that can reflect the strength in your personality or make up for the vigour it lacks.

The 16-inch wheels with chunky tyres and 1,485mm long cargo deck remind you of its utilitarian purpose, while silver roof rails and chrome highlights add some bling, reminding you that this UV doesn't need a CV licence to be yours. Word of warning though, the chap at the toll plaza will probably expect commercial vehicle cash from you!

Climb into the cabin and it feels eerily similar to the Chevrolet Trailblazer. In fact, both share their ladder-frame underpinnings and major components like the interior trim and steering wheel as well. Understandably, you can't expect luxury sedan-like tech or quality, but it feels well-made if not premium. The plastics feel durable and the fit and finish quality is a job well done too. The beige and black colour palette is conventional, but pleasant on the eyes, and the silver bits on the centre console and steering add a little 'snoot' to this brute with an open boot.

The exterior size translates to cabin space well and given how this is wider than a Toyota Fortuner, there's adequate shoulder room too. There's a healthy amount of space to spare for your head and knees too, and while no animal died to drape the chairs, the cushioning is generous and the seats offer good all-round support. Yep, the driver's seat is height-adjustable, the steering is tilt-adjust able, and 3 tall adults can sit in the back without much adjustment.

However, while you do get a few cup holders, a 60:40 tip-up rear bench and plenty of storage areas, the feature list is rather spartan. Sure, you get automatic climate control, a detailed MID and power adjustable/foldable mirrors, but come on, these are standard issue! The touchscreen infotainment system on our test car was an expensive add-on, and while I can accept that, the missing reversing camera or sensors I cannot. This thing is big enough to command its own zip-code so at least parking sensors should be a given. Thankfully, dual-airbags, ABS and brake-assist come as standard.

What's also a given is that despite the premium touches, this is still a machine for the grime-in-nails kinda guy, so you still get a blue collar heart. The V-Cross gets the same 2.5-litre turbo-diesel engine as the standard D-Max in the same 136PS tune and its reputation precedes that of the pickup itself. It's not the pinnacle of refinement and, apart from sounding like an old-school diesel, it also transmits vibrations into the cabin and to the gear lever in particular.

However, you do get the promise of legendary reliability. This is a load-lugging motor, so no surprises why the engine follows a 'torque-first' philosophy. All 320Nm of the twisty goodness is delivered from just 1,800rpm, so the powertrain needs nearly no revs to get moving even in 2nd gear and also offers impeccable in-gear acceleration. This makes city driving a breeze, with the engine egging you on to upshift early. The clutch pedal feels amazingly light to use too.

Overtakes are no problem either, but while high gear-low rev combinations work lip-smackingly well, they're also your only option to keep moving at a good pace. Aggressively downshift, slam the gas pedal and it's like an angry barking Chihuahua – lot of noise, but no real consequences. It's better to cruise and try to get close to the 12.4kmpl claimed efficiency figure, which isn't much, considering how there are heavier and more powerful ladder-frame UVs that are more efficient.

The load-lugging powerplant is supported by a chassis of a similar nature. Agile it is not and you do sense the implications of its size. Body-roll is noticeable and it feels skittish should you attempt any high-speed cornering. Yes, the heavy steering is quite a handful in the city, and while it is direct, it won't please the enthusiast since there's not much feedback. Additionally, the V-Cross rides on a leaf spring rear suspension which is meant to support heavy weights, not spirited driving. Drive solo at high speeds and you feel the tail get a tad bumpy. As a result, the ride isn't luxury sedan plush, but it's actually better than many popular SUVs. Fill up the 265kg capacity loading deck and the ride will settle down and that's when you can appreciate the V-Cross's bad road ability. The 245-section tyres have sidewalls measuring over 171mm, and while their grip levels are decent, it's their ability to pummel through pothole after pothole that impresses.

Drive through dirt tracks on the way to your farmhouse or through the trophies of incompetence that the municipality calls 'roads'; the V-Cross is relentless in its expressing its desire to deal with broken patches. The best part is, while like the MU-7, the D-Max V-Cross is solar-system-big, its proportions are backed up by actual off-road ability, thanks to the shift-on-the-fly 4x4 system with low-range.

Throw in the 225mm of ground clearance and you might find yourself looking for a challenge to tackle even in regular settings. However, the approach and departure angles aren't ideal for hardcore off-roading. With about a mile between the rear tyre and tailgate, this is still far too large to be an alternative to the Thar or Gurkha. The driving position gives you a good view that aids in manoeuvrability and, of course, you're never starved for torque, but the heavy steering means you better keep some energy bars handy if you're heading into intimidating terrain.

The V-Cross is more practical than purpose-built off-roaders, but that does come with an understandable compromise on the go-anywhere factor. That said, the modification prospects are aplenty and a little tinkering can enhance the V-Cross's appeal both mechanically and cosmetically.

Now chances are, you're reading this review just out of curiosity or to reaffirm a decision you've already made. The fact is, at a price of Rs 12.80 lakh (ex-showroom, Delhi) there are better performing and easier-to-live-with SUVs available. Owning an open-bed pickup just isn't the same as getting yourself a 4-pillar SUV and unless someone just wants a cool toy with a stand out body style, the cross-shopping prospects are low.

The V-Cross is, however, the real deal. It's the support car for your inter-city bicycle rides, your cargo mover for business transactions, your play thing when the going gets rough and your beloved driveway mammoth, just because!