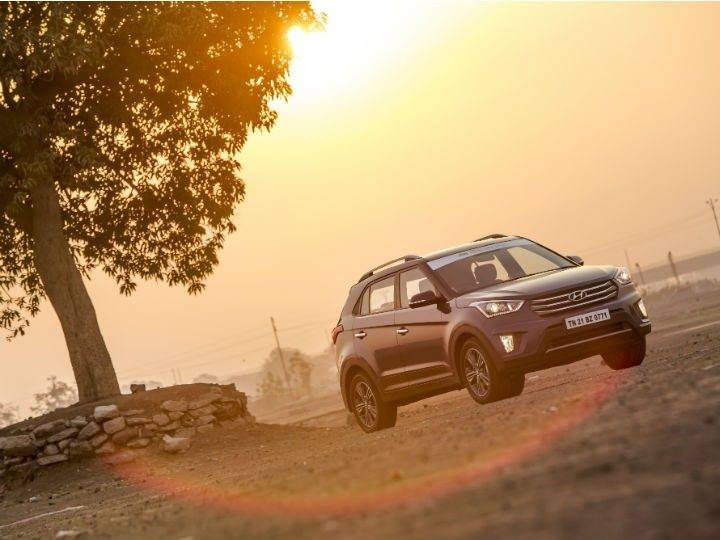 We drove the Creta from Leh to Kolkata in our River Run drive with Hyundai as part of the Great Indian Drive. Spending a little over 3000km with the Creata in those 10 days, the car is back to us in Mumbai. So it makes more sense to start this long term review with a 3000km long term report rather than a fleet introduction.
During those 3000km from Leh to Kolkata, The Creta went through all kinds of terrain and weather that the Northern part of India could offer. From beautiful twisty tarmac to non-existent roads, from temperature upwards of 42 degrees in Uttar Pradesh to -10 degrees in Sarchu, to dried river beds of the Ganga to a foot of snow at Chang-La pass, the Creata has already seen it all!
The Creta with the 1.6-litre diesel mill producing 128PS of power and 265Nm of torque is a good car to drive. Refinement is the key and it's without a doubt the most refined car in its segment and that's something you would value the most if you are to drive the car a lot in the city. There is plenty of torque available in the lower revs and shifting to first isn't necessary in most situations but a slight turbo lag is evident. Post 1900-2000rpm the engine has enough power to perform quick overtakes. The power delivery is linear and that's is something I like about it when in the city or on the highway.
The clutch is light, so after those 2 hour commutes in Mumbai you won't end with a dead left leg. The only grouch I have is the clutch travel which is bit more than I would have liked it to be. Gear shifts are slick and short though there have been couple of instances of the gear not slotting into second gear, then again it could be just our car considering the history and clutch life.
The steering is light and that's something you would credit all Hyundai's with. The EPS weighs up as the speed builds up, but it still not something that would bring a smile to an enthusiasts face, but it doesn't disappoint either. It's light enough to maneuver the car in the city and in tight parking spots while still keeping the confidence high on the highway doing triple digit speeds. NVH levels are well within control and there is hardly does any noise creeping into the cabin. The engine lacks the diesel clatter one would expect from an unit this big.
Ride is soft and the suspension tackles smaller potholes and bumps without a breaking a sweat, thereby making it a perfectly comfortably city car. Out on the highway the Creta is slightly softer than we would want, comparing it to the Duster which rules in that aspects, But it isn't too bad. At higher speeds there is a bit of a bounce in the ride. And around corners the body roll is well managed.
Features are something that Hyundai proudly boasts of, so does it have it all? I wasn't thoroughly satisfied. Keep watching this space for what I found out in the next part of the long term review.
Total km to date: 4,137km
Efficiency: 15.3kmpl
Date acquired: December 2015
Costs: Nil
Cheers: Refinement, Engine, Light clutch.
Sneers: Steering feel, stability at high speed over undulations.