Honda BR-V : Detailed Review
Apr 30, 2016
Views : 183426
---
We finally get our hands on the brand new Honda BR-V SUV. And we ask the one question everyone has been asking, was it worth the wait?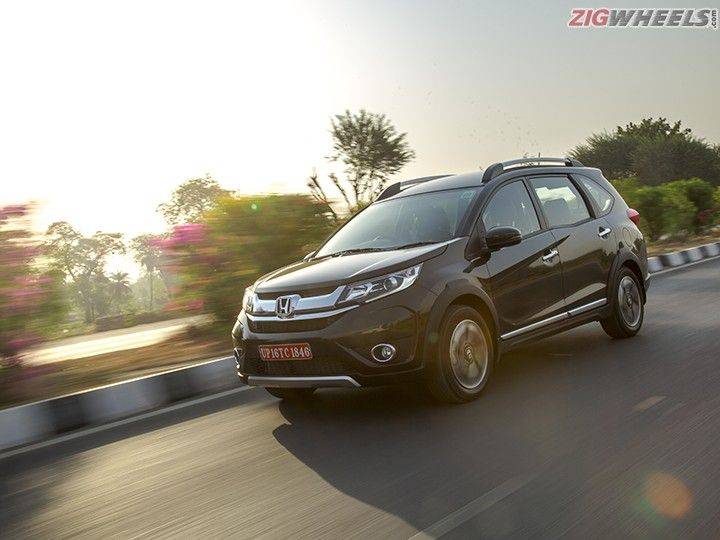 Honda came to India in 1998 and became an instant hit with the upper crust of the Indian middle class with the Honda City. When everyone else was driving around in carbureted Maruti Esteems with negligible features, Honda offered the likes of the electronic rear view mirror adjustment. And in the last 18 years of existence, the Honda City has been at the top of its game as one of the most favored cars in India (I should know... I have owned several). Sadly, Honda's other cars have never enjoyed sales or 'love' like the City has. Fast forward to now – 2016. The SUV is clearly king of the Indian automotive segment. And until very recently, Honda did not have an affordable SUV which came with a 'must-have' diesel engine. Now they do. After years of dilly-dallying around with prospective products, Honda India finally has a compact SUV to offer in India. And it is the brand new Honda BR-V.

Exterior Styling
Score: 3/5
We have to start this section with a contradiction of what we just said a few lines ago. The Honda BR-V is not your average SUV in its purest sense. It is not aggressive, it is not macho and it certainly does not have the kind of street presence you see on some of the competition. That said, if there was ever a car to define the word 'crossover', the BR-V would be it. So lets get down to it. We like the sleek front that comes with a large chrome grille and a well-styled bumper that gets a silver skid plate. We also like the very well detailed headlamps that get a slash daytime running light, a projector headlamp and a separate module for the halogen high beam. And for a change, Honda has actually provided a really good looking set of large 16-inch wheels that come with a polished finished on the top of the line version that we have here.

Now to what we do not like on the BR-V. To start off with, the side profile looks way too much like the Mobilio and that makes it still look a lot more van-like. The only saving grace could be the plastic cladding that runs through the sides, the strip of chrome along the bottom of the doors and the roof rails that come finished in a polished metal look. But even all these trinkets do not make the Honda BR-V appeal to me personally. What Honda could have done is place the taper point on the last row windows about 12-inches higher which could have really gone a long way in making the side profile look evolved.

And then we move to the rear. Now, usually I have a very clear 'love it or hate it' relationship with design, but somehow neutrality is the stand I will take here. Makes you think though, if Honda or some optimistic aftermarket dealer decides to offer a lighting package that could light up this whole strip here (that currently is only a piece of design), it could result in a signature look for the BR-V making its appeal a lot higher.

Interiors, Space and Features
Score: 2.5/5
One of the biggest aspects of the BR-V that everyone keeps talking about is the fact that the BR-V is a seven seater SUV. So lets talk about seats, space and comfort levels first before we talk about design. For starters, the BR-V is genuinely spacious when it comes to comparing it with other cars of its category. All variants get black interiors with the top of the line versions getting a full leather pack which includes seats, side rests and a leather wrapped steering wheel and gear knobs.

Front seats are comfortable and have adequate comfort levels with good padding. But most owners might use the rear seats a lot more and in terms of legroom, the BR-V outclasses almost everything else. The middle row also gets a 60-40 split and a one touch folding setup which makes getting access to the last row very easy. Headspace in the middle row is also good and the large window makes the cabin feel very airy. However, there just is not enough room to fit three large adults in the rear seat and it feels pretty much as spacious as the likes of your average compact sedan or hatchback in terms of overall shoulder space.

The third row, which comes with a 50-50 folding option and one might assume it to be as cramped as some of the other SUVs that have seven seats. However it could fit two adults with relative (but slightly cramped) comfort if the journey is short. Now, with a third row of seats, one cannot really expect a lot of boot space, but the BR-V does have enough space for a coupled of small bags and if you really had a lot of luggage, you could always fold down the rear row.

Coming to design and equipment, there are sections that impress and then there are sections that disappoint. Let us start with the positives. Personally, I like the simple and clear layout of the BR-V although some might argue that Honda has lost it's flamboyance in recent years. You get a very horizontal theme with slim AC vents and an accent piece on the dashboard. And you get climate control on the top of the line variants instead of a set of conventional knobs. And now the most disappointing thing about the BR-V! The infotainment system looks and feels like it deserves to be in an entry level micro hatchback and not in a Rs 10 lakh+ crossover. This one thing actually ends up ruining the experience of the BR-V to an unparallel level as it does not have touchscreen, navigation or facilities like Apple CarPlay and Android Auto. And it continues. You get no automatic headlamps, automatic wipers or cruise control. Truly a disappointing move from Honda India.

Engines, Gearbox & Performance
Score: 3/5
As we mentioned earlier, the Honda BR-V comes with a diesel engine. And of course, like with all other compact SUVs in the market today, a petrol engine too. Both are 1.5-litre units that get a 6-speed manual gearbox (with the petrol also getting a CVT gearbox and paddle shifters). The diesel is a turbocharged four-cylinder unit makes 100PS of peak power and 200Nm of peak torque. The petrol is also a 4-cylinder i-VTEC four-cylinder unit that makes 119PS of peak power and 145Nm of peak torque.

We first got a chance to drive the petrol engine in both its manual and automatic avatars. As always, the 1.5-litre motor is revvy and sounds glorious when taken all the way to the red-line. Of course, power bands are quite linear but there is a bit of a lag at the lower end of the rev-range. The new 6-speed gearbox is as good as the old 5-speed and has short and very precise shifts along with a good clutch action which makes it ideal for start-stop city traffic. However, if you are a city slicker and like me spend about three hours a day stuck in traffic, then you have to consider the CVT gearbox.

And as with the Honda City, the CVT on this car also gets a paddle shifter option. Now, in general 'Drive' mode, the CVT behaves like any other whiney CVT out there. But push it into 'Sport' and you can go through gears with the paddles giving yourself a very Jenson Button-ish feel.

Of course, everyone is going to be most concerned about the diesel engine and the tried and tested 1.5-litre engine is most certainly going to loose all games of 'Top Trumps' when compared to its rivals on the basis of power and torque figures. But the Indian customer is more than these power numbers – the Indian customer is all about the fuel economy number. And in that aspect, the BR-V does score high with a figure of over 21kmpl (according to ARAI). On the whole, yes, the diesel does feel a bit laggy when it comes to punch, but once you get it going, it pretty much holds its own. The NVH levels though have definitely improved with Honda putting in a lot more effort to dampen heavy acceleration noise and general roughness. Sadly, Honda has no plans for an automatic variant of the BR-V, which we think would have done extremely well in the present market circumstances.

Ride, Handling & Braking
Score: 4/5
The Honda BR-V will mainly be used as a family runabout and it is imperative that the crossover SUV have a good level of ride comfort. And it does for most parts. Slow speed ride quality is great and we were genuinely impressed by how the BR-V does not let in thuds and thumps from bumps at such speeds. Speed up a bit and the first row passengers will be taken care of as well but the second and third row occupants do get thrown around a little bit. This is even more accentuated when you encounter a set of continuous bumps. Although the BR-V will not make you feel uncomfortable and will prove to be a great grand tourer especially when weighed down with a bunch of passengers and their luggage.

When it comes to handling, the BR-V is like any other Honda – just enough neutrality to be ballistic levels of fun in the right hands. Steering feel is great and the steering feedback is good enough to make the driver know exactly what both front tyres are up to at any given time. The 195/60 R16 Michelin tyres that our test car came with did have an average level of grip, but we think that a better set of tyres would really improve the way the BR-V would handle and stop even more. And talking about stopping, the BR-V comes with disc brakes up front and drum brakes at the rear with ABS as a standard feature on all models. And unlike some of the other Honda cars in the past which were a little under-whelming in the braking section, the BR-V's brakes have good bite and feel under normal and heavy braking. Talking a bit more about safety features, the BR-V does come standard with airbags across all variants.

Verdict
Score: 3/5
The Honda BR-V is a crossover SUV that India has waited for with bated breath for years primarily because it is Honda's first diesel SUV offering in the country. But, we think that Honda has tried to play it way too safe with the BR-V, which makes it an underwhelming product. Now the perfect target audience for the BR-V would have been the middle class family man with a couple of children who go out over the weekend for a holiday or two ever so regularly and want a car that has a premium Japanese badge and a sense of pride in ownership. This customer also wants something reliable which means that the Honda brand caters perfectly to him or her. But we think that even this perfect target customer might be concerned about a few things.

And those things are not the fact that the BR-V looks a little too much like a MPV (particularly the Mobilio from the side), or the fact that in terms of power (on paper) it isn't up there with the best. And even though this ideal customer would have loved the seven seater layout and the sheer amount of space that the BR-V brings, this same customer also wants a gadget rich option. And the BR-V is nowhere even remotely close. Does the BR-V still have the potential to move the Indian market like every Honda City has ever done? Yes, but if and only if Honda prices the BR-V extremely aggressively and takes a cut on their profits in order to get the units out of the showroom floors and onto the streets!

Likes: Interior space and quality, seven seats, overall ride comfort
Dislikes: Lack of features, underpowered diesel and no diesel automatic, overall design and appeal