Harley-Davidson 883 Iron : First Ride
Mar 21, 2011
Views : 70983
---
The Harley-Davidson 883R Sportster has two new siblings in Indian showrooms and they're a whole lot more affordable too! Muntaser Mirkar shares his first impressions on riding the Iron 883!!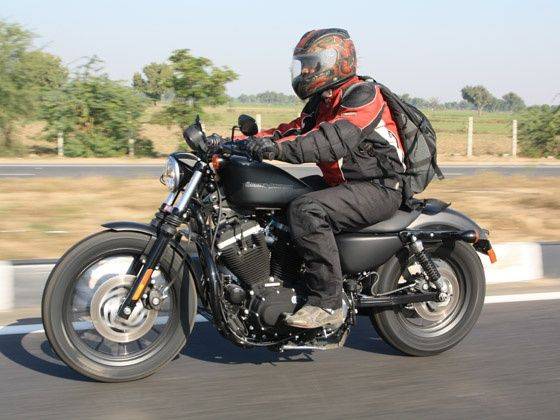 Imagine a Sportster with its ground clearance lowered down by around 21mm, blackened up so you can't make out where the bike is on a pitch black moonless night, lowered handlebars and injected with near-lethal doses of attitude – the sinister image that probably forms in your head is the Iron 883. Quite frankly, the Sportster felt a little too 'normal' – for lack of a better word, but that has completely been changed with the Iron 883. Just a few subtle changes to key areas have transformed the 883 into a very desirable bike with a super-comfortable riding posture. With the footpegs neither too far back nor swept out to the front it forms the perfect handlebar-saddle-peg geometry. The standard bike will come fitted with a single low-slung seat that shows off a rather low-rider type stance which is further amplified by the 19-inch blackened aluminum alloys up front and a 16-inch, 150-section rear tyre.
The engine will come coated with a matt-black finish all over the cylinder block and crankcase. Power delivery is smooth and comes complimentary with the legendary Harley rumble that has been so iconic over the years. But luckily, the complete package won't leave you desperately grasping on to the handlebars as you give the throttle a full whack of the right wrist, making the Iron a sweet bike to show off in even when in the city.
There is one problem with the Iron though – and that's got to do with the functionality of what is probably the most attractive part on the bike – the fuel tank. With a rather restricted capacity of only 12.5 litres, the Iron won't really eat up too many miles before wanting to be topped up with fuel again. And that's a real shame for a bike that feels so good to ride out on the highway that you just don't want to stop as frequently as it is going to make you.