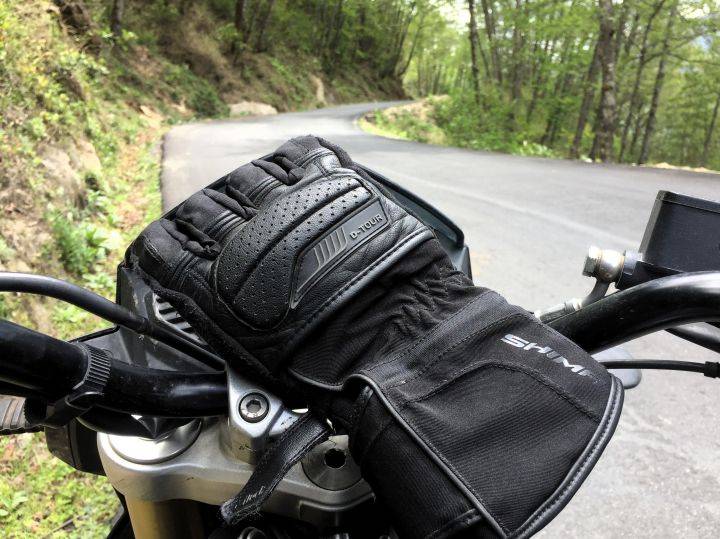 Shima D-Rour WP
Used for: 3 Months
Price:
Rs 4,000 (available on motoigniteindia on Instagram)
Rs 4,678 (excluding taxes via shima.pl)
Options:
DSG Hydro Waterproof Gloves: Rs 2,700 (www.planetdsg.com)
RE Polar Gloves: Rs 4,200 (www.store.royalenfield.com)
What manufacturer is this?
Shima is a motorcycle apparel manufacturer based out of Poland. It is a relatively new company that is making a name for itself with the high-quality motorcycle riding gear it manufacturers. Shima products are being imported to India by Motoignite and are available on amazon.in and snapdeal.com
What's special about these gloves?
The D-Tour WP touring gloves are supposed to be waterproof and wind-proof touring gloves that while being useful for daily riding, should be able to brave cold weather conditions. The gloves look quite unassuming but come with decent protection like extra protective panels along the outer edges of the palm and little finger which are most prone to injury in the event of a crash. It also comes with hard protectors on the fingers and soft protectors along the top of the knuckles.
Are they really waterproof?
We took the D-Tour WP gloves to the North East and used it extensively over a period of 12 days. During this time we witnessed thunderstorms, snow and also a hailstorm. The gloves managed to keep our fingers dry through all these conditions so I would say they are fairly weatherproof. The gloves do get a cushioned liner on the inside for comfort. Being an all-weather glove, they do not insulate as much against the cold and you do need extra woollen gloves for riding in sub-zero temperatures. They are windproof though so that helps in most cold weather conditions.
How is it for long distance touring?
One issue I found with the gloves was the tendency to heat up on the insides after a few hours of riding. Being a waterproof glove, there is not much in the way of ventilation so things tend to get a bit warm and sweaty inside. The inner layer is quite comfortable though with no exposed stitching on the inside. The gloves have flexible panels and are pre-curved as well so the fingers are at their natural gripping state while riding. I felt though that the little finger begins to feel discomfort after a few hours of riding and that may be down to the extra protective layer around that area that makes that part of the glove rigid. The inner palm and finger area has a more abrasive texture for better grip with small rubber inserts on the fingers as well. There is a small rubber strip on the edge of the index finger on both gloves which is meant to help clean the helmet visor- a nifty feature.
What about everyday usage?
The gloves are good enough for everyday usage if you do not mind the fact that it is not ventilated. They are comfortable to wear and the inner cushion wicks sweat to a certain degree. It gets a v-lock cuff that holds the glove securely in place. The gloves feel natural to wear and ride in and the regular fit means it is easy to wear and take off as well.
Value for money?
There are waterproof touring gloves available in the Rs 2,500-Rs 3,000 range but they are not full gauntlet gloves neither can they match the quality of materials of comfort the D-Tour offers. Other options offering similar quality start at Rs 5,500 but they miss out on the waterproof bit and are water-resistant at best. The D-tour WP gloves are a good investment if you ride a lot during the rainy season or tour quite a bit in the cold northern regions of India.
Positives:
Good fit and finish
Palm area can also be used to wipe down visor while riding
Comfortable inside liner
Says dry in the worst of rains
Negatives:
Needs to be more pre-curved in the finger area
Thumb wiper blade not that adept in cleaning visor.