Cleveland Cyclewerks Ace Deluxe: Road Test Review
---
Does this neo-retro bike pack enough to stand against the similarly priced RE Interceptor 650?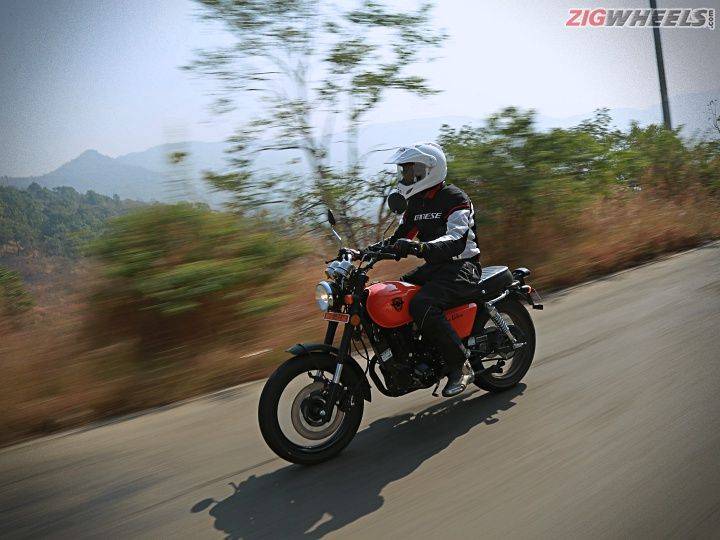 So what exactly is Cleveland CycleWerks? It is a US-based bikemaker situated in er. Cleveland, Ohio. The owner, Scott Colosimo has a simple vision - to make good looking bikes at affordable prices. For the affordable part, Scott sources his bike parts from China. CCW has now partnered with Laish Madison Motor Werks to assemble and sell bikes in India. Now, Chinese built products aren't exactly a bad thing. Heck, even your premium iPhones are manufactured in China. Same is the case with motorcycles, a rising trend in India. That said, the quality of Chinese sourced bikes does vary in India. Prime examples are Benelli, whose bikes have relatively good quality. Then you have UM motorcycles whose bikes have passable quality and then most of the electric scooters sold here which are affordable but won't impress when it comes to fit and finish. Cleveland's bikes are definitely priced towards the premium end of the spectrum, with the Ace Deluxe here costing well above two lakh Rupees - within spitting distance of segment benchmarks such as the Royal Enfield Interceptor 650 and the KTM 390 Duke. So does it do enough to justify its premium pricing and break the stereotype that bikes sourced from China can't deliver enough quality?

It looks good:
Yes it does. The dimensions do need getting used to though. It is as small as a 100cc motorcycle. However, the minimalistic styling with bright paintwork and the flat brown seat does make it stand apart. We love the raised fenders and the minimal stickering on the tank and side panels.
It looks good from a distance, but come closer and that impression will change. Uneven panel gaps, exposed mounting screws on the tail lamp and parts like the brake plumbing, levers, chrome instrument console cover and exhaust don't exactly spell out quality. There are a few fitment issues too. Our test bike had the exhaust manifold mounting nuts come loose after a couple of days of riding.

Given the retro diktat, you get basic features like a prismatic headlamp, while the tail lamp and turn indicators use a bulb type setup. Even the twin-pod chrome covered instrument console feels very basic and displays just the speedometer, tachometer, mechanical odometer and tell-tale lights. It does not get a fuel gauge, not even a low fuel warning light which we think is a big miss.
Overall, the bike gets a thumbs up for its design and a thumbs down on quality and fit-and-finish. It feels built to a cost and that's disappointing, given the higher than average asking price.

Is it a performer?
It is not. The motor is an old school air-cooled and carburetted 229cc single-cylinder unit that uses pushrods instead of a cam chain. On paper, it makes 15.4PS at 7000rpm and 16Nm of torque at 6000rpm. That's quite low for a 200-plus cc motorcycle in a market where even 160cc motorcycles develop similar power. Torque too is low compared to other 200cc motorcycles. It's a fairly basic motor that is slow to rev, but that does give it a very linear powerband, making it completely unintimidating to ride.
The bike goes from 0-60kmph in 6.68 seconds and 0-80kmph in 13.11 seconds. 200cc bikes take a similar amount of time to reach 100kmph. In our test cycle, the Cleveland Ace was unable to reach 100kmph on our testing strip, managing to clock a Vbox-tested top speed of 96.92kmph before we ran out of road. Mind you, this road is long enough for most 100cc bikes, and even a couple of scooters, to hit three-digit speeds. To put it bluntly, the Ace's acceleration figures are on par with 125cc bikes.

Bottom-end performance isn't much to speak about, as there is not much happening below 5000rpm, post which the engine starts to wake up. Acceleration feels strongest between 6000 to 7000rpm, tapering off above that. Surprisingly, the rev limiter cuts off at 8000rpm instead of the 9000rpm redline indicated on the tachometer.
And then, we had issues with the bike making a horrible grinding noise during launch. The bike shuddered every time you accelerated or decelerated and this feeling was further amplified due to erratic fuelling from the carburettor. In a couple of runs, it sputtered so hard when the throttle was opened wide, that it actually stalled during launch. We believe if the fuelling and the grinding noise from the clutch could be addressed, the performance numbers could have been slightly better.

In our roll-on tests, the Cleveland Ace accelerated from 30-70kmph in 3rd gear in 7.22 seconds and 40-80kmph in 4th gear in a ridiculously long 11.42 seconds. This low figure is down to the slow revving nature of the motor and the fact the taller 4th gear takes time to get the engine to its peak torque. In fact, in 3rd gear, at speeds below 30kmph, whacking the throttle open results in the motor wheezing and dying out. The same happened in 4th gear at speeds under 40kmph. Clearly, it could have done with some carburettor tuning. Even gearshifts feel quite clunky and there's a lot of play in the shifter pedal.
But one area where the Ace Deluxe didn't disappoint was the mileage. On our fuel efficiency tests, the Cleveland Ace returned 39.68kmpl in the city and 33.98kmpl in the highway. These figures are on par with the 200cc segment.

How does it handle?
With its diminutive dimensions, the Ace Deluxe was expected to be a fun motorcycle to ride. Well, in some ways it is. A seat height of 760mm makes it accessible to riders of pretty much any height. That said, If you are six feet in height or taller, you will be sitting in an almost monkey bike-like riding position with the footpeg and handlebars placed close to you. This can put stress on the knees over longer distances, given the cramped riding position. The wide and flat seat is comfortable though and cushioning feels about right. It is a small seat, however, and while the pillion might like the seat width, they will not appreciate the lack of length, cramped seating position and absence of a grab rail.

The bike sits on a square tubular backbone that uses the motor as a stressed member. Surprisingly, it is equipped with upside down forks, which do lend nice chunkiness to the overall design, and at the back, it gets preload adjustable twin rear shock absorbers. While the ride is well damped and the suspension setup soaks up most bad road surfaces well, the relatively small suspension travel means you get thrown around by speed breakers and large potholes.
The small dimensions and light 122kg kerb weight makes it easy to chuck the bike around. It is easy to ride in the city, though the steering has a large turning radius which requires 2 to 3-point turns in cramped places. Also, the front end feels quite sharp, almost to the point of being twitchy. The wheels are 17-inch aluminium spoke wheels. While the Ace Deluxe gets dual purpose tyres abroad, here we get road-spec Ceat 110/70-R17 front and 130/70-R17 rear tyres. These don't inspire too much confidence during spirited riding and with the twitchy front, dampens the overall experience, especially on slightly bumpy twisties.

Braking is via a 298mm front disc and 210mm rear disc. Surprisingly, the Cleveland Ace does not get ABS. Despite that, the bike posted decent braking distances and clocked an 80-0kmph distance of 41.41 metres and a 60-0kmph distance of 23.55 metres. These figures are slightly better than the Hero Xtreme 200R which comes with a single-channel ABS setup. The brakes themselves do have a progressive feel and a fairly strong bite.
What the small frame feels more suited for, baring the sharp front, is mild off-road riding. Cleveland does sell the Ace Scrambler abroad which gets a 35mm taller seat and better ground clearance and should be quite fun to ride.

Thoughts?
The big question then - does the Cleveland Ace Deluxe offer good value? Now, we do like the idea of a small capacity retro bike, and that's something Jawa has executed well by offering proper retro looks and twice the performance. But the Jawa comes in at Rs 60,000 lower than the Cleveland Ace's asking price, which is Rs 2.23 lakh (ex-showroom Delhi). Put in about Rs 27,000 more, and you get the Royal Enfield Interceptor 650 - probably the best bike we've ridden this year. Now Cleveland did drop pricing for the Ace Deluxe by Rs 38,000 for the first 200 customers. In spite of this, we think the new price of Rs 1.85 lakh for this bike is still an expensive proposition. The Ace Deluxe suffers from too many misses - it misses out on quality, features, performance and at its high asking price, it just does not feel like a value proposition.

More so because in the US market, the Cleveland Ace Deluxe is priced at which translates to Rs 2.31 lakh. Now, out there, that pricing is actually quite affordable for a 200cc motorcycle, and might even work for someone looking for a simple, inexpensive and unintimidating beginner bike. But CCW seems to have converted that price quite literally for India, which (at Rs 2.23 lakh) becomes too much of an ask as it enters the territory of significantly more premium motorcycles. Given the quality, performance and features (or lack thereof) on offer, the Cleveland Ace Deluxe could make sense in India if it were priced way way way way lower. But as it stands, it's rather hard to recommend it to anyone.
Add Your Comments