Bajaj Avenger 220 Street : Detailed Review
---
With the Bajaj Avenger being the only bike to have firmly held its ground in the Indian cruiser segment over the years, Varad More now looks at the new Avenger DTSi in its latest 220 avatar

There is a keen sense of freedom that reflects each time one straddles a motorcycle. The joy of cruising over inviting open roads is unfathomable. And what better tool than a comfy powerful cruiser motorcycle for laidback rides on the highway? Unfortunately, Indian cruiser lovers have been left wanting as there have traditionally been very few models to choose from. Over the past decade however, the only bike to have firmly held its ground in the cruiser segment is the Bajaj Avenger, which has successfully withstood the test of time. Introduced in January 2001 as the Kawasaki-Bajaj Eliminator powered by a 175cc Kawasaki engine, back then it was one of the most expensive set of 2-wheels on sale in India. How things change though - in its latest avatar, Avenger 220 DTSi is one of the most affordable and powerful Indian motorcycles available in the market today.
The Avenger has seen a host of engine transplants through its tenure. In 2005 Bajaj Auto plonked the indigenously conceived 178cc DTSi motor from the Pulsar 180 DTSi into the Eliminator albeit in a different tune and re-badged it as the Avenger. Two years later, the 198cc DTSi engine from the Pulsar 200 also made its way onto the Avenger. These strategic developments allowed the Pune-based bike-maker to price the new Avenger competitively and bring it into the affordable price-band but without letting the Avenger brand lose its lustre. While demand for the sportier Pulsars and Karizmas sky-rocketed amongst the masses, those looking for a comfortable, stylish and laid-back motorcycle took to the Avenger without any qualms.
In its newest iteration armed with an all-new 220cc motor borrowed from Bajaj Auto's flagship, Pulsar 220 DTSi, the Avenger packs in more grunt and thrust to cover distances with lesser efforts but more thrills. Since its inception, the Avenger has turned heads and it has been one of most gorgeous bikes to have rolled out of the Bajaj factory. In its newest form, there are no amends made to the new Avenger's exterior design apart from fresh graphics but it still retains its confident poise and low-rider persona. The ergonomic triangle of handlebar-footpegs-seat is perfectly designed which makes for a very relaxed and laidback riding position without the rider having to stretch his arms to reach the handlebars. The lightweight aluminium footpegs too are placed correctly to accommodate lanky fellows as well as shorties like yours truly – ideal for the Avenger's intended use to cover distances without exhausting the rider over long hauls. A different aspect of the Avenger is also its versatile nature that is often seen missing in big, burly cruisers. For instance, despite its stretched wheelbase and extended rake with a bulk of 154kg, the Avenger is still one of the easiest bikes to ride in crowded city traffic. This underlines the all-around performance of the Avenger as an everyday bike as well as a trusty set of wheels for long distance touring. Ergonomically, the Avenger has always had the right ingredients – low saddle, wide and raised handlebars and feet-forward peg positioning together give it a true-blue cruiser-like riding posture along with oodles of style.


Cruiser motorcycles are very different in their behaviour to the usual sporty street-bikes and everything about these low-slung machines built to leisurely traverse across boundaries is significantly different than their sportier counterparts. The powerful new engine and its throaty groan from the re-configured exhaust system throw light on the bike's new-found vigour and zeal. Residing inside the Avenger's dual cradle frame, the 220cc DTSi engine borrowed from the biggest Pulsar yet, also sports a different engine setup to suit the Avenger's cruiser character. Thanks to this, the 17Nm of torque peaking at 8,500rpm is evenly spread out over a flat curve and it is available on tap from lower down the rev-range as the engine comfortably pulls into triple digit figures without feeling stressed. Slotted in fifth gear, the seamless power delivery from the 220cc engine provides smooth acceleration right from 40km/h all the way upto its top-speed of over 120km/h. This vastly helps in minimizing the gear changes required during riding in bumper-to-bumper traffic and allows the rider to stay in a higher gear for smooth riding experience without having to worry about knocking or stalling the engine.


Albeit its cruiser-like tune and meaty mid-range pull, the Avenger 220 DTSI is by no means a slouch in straight-line acceleration. Minus any aerodynamic aid or light-weight components, the Avenger still posted a commanding 0-60km/h time of 4.5 seconds while the 100km/h mark came in just under 16 seconds. Couple that to a top-speed of over 120km/h and we have a very able and potent cruiser that can swiftly reach the tonne mark and then effortlessly cruise at it. The power delivery is creamy smooth devoid of any jerks or lag. Power is put down via a 5-speed transmission that offers silky smooth gear shifts without a clunky feel or any unwanted false neutrals. But considering the bike's cruiser character and easy-going nature, we would have loved to see a sixth cog on the Avenger for a more stress-free high-speed cruising. And the bike would have also benefitted from a better fuel efficiency with a cruising gear.


Not like the Avenger 220 DTSi falters in the fuel efficiency department. With an overall efficiency figure of over 45kmpl under mixed riding conditions, the Avenger is a great tool for those who want to go touring on a budget. Even in the cityscape, the Avenger comfortably covered over 40km on one litre of petrol while on the highway run it ran over an impressive 55km on same quantum of fuel. And factor in the 14 litres of tank capacity coupled to the fuel efficient nature of the 220cc Bajaj powerplant and the Avenger 220 DTSi can comfortably take you over 600km on a single tank full.
Equaling the Avenger's performance is its sure-footed handling and plush ride quality. On a particular occasion, while riding down to Pune from Mumbai the Avenger's sorted out dynamic ability really showed its prowess when the bike firmly held its place on the road as I went through some massive crater-size potholes and was almost in two minds about whether I will be able to keep the rubber side down or not. But thankfully, the longest in-class wheelbase of 1475mm along with the chunky box-section swing-arm and 154.5kg of mass made sure that the Avenger took all those bumps without upsetting its balance or scaring the rider.


The suspension is definitely more pliant at tackling bumps and other road undulations when compared to its predecessor, and the bike also feels more planted when tackling fast twisty corners. The Avenger effortlessly tips into fast corners and holds onto the desired line without any drama. Although the new dual-density saddle works wonders for the rider, the pillion ride quality isn't upto the mark and during long distance riding, it starts to show up with the pillion feeling uncomfortable. Maybe a slightly bigger pillion saddle with ample cushioning and a little softer rear suspension settings will help in improving things if one plans to go touring with a companion. Another missing bit is a big fly-screen to keep away the wind-blasts – although Bajaj Auto is offering it as an accessory. During my highway bouts, I really missed having a big fly-screen upfront, as not only would have kept the wind-blasts from hitting me but it would have also helped in not plastering my face with dead bugs!


Cycle part quality of this Bajaj has not only gotten better but it has also improved in terms of design and functionality. The gear-shift lever with a heel-shifter has a chunky feel to it and one doesn't have to go looking for the gear-lever like on some of the large capacity cruisers we have ridden before. But we do miss having a large foot-board for that quintessential cruiser spirit. Besides these small niggles there is little to complain about the Avenger. Bajaj Auto has taken due care that the cruising experience aboard the Avenger is a pleasurable one for the rider minus any vibes or discomfort. The aluminium footpegs are equipped with rubber damping to prevent engine vibes from reaching to the rider's feet. The new Avenger also boasts of DC lighting setup, which has allowed Bajaj Auto to plonk in a 60/55W headlight bulb, giving the Avenger the brightest illumination seen on any current Indian motorcycle. These subtle changes on paper go a long way in enriching the experience on the saddle, especially if you are going to travel regardless of day or night.


Add to that the fact that there is very little to choose from if you want to buy a good cruiser motorcycle in India, can only help the Bajaj Avenger 220's case. Currently, apart from the Royal Enfield Thunderbird there is no real competitor to the Avenger in the market. While the Thunderbird has its own breed of Royal Enfield patrons, the stylish yet practical charm of the Avenger explains why despite onslaughts from other bike-makers over the years, it still remains a hot-favourite set of wheels amongst the Indian cruiser-fans. And with Bajaj Auto's prowess at competitively pricing its motorcycles, it is apparent why the Avenger makes perfect sense, especially now with added grunt and an alluring price-tag of Rs. 69,930 (Ex-showroom, Delhi). Although, more enticing than the Avenger's price is the thought that since Bajaj Auto is gearing up to unleash its new breed of Pulsars into the market sometime by 2011, we wonder what the next generation Avenger will look like. Tracing Bajaj Auto's business models and its aptitude to successfully combine technology with low-cost manufacturing and its approach of bringing power to the people, can we expect a full-blown 400cc liquid-cooled 60-degree V-twin? Let's keep our fingers crossed.
More on Bajaj Avenger Street 220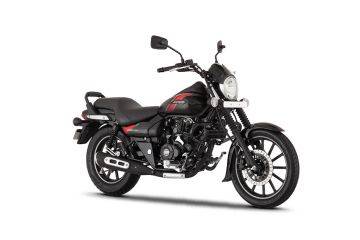 Get Loan starting @9.7%
View On Road Price