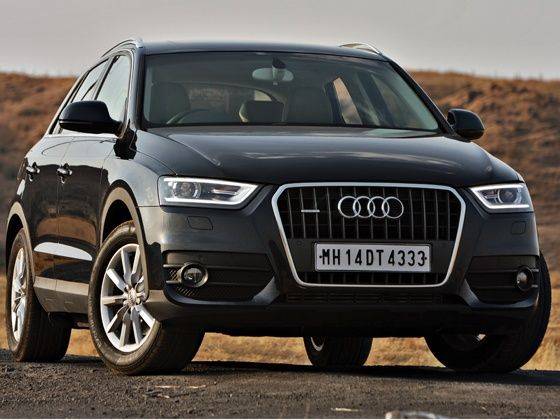 While any luxury car from Deutschland's big three brands is bound to be impressive in every sense, once in a while there comes a product that simply makes you sit up and take notice. It's happened before – when Audi launched the A7, BMW brought in the X1 and Mercedes got the B-Class. This time round, it's Ingolstadt's turn again, but it isn't for an all-new addition to their Indian portfolio. This time it's for plonking in a superb engine under an existing model's hood. There's probably not many people out there who've seen an Audi Q3 and not fallen in love with it, but now with the 2-litre TFSI gasoline engine pumping power to its wheels, it's even sweeter.
Even when this small urban luxury SUV was launched with its diesel powertrain, plans were always on for a gasoline mill to join the armoury and it's finally here. At 1,640kg, the Q3 2.0 TFSI quattro is just 20kg lighter than its diesel counterpart – and with petrol engines cranking out lesser torque compared to oil burners of the same capacity there's definitely got to be a trick up its sleeve to achieve the kind of performance that it does. This Q3 will do the 0-100 km/h dash over a second quicker than the TDI and will also power up to a top speed of around 230 km/h.
The ace then, is the exhaust gas recirculating through the TFSI's turbocharger that makes this mill good for 211PS of power that peaks between 5000 and 6200rpm. But what's even more impressive is that it manages 300Nm of torque (just 80Nm shy of the TDI) and that curve remains peaked between as low as 1800rpm all the way up to 4900rpm. But what makes these figures even more relevant in the real world is the gearbox this 2-litre engine is mated to.
It's still essentially the same automatic transmission as that on the Q3 TDI, but the gear ratios are superbly matched to the petrol engine's torque curve. So when the Q3 is slotted in top gear on the 7-speed S-tronic auto'box it can still do three-figure speeds at as low as 1800rpm – where the torque curve is at its peak.
All of that translates to some really slick fuel efficiency figures for a 2-litre petrol engine. The 7th gear advantage obviously works well on the highway with the car going just over 121 km in 9 litres of fuel. Do the math and that translates into an average of 13.5 kmpl, which doesn't sound too good on paper, but when you consider the weight of the car and the size of the fuel tank at 64 litres, it actually makes for a pretty frugal car.
You'd expect the efficiency to drop drastically in the city, but it doesn't. The S-tronic shifts quick and smooth through the gears keeping the rev counter hovering nicely in the torque band. And then there's Audi's Start/Stop system that keeps consumption low even in clogged city traffic. Of course, it takes a little getting used to at first, especially when you stop and the engine shuts off but after a while you tend to not notice it. Engine restarts are smooth and don't make a fuss either and all of that helps the Q3 TFSI go a little over 9 kilometres in a litre of unleaded.
This whole balancing act between the micro hybrid system and the S-tronic automatic transmission is what really makes the Audi Q3 TFSI such an appealing vehicle. While the Q3 has always been an exceptionally good-looking vehicle owing to its proportions that mimic the bigger vehicles in Ingolstadt's Q range, the littlest of the line up also brings with it some of its own rather interesting design cues. There's no difference at all between the petrol and diesel variants in terms of styling, but these design cues are so striking that we cannot help but reiterate them again.
The most enrapturing feature of course is that set of taillights – if you're ever caught following a Q3 on the highway in the night, you run the risk of being fixated on the three red streaks that form the pattern inside the lens. Then there's the fluorescent daytime running light that forms a strip along the top edge of the headlamps that flank the rather massive grille in between. As if those design elements weren't enough Audi's even chosen the perfect colours to offer its customers – while this particular dark shade looks better in sunlight than in pictures, the orange is most definitely to die for.
On the insides, the only thing that we didn't prefer were the light interiors – in an environment like India those tend to get dirtier than usual and when you're paying that amount of money you really want to try and keep them clean. The dash is nicely and typically turned out in Audi fashion with subtle wooden trim garnishing all around. But that panaromic roof is a touch that will simply take your breath away – especially if you're out in the countryside on a relatively clear moonless night.
The chunky steering wheel and the supportive seats invite you to go for a drive and combined with the character of the petrol engine that is as driveable in slow traffic as it is flickable through corners. The suspension setup is sorted too – the Q3 will soak up everything that our horrid road conditions will throw at it. It's compact enough to steer around the city in and it's extremely well-behaved at high speeds as well.
At Rs 31.33 lakh (ex-showroom, Delhi), the Audi Q3 2.0 TFSI quattro isn't really too expensive for everything it has to offer to its buyers. It's big yet small, powerful yet frugal, compact yet spacious and with the new petrol engine will start to appeal to a whole new segment of young executives who always wanted a Q3 but couldn't convince themselves to go the diesel way. Either way, you can't ignore the Q3 TFSI. Your turn BMW and Mercedes!