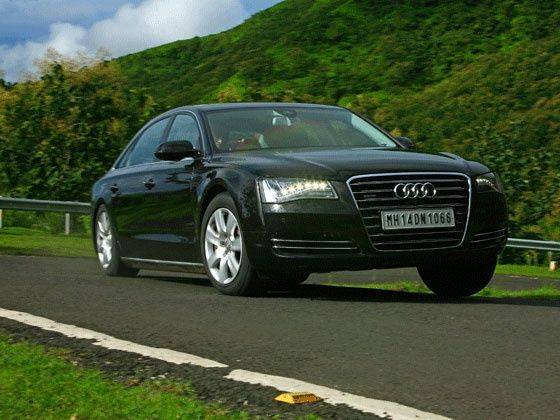 So, who is the most popular premium luxury car maker in India? Well, if you consider recent sales figures, Audi, the Ingolstadt based car maker makes quite a strong case for itself even as the race for the best gets even more intense. Throwing in model after model in the market, and most of them doing quite well (especially the Q series), Audi at the moment is pretty much at the top of its game.
The latest from the Audi stable is the new A8 L 4.2 TDI. India already had the 4.2 FSI and the 3.0 TDI and the new car will complete the diesel line-up. Like the other variants, even the 4.2 TDI comes in the 'L' (longer wheelbase) avatar. Now the question is, do we really need a more powerful diesel considering the 3.0 TDI is plenty fast already? Let's find out…
Beauty lies in the subtlety
See it coming from afar and you might mistake it for an A6 thanks to the family styling, but as it gets closer you realise it's anything but an A6. Sitting nice and low, the A8 is wide and how. At almost about six feet wide and a humongous 17 feet plus long the A8 boasts titanic dimensions. Beneath the acres of paint is the brilliant and not to mention very light aluminium Audi Space Frame which weighs almost 40 per cent less than its steel bodied competitors. Horizontal chrome strips that dominate the grille and radar sensors that look like front fog lights are intended to emphasise the A8's sporty credentials by giving an impression of low-slung width.
There are no overtly dramatic lines and like always Audi has stuck to its subtle but elegant philosophy. If it's flash you are looking for, better look elsewhere; heck, even a Toyota Corolla has more curves and drama than this big boy here. But if it's class and character that you're looking for, this Audi has it by the bucketload and then some.
Time to move in!
The first few moments that I spent in the cabin, I pretty much had ridiculous thoughts about how the A8's cabin would make such a cozy place to live in. That's just how welcoming and not to mention luxurious the Audi's interiors are.
The A8 presents a well made and well appointed business-like environment and prospective buyers (read well heeled) will feel totally at home. I on the other hand got busy exploring the grand sweep of gadgets and buttons woven into architecture that doesn't threaten with button frenzy.
There's a Multi Media Interface screen that pops up out of the dash, controlled by a simple scroll-and-click wheel. Gears are accessed via a lovely gear selector that looks a bit like the throttle control from an airplane, which then acts as a kind of lazy wrist-rest when you're playing with functions on the move. The seats adapt and move in ways your body may not even accommodate. For the first few minutes, all you do is sit in the thing, pushing and prodding switches. But it is the ambience of the interior that will play an important role in the long-term success of the A8, and the way it marries technological know-how with traditional materials so comfortably merits special praise.
Power, Torque and then some!
One doesn't even have to read the specs to know what lies under that long hood. The rumble at start up followed by the symphony with which this Audi clears its throat is enough to tell you that something 'very' large is lurking in there and large it is. All of 4134cc with eight cylinders arranged in a 90-degree 'V'. And there's more. Fuel is sprayed via piezo injectors at 2000 bar while massive VTG twin turbochargers spool up the power at the disposal of your right foot.
Figures left most in disbelief and I don't blame them: 350PS @ 4000rpm and a maximum twist of, wait for it… 800Nm between 1750 and 2750rpm. That's like enough torque to pull a whole planet. And all this while promising good fuel efficiency too. This is largely thanks to common-rail technology, which injects the fuel directly into the piston combustion chamber at up to 2,000 bar. The TDI engine features innovative thermal management that cuts fuel consumption by rapidly heating up the coolant. The engine's weight has moreover been reduced despite its greater technical complexity. An engineering marvel then? You bet!
Sportscars… move over!
So before we check the Audi's performance, I decide to cruise and revel in its cocooned cabin. However dark clouds line up on the horizon and testing this big boy in the wet wasn't exactly my idea of fun. Urgency being need of the hour, I depressed the accelerator a little enthusiastically and what followed was acceleration which had the intensity of a hardcore Arnold Schwarzenegger action movie. There is a very slight moment of calm before the very big storm, courtesy the big V8 lump up front. The rev counter shoots right into the powerband as all 350 horses are summoned. The 800Nm is put down via all four wheels (read quattro) as the big Audi hurtles towards the horizon.
Flat out acceleration gets this A8 to 100km/h in an unbelievable 6.6 seconds flat and that's quick even by sportscar standards. You might also want to keep in mind that that figure is despite the almost tank like 2.2-tonne weight. Midrange is just as brutal. There is so much torque that you have to be careful driving this rocket in traffic. A slight error in judgment and you could end up destroying the bumper (or more) of the car in front.
But keep all those huge numbers in check and it can be as sublime as a cool breeze. Highways can be munched up with ease (considering this baby is meant for the autobahns) and the Audi really eggs you on to make even the shortest journey longer. Braking is just as impressive with a horde of electronics and those massive discs hauling the Audi down in no time at all. From 100km/h to nought the car came to a halt in just 3.06 seconds covering a distance of 38.8 metres. Power is nothing without control and this Audi has ample of both.
Cossetting Ride, leech like grip
What we have noticed in most of the big German luxo barges is that the suspension is mostly tuned for smooth autobahns rather than our pothole ridden roads. As a result, ride quality goes for a complete toss. Be it low profile tyres or a stiff suspension set-up, most high end cars that we have are set up for high speed smooth road sailing rather than the low speed bad road situation that we have here in India. This A8 though came across as quite a surprise.
The road we took for the shoot got quite bad in certain sections but the A8 had no qualms whatsoever. The air suspension simple soaks up whatever you throw at it and then some. A very well tuned suspension and very acceptable 55 profile tyres are what get the job done here. While the suspension is more than competent, the ground clearance isn't and as result one really has to baby the car when the situation gets bad.
Out of a very important meeting and you decide to loosen up a bit and have fun, the big Audi is ready to dance. With Dilip Desai, our chief road tester and former rally driver behind the wheel, this big boy showed us some moves which were very unlikely for a 2.2-tonne limousine and more akin to a sportscar. Ride and handling, this Audi has it covered and how!
The magic of technology
With all that horsepower and not to mention the weight as well, one would simply shudder at the question of fuel efficiency. But Audi has engineered this car not just for the brilliant performance that it dishes out but also to consume as little of the ever disappearing fossil fuel. Driven under normal traffic conditions, this giant sipped a litre of fuel every nine km which is a brilliant figure and out on the highway, which figure rose to an even better 11kmpl. As a result with that massive 90-litre fuel tank, one will easily traverse 855km before you have to hit the next fuel pump.
Buy this or spend a little more and get an airplane?
As tempting as a private airplane sounds, you will need a car in the end for the majority of the commutes and the Audi A8 L 4.2 TDI is pretty much the next best thing to owning your private airplane. With comfort to match the most comfortable lounge, performance to shame a sportscar and enough presence to make you a page 3 celebrity, this Audi has everything covered as long as you have its eight-digit price tag covered. At Rs 1.07 crore (ex-showroom Maharashtra), the Audi costs as much as a palatial house in south Mumbai, but in case you are considering this car, my guess is you already own a house like that. And if you do, this Audi fits your garage to a 'T'.