2015 Mercedes-AMG G63 review
---
The G63 AMG is full of character, has a growling V8 and possesses the ability to cross continents without a sweat. Now it comes with a bunch of crazy colours and a few exterior updates now... Here's our review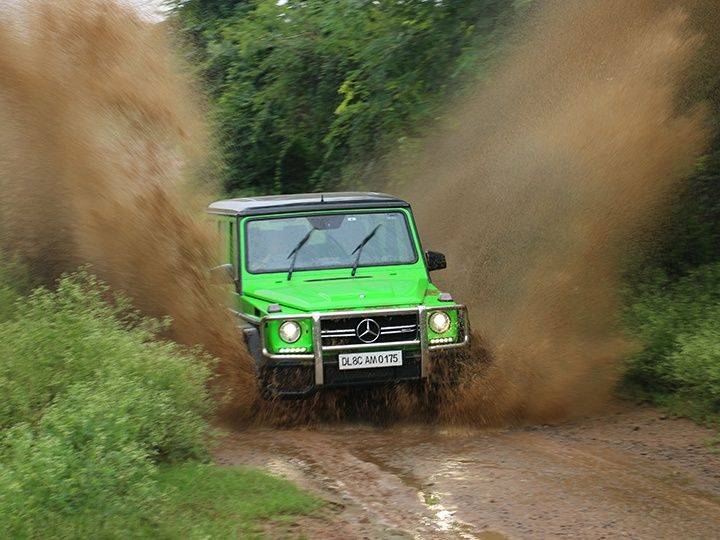 All you need to do is key it in and give it some revs, and instantly you know that this boxy brute is something special. The violence of those eight pistons firing all cylinders gives the G63 AMG a slight shake while standing still. That biturbo V8 up front informs its dear occupants of its ability to twist this mammoth like squeezing water from a wet cloth. It's certainly going to be a good day ahead.
Say hello to the reincarnation of the Hulk, in this 'Crazy Colour' edition as Mercedes-Benz proudly states. The G63 AMG can now be ordered in three such colours, the Alien Green our test car comes with, Orange (Sunset Beam) and Yellow (Solar Beam). If you want an oldschool offroader with a mental engine, three difflocks and a colour bright enough to light up a small town, you are probably going to buy one of these. Of course there's the matter of having Rs 2.5 crore of spare change.

Design and Styling Rating_4.5_rating
If a design has lasted for over three and a half decades, there must be something that has stood the test of time. For this Geländewagen or German Cross Country Vehicle, it's not aesthetics but character that makes heads roll and jaws drop. No one expects a boxy car to be so over the top, and so it gets more attention than most sportscars. It's plain and simple car porn everywhere you go, but not of the exotic kind. Kids love the colour, men love the muscle, and women, well, I'm not allowed to say that here.

The G63 Crazy Colour Edition SUVs get black alloys, black paint on the bumpers, wheel arches, roof and mirrors to further differentiate it from the crazy-but-not-so-crazy standard painted G63 AMG. It is slab sided from every angle and even comes with vintage roof gutters, rifle locks for the doors(the sound, not the gun) and bull bars. What's not to love?
The G63 is the SUV of two different worlds, modern equipment, vintage design.

Interior and Space Rating_3.5_rating
The science of ergonomics wasn't given much thought to in the Seventies and the body design hasn't grown or changed much since so don't expect acres of space once you step in. The short dashboard and vertical windscreen make it quite a snug place to be in for a fairly large SUV. It's a shade smaller than the ML Class (new GLE) in both length and width but sits taller due to 220mm of ground clearance and body on frame construction. You get a commanding view of the road ahead however thanks to the flat and visible bonnet line and slender A-pillars by modern standards.

Front seats are extremely comfortable and electrically adjustable, even for bolstering but the proximity to the door and high set centre armrest keeps you constantly in contact with much around the cabin besides the steering wheel. Good thing that everything around is soft touch leather and looks exquisite with the exterior colour matching top stitch then. The rear seat is set much higher and compromises headroom for tall passengers. It's also got an upright backrest and comes with not so generous legroom.

Features and equipment Rating_4.0_rating
Three locking differentials, paddle shifters, climate control, a high quality Harman Kardon surround Sound system, entertainment package for the rear seats, rubber mats (a must for offroaders), cross stitched leather seats, rear parking camera and three driving modes, automatic headlamps and wipers, the G63 comes with most of the necessary equipment you'd want. A 360 degree camera, tyre pressure monitoring sensors and an auto up feature for the windows would have helped.

Engines and Performance Rating_4.0_rating
I would have very much liked to experience what a 2.5 tonne utterly non-aerodynamic SUV feels like barreling down a road at its top speed of 210kmph as a bystander. I'd imagine it would feel like a tornado heading your way, because even at very much legal speed at the helm, the sense of speed felt like an occasion. The G63 can hit 100kmph in just 5.4 seconds, and in those 5.4 seconds, there is so much going on that it feels faster than the times state. AMG's nutty 5.5-litre biturbo V8 dishes out a handsome 552PS of power at a fairly low 5,500rpm and builds a colossal 760Nm of torque between 2,000-5,000rpm.

First the chassis shivers a bit as you give the G63 some revs, and then the SUV barges ahead like a wrecking ball. Double barrel exhaust tips on its side, right in front of the rear wheels, have that characteristic AMG growl as you step on the gas. The exhaust note is loud and entertaining enough to make you an enthusiastic driver 100 percent of the time. The 7-speed AMG Speedshift automatic gearbox isn't the quickest out there but quick enough to send power via the permanent AWD system to the four 275mm wide contact patches that are willing to take all the beating. You get comfort, sport and manual driving modes that alter throttle and shift settings for the type of drive you want, much like any modern Mercedes.
It's in manual mode where the engine is a lot more eager than the gearbox to please, but tug the paddle shifter up before it redlines and things will move quick and smooth. Big muscle from the AMG V8 masks the G63's weight to an extent but you always know it through the steering wheel that the steroids diet that G-Wagon is on needs some serious stopping power.

Ride and handling Rating_3.0_rating
No surprises here, the G63 isn't going to be agile by any stretch of imagination. Sure it's an AMG and sends power to all four wheels but rigid axles and stiff suspension is necessary to keep 552PS/760Nm in check. The steering is on the heavier side, which is good as you don't want to make large inputs. Weight transfer at high speeds is unnerving and attacking tighter corners is best avoided. It's not meant to be a corner carver though. What the G63 is meant to do is dart fast on a highway to reach your offroad trail and we did just that.
It's here where the G63 comes into its own. Few SUVs offer three diff locks, and the G is one of those. You can either lock the front axle, rear axle or even the centre differential to send power to any desired wheel that finds traction. If not for the ludicrous price tag, we'd be happily mud plugging in this brute.

Price and Fuel Economy Rating_3.0_rating
Priced at Rs 2.17 crore, ex-showroom Delhi, with an on-road price hovering around the Rs 2.5 crore mark that does not include any optional extras, the G63 will break the bank. The good thing is that premium petrol works well and there is no need for the super expensive 97 octane fuel for the G63. It comes with an EU rated combined mileage figure of 7.25kmpl, but realistically expect to get around the 4-5kmpl mark. It's a good thing that the G has a large 96 litre fuel tank giving it a more than acceptable range of about 400-450km.

Verdict Rating_3.5_rating
Sure the G63 AMG doesn't rate very highly according to our parameters, since it isn't an all rounder. There are more than a few shortfalls starting from the weight, the aged design, average ergonomics and a very high sticker price. Any logical car buyer with deep enough pockets will and should not buy the G63 AMG over any other luxury offering around the same price. You have got to be of the eccentric kind to pick one up, especially in the crazy colours it comes with. Because if you have the potatoes in you to give this SUV a full workout after paying for it, you truly deserve the ability it rewards you with. The G63 is a statement of a conqueror that arrives after the thunder of its V8.
More on Mercedes-Benz G-Class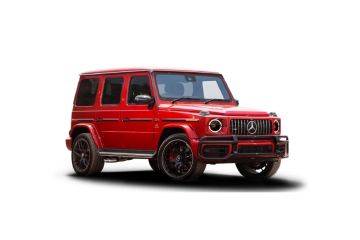 Rs. 1.50 crore Onwards
Ex-showroom, Delhi
Contact Dealer
View On Road Price
Mercedes-Benz G-Class Alternatives