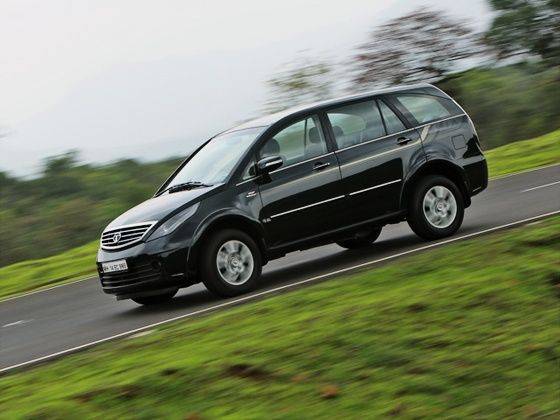 The Tata Aria was supposed to be a lot of things - a technological showcase, a segment starter, and a global model that would help put Tata Motors on the map, in a good way. But, it wasn't supposed to sell so little that locating one even in the used car market would be a struggle. But, it is. And, there were reasons for it with the primary one being its high price tag. Of course, it came loaded with tech, but it wasn't enough to convince the buying public.
Now, after four years of its launch Tata Motors has given it a facelift. It's a very basic one; revised head lamps, a new tail lamp cover and a new display on the inside. The engine makes more power and torque now, but, more importantly, it now starts at a lower, more attractive price point. At Rs 10.1 lakh ex-showroom in Mumbai, the Aria given its size, seven seats, and road presence, sounds like a good deal on paper.
Unfortunately, that's not the model you see here. This is the top of the line Pride 4x4. It gets leather seats, steering mounted controls, climate control with AC vents all over, alloy wheels and on the drivetrain front, all wheel drive and ESP. This one costs just over Rs 15 lakh, which again isn't too bad for what one gets. But, then the options at this price point are many.
Now before we pass a verdict on the new car, it's only fair that we reflect on what the Aria was and is like to drive, sit and live with.
Tata Motors has taken effort to get the interiors of the Aria to feel upmarket; to justify its price mainly. So, it gets soft grain plastic around the dash and on the door, deeper colours, and leather. But, the overall feel, fit and finish and operability still isn't what you'd expect from a Rs 15 lakh car. What is likeable, nonetheless, are the seats. These are properly comfortable and large at the front, and cushy and accommodating in the second row. The space in the second row is good too making the Aria one of the few cars where sitting three abreast is actually not a squeeze. Seating in the last row isn't as generous.
Ride quality is another Aria strongpoint. We praised this four years ago, and even now, it is one of the better riding vehicles at this price point. The suspension vibration, noise and movement over broken, undulating or even potholed sections is well subdued, and one doesn't really need to slow down for anything. The bottom line is - if it's a comfortable seven seater you need that isn't afraid to take on the rough, the Aria is certainly worth a look in.
Weighty issues continue to plague the Tata Aria, nonetheless. The Aria tips the scales at over two tonnes and you can feel it when it goes around a bend. The tyres sequel early, the turn in feels heavy and it isn't really up for quick direction changes. It is a car that needs some amount of effort to drive as well. The steering is a tad heavy (and it being an odd shape with the steering mounted controls constantly getting in the way doesn't help); the clutch feel isn't the most progressive; and the slightly odd driving position takes some getting used to. The engine does try to mask this weight, and that the new Aria - running the same engine as before - makes more power than before should help.
And it does, but in parts. The Aria is happy cruising at over the ton mark; there's hardly any noise entering the cabin and light prods of the throttle keep it going effortlessly. And it will do this in fifth all day long with overtakes thrown in. But, try to push it harder, especially when it is loaded, and the turn in speed isn't rewarding. It also doesn't feel the most planted when driven at higher speeds.
What you have here then is a reasonably practical seven seater with fantastic ride quality, good seats and loads of space that isn't short on equipment either. But, it's Rs 15 lakh, and that's a price tag the Aria still isn't able to comprehensively justify. The entry-level Pure version is a slightly different story though. It retains most of the Aria's inherent pluses, and the standard equipment list isn't exactly spartan. But to buy one, one needs to overcome a huge mental block of paying such monies for a Tata. And, we have a feeling, as before, there might not be too many personal car buyers queuing up for it.