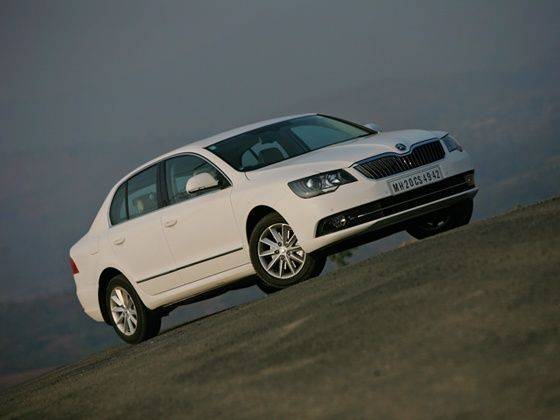 The Skoda Superb has been on sale for the past 10 years. And in this time, it has received a generation change once. The new for 2014 Superb isn't a generation change though; in fact, we won't even term it as a dramatic facelift, but facelift it certainly is.
So, the new Superb - in typical facelift mould - gets new head and tail lamps and revised bumpers both front and back. Additionally, the bonnet design has changed and it now houses the Skoda logo, in line with Skoda's new design philosophy. The grille too follows this new design language, which was first revealed on the new Octavia in India.
Other changes include new front fenders, nicer looking design for the 16 inch alloys and a revised tail gate which receives badging on the sides instead of the centre seen on the previous car. All these changes, we have to agree, have freshened up the Superb's looks and we particularly like the new LED daytime running lights. Having said that, it still looks a bit disproportionate compared to its competition like the Toyota Camry.
The changes to the interior are a lot less significant. There's a new steering wheel design - three-spoked for the automatic versions and a four-spoke steering wheel for the manual - and nothing else. This isn't all bad news though, because the Superb's cabin was always regarded highly for its build quality, good ergonomics and operability; the latter, be it for buttons, dials, rollers or toggles, have always had a positive and tactile feel to them. All this remains true for the new Skoda Superb as well.
The Superb's equipment list and interior space have also been its other big USPs. The dimensions of the new Skoda Superb haven't changed and with it, the interior room remains unchanged as well. What also remains unchanged is the fact, that the Superb is still the most spacious car in its class. As for the equipment, there's enough and more on board, particularly on the top of the line Elegance trim, we drove.
Apart from the dual zone climate control, sunblinds for rear windows and rear windscreen, leather upholstery and 12-way adjustable driver seat with memory which one gets on the Ambition trim, the Elegance variant also sports hill hold, cruise control, front parking sensors, bi-xenon lamps with washers, keyless entry and start, electric sunroof, Bluetooth telephony and a 12-way adjustable seat for the passenger as well.
The engine on our test car was a 1.8-litre, four cylinder petrol unit. It makes max power of 160PS which is good enough to propel the Superb to 100kmph from a standstill in less than nine seconds. For a car this size and weight, these figure is commendable. The engine itself is a gem; it is free revving, nice sounding and very refined. With the help of the 7-speed DSG it is mated to, it makes easy work of overtaking or high speed cruising on the highways, and battling bumper to bumper traffic in cities.
The Superb is also a good car to drive, dynamically. To begin with, it has a sorted ride quality. On the broken and undulating sections we encountered on the drive, the Superb's ride was never harsh or noisy. It's also setup slightly on the stiffer side, so even with the full quota of load, it rarely wallowed or felt nervous. In our book, the Superb's ride is spot on.
The well judged ride along with a responsive and reasonably quick steering, also makes for a good handling car. Thee new Skoda Superb isn't the most alert, but it can still handle a quick run up a hill road surprisingly well. The Superb disguises its size well around corners never feeling too long or wide; it actually feels a size smaller than it is, which when driving hard is a boon.
So what do we think of the new Skoda Superb 1.8 TSI? As before, for low mileage users, it is a great car to buy for Rs 30 lakh and thereabouts. Yes, you could buy a snobbier badge for this money, and a better looking car as well, but none can match the Superb when it comes to breath of ability. The Superb is lovely to be chauffeured around in thanks to the space, the comfy seats, the sorted ride and a quiet cabin, and it is also reasonably fun to drive, be it over long distances or for a short drive up a winding road. It is overall a well thought out, value package.