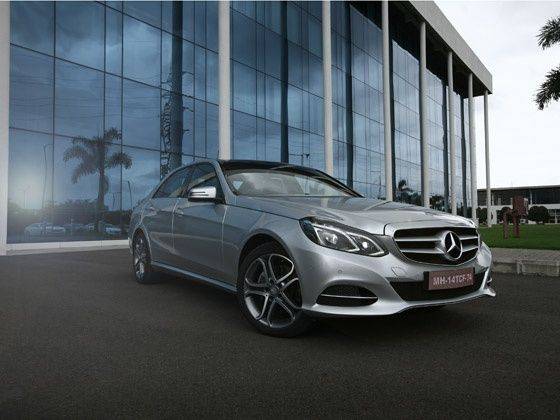 In a time when it has become very mainstream to admit that you are a Mercedes-Benz fan, I have a confession to make. In my heart, secretly, I have a soft corner for the three pointed star. It hasn't always been the case mind you, but off late the boys (and girls) from Stuttgart really seem to have got their act together and are putting out some exemplary examples of automobiles. Take the current generation E-Class – it really turned around the image of what was always perceived as one of the finest, yet somehow the least exciting, luxury sedans around and converted it into a proper modern-day object of desire. But about four years into this model's life cycle, the brass at Merc decided that the W212, as it's known internally, needed an update and what we've ended up with is this, the 2013 Mercedes-Benz E-Class. Related: New Mercedes-Benz E-Class Launched


Now at first glance, you might be forgiven for thinking that this is an all-new car, and to be honest, a lot of claims are made on those lines as well. But while this 'new' E-Class might sport 2,000 new components, it still retains the W212 nomenclature stating that this is more of a facelift – a massive one, but a facelift nonetheless.
So what's changed?
Most of the upgrades that this new E-Class has received are focussed on the external appearance of the car. The previous version was definitely a handsome brute, but to a large extent featured a design language that would appeal to a more mature sort of buyer. Now however, the styling gurus at Stuttgart have really had a go at creating a more youthful and exuberant E-Class. The whole front end design of the E has been revamped and the most noticeable differences is the inclusion of the large three-pointed star on the front grille more in line with current Mercedes-Benz models, instead of the little emblem on top of the bonnet. This is a first for the E-Class as is the inclusion of LED running lights in the headlights.
The four-headlight design which were a signature of the E-Class since the W210 model from 1995 have given way for a more conventional twin light setup. But nestled within each headlight pod are two separate lights each flanked by a strip of those wicked-looking daytime running LEDs. Not only do those LED strips give the E-Class' front a far more aggressive demeanour, they also create a pseudo four-headlight effect, paying homage to traditional E-Class design. And the headlights themselves are self-adjusting full-LED units – another first for this class. The front bumper itself has received a fair bit of retreatment and is now even sharper than before, featuring larger intakes and a chin spoiler for added drama.
The changes to the grille along with a redesigned hood which now features more prominent curves adds a bit of a snout to the front which is visible when seeing the car bang-on from the side. And speaking about the sides, the redesign continues along here as well, as the doors and quarter panels features sharper swage lines running from front to rear. Round the back, though the rear lamp clusters maintain the overall shape of those from the pre-facelift car, the two strips of fibre optics which form the actual tail lights curving around all-LED brake lights, turn indicators and reverse indicators are a delight to behold.
And then you have the chunkier rear bumper with its redesigned diffuser and twin chrome tipped exhaust tips bringing a lot of beef to the rear end. Another thing that really stood out in this car were the brand new 18-inch alloy wheels which seem to borrow their design from those on the new A-Class and really go a long way in making the E-Class feel like a much more youthful car than ever before.
What's the inside story?
Step into this 'new' E-Class and you'll find that most of the interiors haven't changed all that much at all, and this is a good thing. The E always sported very elegant and luxurious styling for its cabin while carrying with it an air of being very well put together and thankfully this ethos is carried forward on this facelifted model as well. The seats have received a bit of a makeover in terms of the seat cover design and still remain the best in class in terms of comfort and support. Some other materials around the cabin have been updated too along with the instrument cluster as well as the infotainment screen in the centre console.
Merc's trademark COMMAND system now features a DVD player as well as an India-specific satellite navigation system provided by Navteq, but very honestly, in our drive from Bekal in Kerela to Madikeri in Coorg and back, the built-in maps were OK at best and we were better off relying on navigation from our own smart phones. But that being said, the quality of the audio system is top notch and allows multiple ways of bringing your own music on board. Overall, the cabin of this E-Class is a very relaxing place to be in, whether you're driving or being driven, with a great feeling of airiness thanks to the massive panoramic sunroof overhead.
How does it move?
The car we got our hands on was the top-of-the-line diesel variant, the E250 CDI, with a 2.1-litre four-cylinder turbocharged motor powering the rear wheels. Sadly, for this updated E, the wonderful 3.0-litre V6 diesel, the E350 CDI, has been dropped but that shouldn't be much of a concern for most buyers because no one apart from the most ardent petrolheads, or should I say dieselheads, ever went for that, and this four-cylinder affair is a masterclass of efficiency and economy. When it comes to driving it, don't expect this oil burner to be a scorching performer, though it's not ponderous by a long shot.
Foot down, it's reasonably quick to the ton mark, completing the dash to 100km/h in 8 and a bit seconds and will eventually make its way to a claimed top speed of 242km/h. What this 2,143cc diesel lacks in outright oomph, it makes up for in terms of extremely creamy power delivery with a nice and linear torque spread throughout the rev range, which should be a delight for those being driven around by their chauffeurs.
Indian of course does not get the 6-speed manual gearbox option that's available in Europe. Instead, we get the 7G-TRONIC seven-speed torque converter automatic transmission as standard which offers two driving modes, Economy and Sport. In Economy, the auto 'box's electronic brain optimises gear shifts for the best possible fuel economy, never really revving too high while in Sport mode, the revs are allowed to climb all the way to the redline and are held in each gear even when you're off the throttle.
When you want to drive about a little quickly, the S mode works perfectly and we stuck to it almost throughout our drive, but this might not be the most optimal model when you're really giving this car some beans. In that case, the paddle shifters mounted on the steering wheel are the best way to drive this car, although the gearbox's response to manual commands is not what you might call too quick. It requires a little bit of getting used to, to predict exactly when the 'box will provide the quickest change, but once you've figured that out, it's fairly effective when driving spiritedly.
Of course, the E-Class has never really been what you might call a "driver's car" but a slew of minor changes throughout the chassis has given a fair bit of dynamic flair to this new E. The new electro mechanical steering for one provides very crisp turn-ins and is brilliantly precise when throwing it around corners, but doesn't really provide too much feedback. The suspension setup, though tuned more for comfort has been stiffened up than before and really keeps body roll in check, without really compromising on the ride quality too much.
Carry a bit of speed and this E-Class really flies over small bumps and potholes like a hovercraft; a feat which is especially commendable considering that it's running 35-profile tyres at the back and 40-profile at the front. The electronics systems such as the ESP (Electronic Stability Programme) and the ASR (Anti-Slip Regulation) do a great job of keeping the car in check, no matter how lairy you get with your driving, but sometimes it does feel like these systems are nannying a little too much. In any case, most people who actually end up buying this car will want to enjoy it from the back seat, but if they should so choose to get behind the wheel, they certainly won't feel disappointed.
Other goodies?
The E-Class is a fairly loaded car and offers the best in terms of safety features such as 8 airbags all around, Merc's patented safety programmes such as PRE-SAFE, Attention Assist and an active bonnet to mitigate injuries to pedestrians in a crash scenario. The E now also gets an ECO start-stop system which will automatically kill the engine when you come to a stop and start up once again when you lift your foot off the brake. This system, which should go a long way in improving fuel efficiency figures can also be turned off simply by pushing a button on the dash.
New on this E-Class is also Merc's latest Active Park Assist system which automatically scans for a parking spot using an array of ultrasonic sensors when driving about under 30km/h and then can do the job of actually steering into the spot itself. We've already seen a system such as this in the new(ish) Volkswagen Passat, but this one can supposedly brake all by itself as well. Sadly, we couldn't get an opportunity to test the system out ourselves, so that will have to wait for the full-fledged road test.
In top form?
The E-Class has been Mercedes-Benz' bread and butter car ever since its inception and has been the highest selling model to carry the three pointed star not just in India, but all around the world as well. And this new car bears the E-Class standard rather well with its comfortable interiors, enjoyable drive and strong equipment levels. Related: 2013 Mercedes-Benz E-Class Price
This facelifted E might not be the revolutionary new car to take this segment by storm, but it really does a good job of bringing this much-loved model to speak Merc's modern design language and adds a lot more character to a car that has always been wholesome, but perhaps always just a bit shy of feeling enthusing. Simply put, the new design is brilliant and not only does it make the previous E-Class feel dated, it should make its rivals from BMW and Audi break a sweat too, and in doing so, should attract a flurry of new customers who had possibly been shying away from the E because it simply wasn't exciting enough before. Can't say that any more though. Now can we have the AMG edition please?