2012 Mercedes-Benz ML350 : First Drive
---
The all new 2012 Mercedes-Benz ML 350 has been thoroughly reworked in just about every aspect to make it a formidable contender in the premium SUV space. Vikram Gour got to drive this beast in the Austrian Alps to get a rigorous firsthand understanding of what this new SUV packs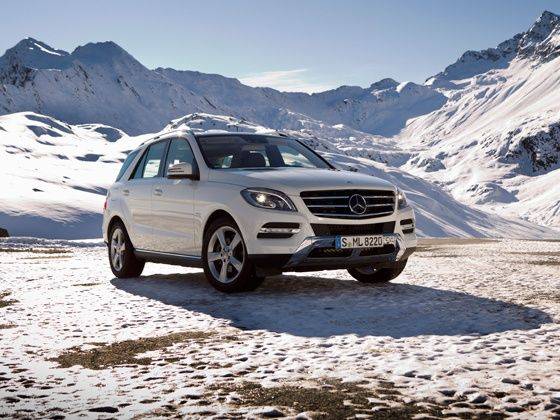 It's minus 5 degrees Celsius outside; the road is covered in a solid layer of pristine white snow, which incidentally is still falling and therefore reducing visibility. The summit of this particular mountain in the Austrian Alps is still 7 kilometers away. A number if twists and turns lie ahead for me to tackle. Instinct tells me to slow down; however the ML 350 that I am piloting doesn't show signs of veering off course. I step on the gas even more. The four wheels dig in for grip, there is a fraction of a moment where the vehicle allows for a little wheel spin, but before you can bat an eyelid, its back on course and I find myself pelting up the mountain road as if it's a simple walk in the park.
A sharp turn appears ahead, I cut back on the gas slightly yet keep enough on tap that would have made any other car break into a drift, however this beast manages the corner without upsetting its intended line. Now this wasn't some rally or drive challenge that I was taking part in, but a solid introduction to the all new ML 350 right from the driver's seat. Now in its third generation avatar, the all new 2012 ML has been transformed into a formidable package boasting of upgrades and improvements in just about every department.


To start with, the new ML 350 comes with higher tensile steel for added strength and reduced weight. The vehicle is longer, wider and slightly lower (ride height is electronically controlled and the suspension can be raised at a click of a button for off roading applications) than its predecessor, however the distinct design of the ML has been retained with small changes to profile lines, headlights, a flatter roofline to reduce the coefficient of drag and an all new front grille, however there is no mistaking it for anything else.

The interiors on the ML 350 have been spruced up to offer a finer finish, however the faux-wood on the dash could be better and the texture shouldn't have been as plastic. Having said that, the cabin does radiate a sense of solid build quality and most materials feel expensive to the touch. The ML cocoons you in luxury and you will find just about every gizmo related to creature comfort at your disposal. In terms of safety, the ML 350 is second to none. Standard equipment includes nine airbags, Attention Assist, Blind Spot Assist, Lane Departure Warning System, and of course there is the ABS, EBD, ESP and a host of electronic systems that ensure that the vehicle remains in control at all times. Basically the equipment list on the new ML is so long that the brochure looks more like a 1000 page novel! Ask for it, and you are bound to find it aboard the ML 350.

Powering the new ML350 is a similar 2987cc direct injected V6 diesel as the current vehicle, however the engine now churns out more grunt in all respects. The power output is now 258.33PS at 3600rpm and an impressive torque of 620Nm between 1600-2400rpm, which allows you to power this SUV from standstill to 100km/h in just 7.4 seconds and attain a top speed of 224km/h. Mated to a 7Gtronic Plus transmission, these figures translate to some fantastic driving dynamics on tarmac and even off it!

While driving the ML 350 on the main highway it was apparent that the power delivery was steady and offered an expected thrust. The engine is quiet even at high speeds and at no point will you question the quality of this well crafted diesel unit. Step off the highway to take on some bad roads, or in my case, snow covered mountain passes, then the host of electro-wizardry and the formidable 4Matic system makes its appearance felt, which brings me back to why it was so easy for me to tackle that snowy alpine mountain road in such considerable ease.

Taking centerstage in providing the off roading capabilities that I was experiencing in the ML 350 was the 4Matic system on board. Incidentally the 4Matic system is available on 49 Mercedes-Benz models including a number of sedans as well and the beauty of this system is that it can be tailored to suit the operating profile of a particular vehicle. A prime example would be the 4Matic S Class is designed to offer superior road grip, while the 4Matic system in the ML is equipped to offer great on road dynamics as well as superior off roading technology.
Further to this, my particular ML 350 came fitted with the optional On & Off road package that features a host of innovative driving modes that optimize handling, drive control and safety. Controlled by the onboard COMAND system, the driver has the choice to choose between six different driving modes which include Winter, Sport and Towing options as well. Another feature that is part of this optional package is the Active Curve System (ACS) which allows for greater directional stability in tighter slippery corners through a special control algorithm that is programmed into the system. So, now you know my secret of cornering an SUV on snow without stepping out of line!



Still yet to make its Indian debut, but expected sometime later this year, the ML 350 will be a solid fit in the Indian environment as well. The 2012 ML 350 is a formidable package that only the three point star could create. The big question however is whether Mercedes-Benz will offer the optional On & Off road package for the ML here in India? The answer isn't official on that front, however knowing Mercedes-Benz India and their ability to offer the latest innovations in India, I wouldn't rule out the option of getting that kit as well.