Tata Tigor Overview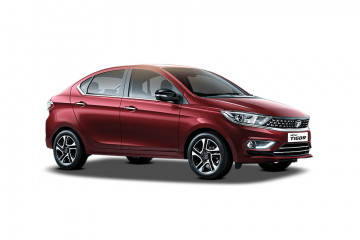 Tata Tigor User Reviews
Mileage

Comfort

Performance

+ 3 more
Maintenance Cost

Safety

Features & Styling
Preferred For : Family & Daily Commute
53% of users have given a rating of 4.5 and above
4.3

Overall performance is satisfactory. Inside cabin smell like plastic burning when car is parked in Sunlight. Music system gets blurry sometimes immediately after ignition. Vibration in first gear. Mileage is good, about 18kmpl on highways(in first month).

5.0

A car which will satisfy you in every aspect. The bulid quality of the car is more than awesome.. and the comfort, features it offers at such reasonable price is awesome . And the infotainment system with those Harmon Cardon speakers will just blow your mind.. average of this car is totally depends on how you drive it. In city u will get around 15-16 km per ltr and in highway u will get 21-24 kmpl.. will recommend this car to everyone

5.0

This is a surprisingly refined and fun to drive car. I have had the car for 18 months and have driven 15000 km. I bought it after evaluating the Amaze, Ameo, Dezire and Verna. On the highway this car has given me and average of 20.8, with AC running but top speed restricted to 100 kmph, on an expressway for 1200 km. In the city she has given me and average of 16.5. The engine is really very refined and responsive. The power delivery is smooth through the entire RPM range; the gearing is very well planned. The top speed I achieved is 156 kmph (GPS showing 153), wherein the over-speed warning cut in. Even at these speeds, the engine did not run out of breath and did not sound stressed. The interiors are comfortable with ample headroom and leg room for all. The most outstanding quality of the car was its ride quality and handling. The handling is extremely cohesive and steering is very responsive with excellent cornering. The ride quality is very polished and the car gives the feel of much higher segment car. A few drawbacks though - the touch-screen entertainment system is not really that refined. It does not support Android Auto or Apple Car-play. The 'A' pillar is slightly large and the driver instrument display system is a little fussy. The ConnectNext (Tata in-house) app is really poorly designed and does not accord any benefits.Other than these minor faults it's a smashingly great car and tremendous value for money. The faults listed have been addressed to a large extent (I believe) in the 2020 model. I am planning to buy another Tigor for my wife – it's honestly that good!!

2.3

Manufacturing defect 12times go to service station but not success.they not give properly reply.they also agree that manufacturing defect.but they are helpless.custmercarenot giving reply properly

4.7

It is really good car especially its mileage, comfort, ground clearance, stability etc tigor look is pretty for me ok ok ..no need to say build quality all knows Cons: interior fit and finish is decent but not to the mark than hyundai for that reason i adore on that range..
All Tigor User Reviews
5.0

This is a surprisingly refined and fun to drive car. I have had the car for 18 months and have driven 15000 km. I bought it after evaluating the Amaze, Ameo, Dezire and Verna. On the highway this car has given me and average of 20.8, with AC running but top speed restricted to 100 kmph, on an expressway for 1200 km. In the city she has given me and average of 16.5. The engine is really very refined and responsive. The power delivery is smooth through the entire RPM range; the gearing is very well planned. The top speed I achieved is 156 kmph (GPS showing 153), wherein the over-speed warning cut in. Even at these speeds, the engine did not run out of breath and did not sound stressed. The interiors are comfortable with ample headroom and leg room for all. The most outstanding quality of the car was its ride quality and handling. The handling is extremely cohesive and steering is very responsive with excellent cornering. The ride quality is very polished and the car gives the feel of much higher segment car. A few drawbacks though - the touch-screen entertainment system is not really that refined. It does not support Android Auto or Apple Car-play. The 'A' pillar is slightly large and the driver instrument display system is a little fussy. The ConnectNext (Tata in-house) app is really poorly designed and does not accord any benefits.Other than these minor faults it's a smashingly great car and tremendous value for money. The faults listed have been addressed to a large extent (I believe) in the 2020 model. I am planning to buy another Tigor for my wife – it's honestly that good!!

5.0

A car which will satisfy you in every aspect. The bulid quality of the car is more than awesome.. and the comfort, features it offers at such reasonable price is awesome . And the infotainment system with those Harmon Cardon speakers will just blow your mind.. average of this car is totally depends on how you drive it. In city u will get around 15-16 km per ltr and in highway u will get 21-24 kmpl.. will recommend this car to everyone

4.3

Overall performance is satisfactory. Inside cabin smell like plastic burning when car is parked in Sunlight. Music system gets blurry sometimes immediately after ignition. Vibration in first gear. Mileage is good, about 18kmpl on highways(in first month).

4.7

It is really good car especially its mileage, comfort, ground clearance, stability etc tigor look is pretty for me ok ok ..no need to say build quality all knows Cons: interior fit and finish is decent but not to the mark than hyundai for that reason i adore on that range..

2.3

Manufacturing defect 12times go to service station but not success.they not give properly reply.they also agree that manufacturing defect.but they are helpless.custmercarenot giving reply properly
All Tigor User Reviews