Royal Enfield Interceptor 650 Overview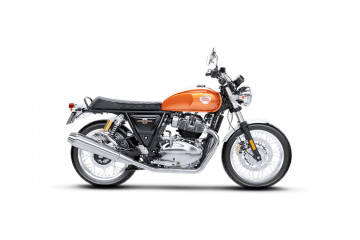 Top Competitors of Interceptor 650
Royal Enfield Interceptor 650 User Reviews
Performance

Comfort

Features & Styling

+ 2 more
Preferred For : Tours & Daily Commute
43% of users have given a rating of 4.5 and above
4.6

10,000+ km driven till now. Awesome machine. Comfortable at high speed (120+ kmph) cruising.Maintenance cost average.Tyre need to change after 10-15k Kms. Around 12-14k INR.

4.2

It's an affordable twin cylinder motorcycle in our country although performance wise very decent service cost pretty gud mileage overall worth to buy it

3.4

Performance wise i am happy about the new 650cc twin engine. Although the bike lacks features and gadgets to enjoy the experience but it makes uo for that by delivering an unforgettable riding experience.P.s. Note that the bike is the best when enjoyed with the red rooster performance exhaust.

5.0

i just love the look, really want to buy this bike

5.0

it's a great riding experience machine. on highways it feels no less than a harley Davidson.
All Interceptor 650 User Reviews
4.2

Riding my classic 350 was a great experience. I used to cruise on it and most of the times the torque, the seat the engine were all adequate. Then came the interceptor and it just took one test ride to realise what I was missing. On 27 Nov 2018 my satisfied life just turned upside down and got intercepted by the interceptor. I booked it then and there as I had no other way of achieving nirvana again. I booked the ravishing red colour but changed it to Orange crush as that was being delivered faster. I was told a waiting period of 120 days (and nights). Time was passing by I was riding my classic 350 as usual and having a jolly good time dreaming about my very own interceptor. You tube kept me sane as there were plethora of interceptor videos available to keep me occupied. On republic day I was going about my business as usual and I got a call from cruiser motors Dwarka that my interceptor is on its way and should reach by 27th Jan. I was pleasantly surprised and we decided that at 1400 hrs on 27 Jan,19 I will upgrade to interceptor. The PDI went well. After doing all the formalities I finally got the key at 1600 hrs. I rode it back happily. I was instructed to use only extra premium/ speed petrol and never to fill the tank to the brim. Keep tyre pressure as 32 in front and 36/39 in rear. Also not to ride the bike more than 75-80 for first 2000 kms ( lot of patience needed). I have been using it for daily 38 km commute to office and on weekend around city drives and a few tours of three to five days/1500-3000 kms. I have completed 9000 kms ( boy, have they been good!!). I have following observations -:Pros1. The bike is butter smooth. It has negligible vibrations.2. Engine delivers power in a smooth manner ( ps: its no KTM 390or even apache 300).3. Great road presence.4. Very relaxed engine ( due to low compression ratio of 1:9.5) 5. Absolutely no heat issues even in exteme bumper to bumper traffic. Just a warm breeze on your legs. It does misses on low speed in very extreme traffic and hot conditions due to engine heating.6. An all-rounder bike. Excellent on highways and quite manageable in city.Cons1. Rider footpegs have an ergonomic problem. ( It takes time to get used to).2. Tank feels a little thin to hold.( Solutions are available, keep reading to find out mine).3. Seat is absolutely pathetic. Even in city ride of 18 kms/ 30 mins it is uncomfortable. ( Got it modified from karol bagh. Added a little foam next to thighs, and got a pillion raise and guess what, My footpeg and tank issue went away to quite some extent. ( Now I can live with them).4. The clutch gap keeps increasing on its own. ( The clutch wire is touching the meters console and every time you turn the handle right it rubs and rolls resulting in automatic movement of clutch adjusting screw next to lever) FIX- tighten the screw to the max and adjust the clutch gap full and final from adjustment screws on the crank case.5. Two massive silencers keep geeting scratched especially the left one. Innocent auto walas especially do that.Service cost1. Got the first service done at 501 kms.2. Only oil change and basic checks and adjustments.3. Took four hours for service.4. Total cost : Rs 2675 only.5. Next service at 10000 or 1 year whichever happens earlier.Milleage. Overall 25 kmpl. Best 32 and worst 18.8 ( with normal fuel) otherwise 23 (with extra premium).

2.2

I own a Interceptor (got it in December). Like most people, my bike also had issues with hard clutch and that tak tak sound since after the first service.I visited #TeknikMotorcycles Sarjapur, #Bangalore couple of times for this issue and they couldn"t fix it. Lately, clutch became too hard to even shift gears, so I called RE officials and they sent an engineer to Teknik Service center to look after the issue. Some friends had suggested me that it"s a clutch play issue so it can be fixed easily. But engineer said they will deliver the bike in few hours.Now it has been 6 days and my bike is still at the service center. Everyday I have to chase them to get an update and they give me shocking reason.What they told me is,Day 1: Local engineers couldn"t understand the problem so they have called engineers from the plant.Day 2: Plant engineers are checking the issue.Day 3: Plant engineers have called for a meeting and doing some R&D.Day 4: They have decided to change the original clutch parts etc.Day 5: Waiting for clutch parts to arrive from Chennai plant.Day 6 (today): They have found some abnormalities in the clutch play and connected areas in engine so they are seeking an approval to change the #Engine.Whaaaat!!! Why is that required? I don"t know if I should be worried to hear this now. They are asking for another 3 days again for more R&D and testing.I don"t understand what kind a joke is this. Royal Enfield has been promoting twins by saying that they have been working on these bikes for 10 years. I mean this is what they worked upon in 10 years?I was so happy with the bike but getting to know these things are worrying me. Cost of this bike is not less. Its just right amount for this bike. Its just the engine is powerful, otherwise quality seem to be very low.

4.2

Interceptor is very good in Performance. Good Braking. Driving position is good. Standard seat is hard for long drives.Pillion seating is not comfortable because of elevated foot pegs. Heating is little bit in high city driving conditions. Suspension is bouncy making thud noise in little bad & Very bad roads . Suspension is Very Good in highways. Interceptor is definitely not a zero vibration bike. It is creating vibration in foot peg areas , Side of the fuel tank & Minor development started in handle bar area. Fuel gauge is improper/inaccurate it shows error reading we have to manually check by opening the tank. Engine RPM some times improper in idling glides up & Down.Heating in engine is tolerable it bakes our leg. in highways also. Latest happenings in my INT 650 i had problem in T-Stem i took it to the service center they replaced with , New T-Stem , Front Struts , Front Rim , Abnormal Engine noise was prevailing in my INT 650 All 8 Engine values changed on warranty . Still excessive engine noise is in my bike & bonus whistle sound intolerable. I have again informed the RE service. They assured to sort it out. The INT 650 is still a beta product . We should go to mediation course to control our patience. But riding pleasure is good. Today On 25.09.2019 my bike crossed 7000 km. The engine noise is abnormal still waiting for RE to sort our. My rear ABS is not functioning properly 60 % ineffective. Serviced the rear brake twice . Still problem. The surprise is RE is hesitating a lot change parts in warranty. It drags the issue for weeks .Pushes the customer frequent visits to workshop. RE has to sort out , Value noise & Clattering noise in INT 650. The front suspension & T-Steam is not strong enough .I have crossed 10,000 km now the engine noise is under control , in 10,000 km service . Rear brake is adjusted & Pads changed still ok only. RE is ready to change the caliper assembly if defective. Now a days RE is providing a very good service support.

5.0

I booked intercepter 650 colour is Baker Express and as per dealer they will be able to deliver the bike in Jan 2020 end. whatever information I have gather through YouTube videos ... it's looks with minor change which need to be done after delivery.I am looking for better headlight reason being headlight isn't matching what rest of the bike is offering and I believe Thunderbird headlight would have been awesome additions and seat which is not great as per the bike standards.. so looking for seat changes with better qauilty for sure.

4.2

The most refined and powerful engine till date from the RE stables. Beautiful looking classic retro styled twin engine machine. Low on vibrations and high on performance. In some ways it's a blank canvas begging to be accessorized. The aftermarkets industry must be going nuts. To be fair RE has some good accessories up for sale with the promise of more in the pipeline. On the downside are seating ergonomics (obviously subjective),placement of footpegs, pillion comfort or lack of and vendor quality control.
All Interceptor 650 User Reviews