Royal Enfield Continental GT 650 Overview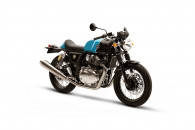 Continental GT 650 Alternatives
Continental GT 650 User Reviews
Performance

Comfort

Features & Styling

+ 2 more
Preferred For : Daily Commute & Tours
50% of users have given a rating of 4.5 and above
5.0

awesome bike n overall magnificent performance in this segment.Riding it since 16 months n having awesome experience.

3.8

Major problem is the fuel indicator, Highly inaccurate.Also few false neutrals are present.Overall handling and power is really nice, Plus bike has lots of character.

4.6

Mileage is great im averaging 27kpl on highways and 22 to 23kpl in traffic.Engine performance is great as well.But the suspension especially then front forks, Need a lot of performance upgrade.My fork springs are the worst.They are very soft for the weight of the bike.I had changed the oil grade from 10w to 20w and up the oil volume to 500ml for each tube and its still soft and wobbly on corners.The bike is not very stable when cornering.Straight iine, Well i can top at around 170kph🙂.

4.2

Bike is super engine wise.But mileage in city is hardly i am getting 18kms per liter.On highway i am getting 25 to 30kms per liter.Maintenance is too expensive for daily commute.When you are taking you turn then need to be very careful if bike lean for 20degres the you will loss the control.After 120kms per hour mirrors are use less.On 110 you can curse it without any issues.After 140 there are minimal vibrations which can control.Finally bike i can rate 4.1/5.

2.6

Average performance, And about 25kmpl on highway and 16kmpl in city, So i am going to add a supercharger in my bike and improve its mileage and performance
All Continental GT 650 User Reviews
4.2

First bike, still learning. That been said, is a great bike with enough power to keep you entertained for long while at the same time manageable enough that it will not put you in danger if you practice appropriately. It devours the curves once you get into its agressive position, while at the same time having the right mileage and ergonomics to make it your work transport. Would like that the fuel meter was more precise, and the presence of a clock in the display, analogue would be awesome. It is not exactly cheap to maintain, as any 650cc would be, but nothing too expensive either.

4.6

Mileage is great im averaging 27kpl on highways and 22 to 23kpl in traffic.Engine performance is great as well.But the suspension especially then front forks, Need a lot of performance upgrade.My fork springs are the worst.They are very soft for the weight of the bike.I had changed the oil grade from 10w to 20w and up the oil volume to 500ml for each tube and its still soft and wobbly on corners.The bike is not very stable when cornering.Straight iine, Well i can top at around 170kph🙂.

5.0

A fun filled thrilling ride, its great joy at canyon carvings. Breeze on highway and easy in city rides even. A great value for money product with superior quality hardware and certainly that 650 cc twin cylinder engine is a gem. Having 25 kmpl out of most of my highway rides. Service cost is so feasible and even service period is longer compared to any other bike in its price range. In comparison with Interceptor Conti GT adds on its sporty feel. Happy Riding 😊

4.2

Bike is super engine wise.But mileage in city is hardly i am getting 18kms per liter.On highway i am getting 25 to 30kms per liter.Maintenance is too expensive for daily commute.When you are taking you turn then need to be very careful if bike lean for 20degres the you will loss the control.After 120kms per hour mirrors are use less.On 110 you can curse it without any issues.After 140 there are minimal vibrations which can control.Finally bike i can rate 4.1/5.

4.6

Initially liked interceptor due to reviews which were shown online , I also went ahead a booked an interceptor. After few days royal Enfield called me for a test ride and I was disappointed . I was disappointed not because I did not like the machines but because I liked the gt more than the interceptor. The gt fells more planted , has better control and is a lot fun to ride. It"s gives you 500 feel of a 650 cc . And trust me it not like an r15 but very comfortable. You can read thousand reviews but the best thing you can do is feel the beast in the flesh. Well for the booking part I have made complete payment for my continental gt 650 and on 4th will get my beast.
All Continental GT 650 User Reviews