Kawasaki Z900 Overview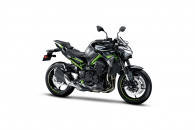 Performance

Comfort

Features & Styling

+ 2 more
Preferred For : Daily Commute & Tours
65% of users have given a rating of 4.5 and above
5.0

I bought this awesome beast in the month of march 2021.This is the most refined inline 4 engine any manufacturer has ever produced.This bike is an all-rounder.We can easily ride in 6th gear at speed of 35kmph and astounding 15 kmph in 4th gear without any knocking or jerks.Heat management is just out of this world.Just amazing.This bike behaves the way you behave.Ride it soft and its like cat.Twist the throttle and you get into a tunnel vision and get ready for a space ride.Kawasaki deserves a standing ovation.Hats off to you guys.

4.2

it's maintenance tax is high please low

5.0

I'm Bike ride to the Juot you Boys I'm Singing

4.2

Everything is good.The only issue is the wind blast.And also note there is a clutch issue in these bikes.

3.8

It's amazing bike ihve ever seen it's very comfortable to ride i want to purchase 👛💸🧡❤🖤❤🖤❤♥♥❤♥❤♥❤
All Z900 User Reviews
5.0

This bike is scary if you are jumping to this directly from a sub 300cc bike. But once you get a hang of it, it's so much fun. In city limits, it can ride easy in any gear, and on highways, that's where the fun begins. There is a difference in power once you reach higher RPMs and that's when you would enjoy it even more.It's has an easy almost upright riding position, only slighly agressive. Seat height is a bit taller now, and the ground clearance is improved as well. Exhaust has a beautiful grunt to it which you can hear while riding as well. TFT has very clear display and is visible during day as well. I like the road rider mode, which has full power and bit of traction control as well. Sports mode makes the throttle very s****h which is only good if you want to ride agressively, i.e. switch gear and accelerate non stop, which is not possible in city, but definitely good on empty highways, or tracks. All in all, it's an awesome update for the z900

5.0

I bought this awesome beast in the month of march 2021.This is the most refined inline 4 engine any manufacturer has ever produced.This bike is an all-rounder.We can easily ride in 6th gear at speed of 35kmph and astounding 15 kmph in 4th gear without any knocking or jerks.Heat management is just out of this world.Just amazing.This bike behaves the way you behave.Ride it soft and its like cat.Twist the throttle and you get into a tunnel vision and get ready for a space ride.Kawasaki deserves a standing ovation.Hats off to you guys.

5.0

Power packed machine with full safety feature like traction control and various riding modes plus ABS. will write a review later. I'm still getting used to the bike. Will write a proper review after some time

3.8

It's amazing bike ihve ever seen it's very comfortable to ride i want to purchase 👛💸🧡❤🖤❤🖤❤♥♥❤♥❤♥❤

4.2

dream bike which comes true, if anybody searching for a perfect segment bike if yor are thin this is the best bike.
All Z900 User Reviews