KTM 250 Duke Overview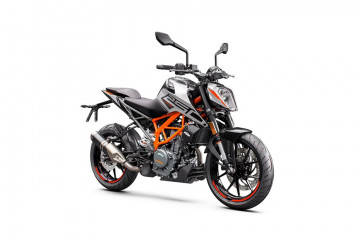 Top Competitors of 250 Duke
KTM 250 Duke User Reviews
Performance

Comfort

Features & Styling

+ 2 more
Preferred For : Daily Commute
52% of users have given a rating of 4.5 and above
5.0

Like it awesome bike hs. Shejhe bsjejue

5.0

raiding lovely and comfortable long time and daily commute mileage so good 45 kmpl average

5.0

Engkim ah ka fal petrol lah heh silo mus ka duh thi sam in a chak lo

5.0

Overall performance is good in a 250cc single cylinder motor. cranked at a speed of 151 with pillion. Touring a 900km stretch with pillion, reached in 19hours continues drive. only maintained the chain lubricant once in that trip. pillion comfort is not good for fat persons either its 250 or 390, the overall pillion comfort is average. mileage is great lowest mileage when i fully throttle it gives me 28 average i get 33,34 and more mileage i get when i ride smoothly on highways gets around 40+ Anyway, i'm satisfied with the bike

5.0

KTM is just for power and not for any mileage.
All 250 Duke User Reviews
3.8

I find that this duke is perfect for city commutes, getting to and from work is fun with this ride. Fun things: Its got power after you rev past a few RPMs, which means it is quick enough and you'll love it.I think this is the best looking ride in the naked bike segment in its class and slightly above as well. If you ride 20kms rather economically every day, Rs. 00 per week should cover your fuel expenditure. It is quite comfortable for those relatively long rides. The headaches: Sluggish performance when accelerating to the mid range from the low range, it"s almost as if though it does not want to sprint. Very annoying and dangerous whilst trying to overtake. Brakes are simply not powerful enough for the power output or high speeds. The absence of an ABS makes it worse and dangerous at high speeds. You would have to take it to a technician every now and then to adjust the slack on the chain for optimum performance. Parts tend to get damaged quickly within a year, and screws, nuts and bolts tend to fall off rather quickly. The rear shock absorber for instance was totally replaced even though I had been using it for city commute. The halogen bulb headlight makes the bike look bad. Could have come with a TFT screen. Conclusion: Fun city bike with enough power to thrill on an occasional long jaunt. You"ll eventually love riding it around town as long its maintained well at short intervals.

4.6

It was in the late afternoon of April when my dad called me and asked me to accompany him to the city. I was bored at home so i went without any hesitation. Before long i was in Dibrugarh in front of KTM showroom1(boiragimoth). Dad went inside and talked to the store guys for some time. While i checked out the beast of a1bike, the duke 390. I was wondering how it would feel to ride a duke 390 one day when Dad tapped me on the shoulder and i followed him outside. Then we went home...i was excited that something was going on.. my dad wouldn't tell me why we went to the showroom. Then in the evening we had a delivery. A brand new duke 250. I1was super excited. I grabbed the key and jumped on the bike.. but dad stopped me and said this bike is not for you but for your cousin. I was heartbroken, as i was just given a Gixxer SF for my birthday and my cousin was1getting a beast. I went inside dejected and heartbroken.... after a few hours...i was called to ear1dinner...when i went inside... everyone was laughing.... I didn't knew what was going on.. i had my dinner and1was about to leave when dad stopped me....and everyone began laughing again.....then dad handed me the bike's key and said..its your because u did well in the mid terms...i was so happy

4.6

In my opinion no bike comes near to styling of KTM Duke 250. Whenever I park my bike anywhere some people always try to touch my bike. In my office people whom I don"t know also know me by the bike. When it comes to power it"s got crazy power packed if you are beginner u will definitely lose the handlebars once this beast accelerates. I ride rough so I get mileage between 20-25 in city maybe if I ride smoothly I might get 30. Exhaust note is really beautiful once u go faster with higher rpm. When i bought bike my bike had lot of vibrations which went of after 1000km. Its a bike for people who don"t care about spending money. This bike has wide handlebars so it"s sometimes difficult to get through small gaps. This bike is also very heavy at 166kg if you are weak guy u will have lot of trouble moving the bike. Also the seat height is very high for 5"10 because sometimes when the ground level is a little lower than normal (like pothole or something) u will find it difficult to put legs down. But this can be avoided to certain extent by adjusting the rear suspension.I wouldn"t recommend this bike for short guys.Maintenance cost is around 1k per service.

4.6

The Duke 250 is a beautifully designed machine...it sits snug in the midrange of the two aggressive Duke's, the 200 and the 390. The 250 when kept in the lower rpm ranges behaves very gentle and calm which makes it a wonderful city bike and the moment you take the revs above 5k-6k rpm you'll hear the exhaust note change to tell you to hold on.It unleashes the Dukes inner beast on the higher rom ranges and performs flawlessly.The only issue is the small vibration rattles from the plastic and the service costs but I guess that's worth it when you look at it as a package.

5.0

Overall performance is good in a 250cc single cylinder motor. cranked at a speed of 151 with pillion. Touring a 900km stretch with pillion, reached in 19hours continues drive. only maintained the chain lubricant once in that trip. pillion comfort is not good for fat persons either its 250 or 390, the overall pillion comfort is average. mileage is great lowest mileage when i fully throttle it gives me 28 average i get 33,34 and more mileage i get when i ride smoothly on highways gets around 40+ Anyway, i'm satisfied with the bike
All 250 Duke User Reviews