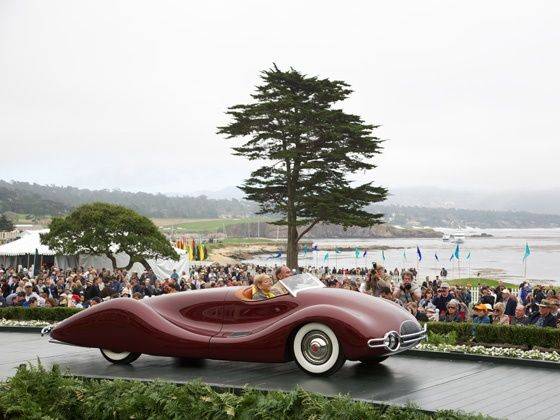 Ever since it was announced last year that there would be two classes catering to cars of the maharajas at the 2012 Pebble Beach Concours d'Elegance, the at times vibrant, at times faction-riven classic car fraternity in India did pause and while not exactly break into applause, looked as pleased as punch. For a while that is, to think about a time in history when the cars in and of that period meant and continue to mean so much for them all.
However it is not just about Maharaja cars that Pebble Beach is so important because as a single event it celebrates automobiles (and motorcycles since the past few years), old, great, innovative, exciting and racy with a purpose not many can comprehend at first instance! If that's not all, the way it is configured, the event is at the pinnacle of showcasing history with the present and the near future also compressed into a sliver of exotic locale on the California coast. No wonder then that not just deep pocketed collectors and enthusiasts rub shoulders with the swish set and the big suits of the car majors make it a point to be in attendance, for indicators, Ratan Tata was at Pebble Beach the year before, trying to hit the right chords with the Jaguar faithful. Presence is everything and it holds true for the schmoozing set as well as the cars, grand and old the better and if with vital provenance, it could be just the proverbial lalique crowning the hood!
ZigWheels has made it a virtue of covering the Pebble Beach Concours d'Elegance without fail for the past four years (we have been featuring the event in our newspaper supplements and web site from 2008 onwards) and while there were some truly great cars for the 62nd running of the event, I would love to talk more about the cars which constituted Class E1 and E2, those which catered to cars once owned and used by Indian royalty. What is a mighty big plus point of Pebble Beach is one should be prepared to be surprised, by the cars you didn't know anything about! Cars, which have never been seen for ages, caged in their climate controlled garages, selectively taken out for this one event and then cocooned back into hibernation.
The most important criterion for inclusion at Pebble is that entry is by invitation after a committee has vetted it. If that is not all, however eclectic a car or marque might be, getting them to roll repeatedly on the greens of the 18th fairway of the golf course which plays host to the concours is as rare as Pune getting snowed under! And here is where Manvendra Singh of Barwani comes in. A royal in his own right (Barwani being a small state in Madhya Pradesh), Manvendra though is one of the country's leading lights in the vintage and classic car moment and has been pursuing his hobby for over three decades, bringing old automotive dowagers to life and many a time unearthing many a story or anecdote to life about great cars in the first half of the last century.
With a persona like his, it was but natural that he was asked to be on the list of curators for the 62nd running of the concours with special emphasis on classes E1 and E2. The former focused on great Maharaja cars from all over the world while the latter focused on Maharaja Rolls-Royces only, logical this because were it not for the largesse of our royals and their splurging capability, the firm could have had a torrid time financially, especially in the period between the two world wars.
Pebble Beach Concours d'Elegance 2012 : In Pictures!
These two classes also infused a handful of car enthusiasts to dream about hitting the greens at Pebble and while in the final analysis only two cars went from India while a third came in from England, there could have been two others (Maharaja Cars B Roll Footage). Sadly one dropped off due to the enormity of the costs involved while the other's chances to make it to the US were scuppered by the unprofessional approach of a leading garage to whom it had been entrusted for a spruce up.
That said, it was great to see none else than H.H. Arvind Singh Mewar, the Maharana of Udaipur take his 1924 Rolls-Royce 20 H.P. to Pebble Beach while joining him for the concours from India was Bangalore-based car collector Dr Ravi Prakash who brought along the ex-Maharaja Holkar of Indore's magnificent 1930 Delage D8. While the Rolls-Royce has had nothing but royal care and ownership ever since it first came to India, purchased by the Maharaja of Jodhpur in 1924, it is interesting to note that this car came into the Udaipur royal garage in 1935 specifically for being cannibalized for spares to keep no less than four other similar cars in operating condition!
Over the years it lost its original engine to keep another of its stablemates motoring and for almost the better part of four decades it was stored and kept. Thankfully, the enthusiastic Shriji, as H.H. Arvind Singh Mewar is better known as, commissioned a complete restoration and the car is now in as close a state as when she first rolled off the Rolls-Royce works at Derby in England. What Shriji and his team always kept in mind was to keep everything as standard and near to original as possible without in any way overdoing things (Arvind Singh Mewar Interview).
Absolutely correct line of thought for Pebble Beach because unlike the time in the 1990s when over-restoration seemed to dominate many concours d'elegance events, thankfully the likes of Pebble Beach and Villa d'Este have set things right where originality comes first and foremost and as such the Udaipur Rolls was spot on! No wonder then that Shriji and the Rolls Twenty created a bit of history on debut at Pebble Beach, being awarded the Lucius Beebe Trophy for a Rolls-Royce in the grand tradition. It was the first time ever an Indian-entrant had ever won a gong at Pebble Beach and it was fitting that it went to Shriji.
Pebble Beach Concours d'Elegance 2012 : In Pictures!
While the organisers might have agonized over the eventual selection of former Maharaja cars, in Shriji they had a right royal and if that wasn't all, he also prevailed upon another royal to enter his car for Pebble Beach. I am referring to Yuvraj Saheb Mandhatasinh Jadeja of Rajkot. This young royal had done something which many of us are very proud of – he went out and bought the glorious 1934 Rolls-Royce Phantom II which was once the pride and joy of his forefather, the erstwhile Maharaja of Rajkot.
This was truly one of the grandest Phantom II machines ever built, noted coachbuilder Thrupp & Maberley devising a four-door four-seater cabriolet body on it. From the front end till the scuttle line, the entire bonnet plus the flowing fenders were all in shiny polished metal while the rest of the body was painted a very strong shade of saffron. This car was named the "Star of India" and was a highly acclaimed automobile all over the world. It carried the Rajkot coat of arms on all the doors and had exquisite fittings in the cabin. Sadly after independence this car was spirited out of the country and for many years resided in a collection of Rolls-Royce Phantoms in Germany.
When this car came up for auction a couple of years ago, the Yuvraj decided to go the distance and re-acquire it, paying a pretty penny for it. The car has as yet to return to India, having been garaged in England but Pebble 2012 was too good an opportunity to miss and so we had two royal Rolls-Royces with true-blue Maharajas motoring in them! And this combination of royals in Rolls' must have floored everyone at Pebble Beach.
Pebble Beach Concours d'Elegance 2012 : In Pictures!
While we are speaking of Rolls-Royces, class E2 saw no less than seven RRs with no less than three of the magnificent but highly complex (for their time) Phantom IIIs dominating proceedings. The ex-Maharaja of Rewa's Thrupp & Maberly drop head coupe jostled for space with the Barker cabriolet of the Maharaja of Keonjhar and the Thrupp & Maberly sports tourer of the Nawab of Bhopal. Then there was the 1928 EX17 Phantom formerly of the Maharaja of Jammu & Kashmir, a milestone car in Rolls-Royce history. One of a handful of experimental cars built by the British firm (hence the EX in its model designation) as it bid to develop a whole new range of cars after the Silver Ghost, it was the only one sold because Sir Henry Royce had a policy of never letting any prototypes fall into customers' hands. However, Maharaja Hari Singh Bahadur being a well-heeled patron for the brand could not be refused and so this car came into his possession.
However the car that took class honours at Pebble Beach 2012 was Hong Kong-based collector Sir Michael Kadoorie's exquisite 1925 Rolls-Royce Phantom I sporting sport torpedo tourer coachwork by Barker. This car was formerly the pride and joy of the Maharaja of Idar but sadly like most it was spirited out of India. Thankfully what one saw was that their new owners had preserved them exceedingly well, in fact much better than they would have been had they stayed on in India.
Class E1 was however even more of a grand show with great drama and grand designs dominating proceedings. Drama came in the form of the 1910 Brooke with its special Swan body built not for a Maharaja but for an Anglo-Indian resident of Calcutta. The eccentric Scotsman Robert Nicholl Mathewson built it in the manner it is so that the swan's eyes would light up and steam hiss from its nostrils whenever he encountered traffic on his daily commute in Calcutta.
It so happened that the young Maharaja of Nabha chanced upon this intriguing machine and bought it off Mathewson. So impressed was the Maharaja and his family that he commissioned a smaller version of the same for his children. This was built in India in 1919 but used electric power and was christened the Cygnet. Both cars stayed put in the Nabha royal garages until they slipped out of India in the early 1990s along with a Rolls-Royce. After being put up for auction, both the Swan and the Cygnet (Swan Car B Roll Footage) were purchased by the Louwman Museum in Holland which restored them from the ground up and turned them into truly wonderful machines replete with all the James Bond-type gadgets of its era!
Pebble Beach Concours d'Elegance 2012 : In Pictures!
The Maharaja of Jaipur's 1930 Bentley Speed Six had Dr Ravi Prakash's ex-Holkar of Indore's 1930 Delage D8 sports coupe for company but what was really fascinating was to see Mercedes-Benz Classic come up with the ex-Maharaja of Kashmir's 1928 Mercedes-Benz SS four-seat sports car. This was the actual car on the firm's display at the 1930 Paris Motor Show where the Maharaja saw it, fell in love with it and purchased it there and then itself! Like most others it was neglected and fell into ruin before being taken out of India and resurrected. After a series of owners Mercedes-Benz Classic bought it some five years ago and subjected it to a complete rebuild and there she was at Pebble Beach, in resplendent glory just as she was in Paris 1930.
While many marvel at Rolls-Royces and go ga-ga over them, in the 1930s they had to contend with the likes of the great Hispano-Suiza and many Indian royals understood the pedigree of this make. There were two Hispanos in this class, a 1925 H6B Kellner cabriolet formerly of the Maharaja of Nabha while the other was the aqwesome J12 with de Villars cabriolet coachwork, formerly owned by the Maharaja of Rajkot. To see these two Hispanos in their pristine glory was a sight for sore eyes.
However the car that took top honours here was probably one of the greatest American sports cars of its time ever. I am referring to the J Gurney Nutting bodied 1935 Duesenberg J sports coupe of the Maharaja Holkar of Indore. Finished in saffron and dark blue, this gorgeous machine was resplendent in all its finery and ferociousness as she not only did the Tour de Elegance but went on to take class honours.
I am sure that I have been biased towards cars with an Indian connect but then this was a great gathering of royal Indian machines a feat which might not be repeated for a long time. Having said that the machinery in the rest of the classes could merit a complete issue of the magazine. Suffice to say however that the best of show in 2012 was accorded to a rare 1928 Mercedes-Benz 680S Saoutchik Torpedo owned by Paul and Judy Andrews from Texas.
The famous French coachbuilder built just seven striking Torpedo bodies on the Mercedes-Benz 680S chassis and all of them had differences in detailing. This example in silver and red was stunning with its low-slung look and that typical long bonnet of high-powered sports cars of the period. This car was displayed at the 1928 New York Auto Show and was bought by its owner then. It has stayed in the family ever since!
No wonder Pebble Beach 2012 was rich in surprises, all of them delightful!
Pebble Beach Concours d'Elegance 2012 : In Pictures!