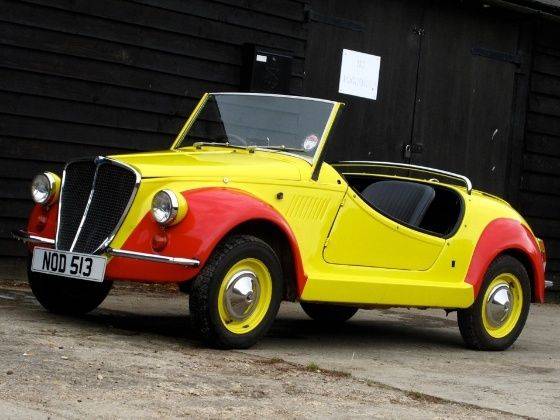 Now here's one auction die-hard Enid Blyton fans wouldn't want to pass up. The original Noddy Car made famous in the author's timeless classic of Noddy and his adventures in Toytown is set to go on sale on July 27 at Silverstone Auctions, England.

With its unmistakable red and yellow paintwork and 'parp parp' horn, the iconic little motor car is almost an exact mirror of the one driven by the character Noddy in Toytown. The actual car is a 1969 Fiat Gamine Vignale, a small two-seat roadster produced by Carozzeria Vignale from 1967 to 1971 and based on the Fiat 500 platform.

Fitted with a 594cc engine and synchromesh gearbox, the car has had four owners until now and is believed to have covered only 4,553 miles (approx. 7,327 km). More recently it has been looked after by marque specialists Middle Barton Garage in Oxfordshire. Also Read: Fangio's Mercedes-Benz becomes most expensive car ever sold in an auction
Describing the car as "a piece of automotive history," Will Smith, classic car specialist, says, "This amazing Noddy Car has got to be one of the most easily recognisable cars anywhere on the planet, and it doesn't get any closer to the one that Noddy actually drives with his friends in their adventures in Toytown".

The roadster even has a unique number plate 'NOD 513' that adds a unique touch to the car. . "We expect a huge amount of interest in this Noddy Car from Enid Blyton fans and Fiat collectors, and who can blame them for wanting to get their hands on a car that takes us back to our childhood," says Smith. And if you are harbouring any desires of buying the car, be ready to shell out anywhere between £20,000 and £25,000 (Rs.18 lakh and Rs.23 lakh) – the amount the car is expected to fetch the auction.

Silverstone Auctions, formed in 2011 as joint venture between Nick Whale and Silverstone Circuits, is a world-class specialist auction house for classic cars, modern cars, all types of competition cars, modern and historic motorcycles and automotive memorabilia. Auctions take place in the wing, the circuit's new £27 million building, which has space to display up to 100 auction vehicles and includes seating accommodation for up to 400 attendees.