Barn find folly takes over the Artcurial auction at the 2015 Retromobile Classic car show
Feb 10, 2015
Views : 10070
---
Gautam Sen reports on the madness that ensued at the 2015 Artcurial auctions at the annual Retromobile Classic Car show in Paris and the Indian connection that some of these cars now posses. Cars like the Ferrari 250 GT California, a car that used to belong to famous French actor Alain Delon, sold for - a record Euro 16.3 million (Rs 115 crores)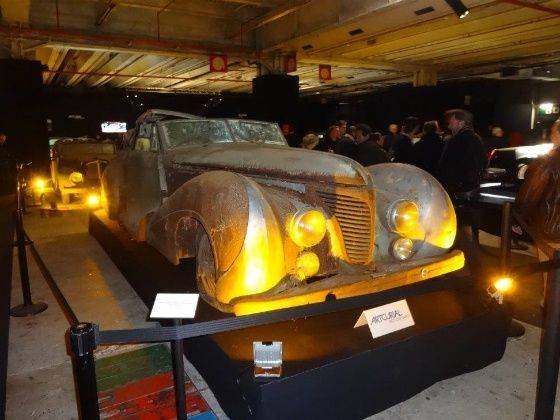 As 59 ancient junks sold for € 25.15 million (Rs 177.4 crores) at the auction of the Roger Baillon Collection by French auction house Artcurial, at the recently-concluded Retromobile classic car show in Paris! The 2015 edition of Retromobile will be remembered through the sale of the Baillon Collection by Artcurial, despite the fact that the 40th edition of a show (which is arguably the finest classic car show in the world) had many other absolutely wondrous and rare automobiles on either special display or on sale. Of course, the Baillon sale was significantly boosted by the price that the Ferrari 250 GT California, a car that used to belong to famous French actor Alain Delon, sold for – a record €16.3 million (Rs 115 crores).

Two other cars crossed the million euros mark: a Maserati A6G which went for €2.01 million (Rs 14.2 crores) and a Talbot-Lago T26 Grand Sport (€1.7 million or Rs 12 crores). In total, 14 of the ruins went for more than € 100,000 (Rs 70 lakhs). Organized as a part of Retromobile, and widely highlighted by the show organizers, this sale has unfortunately created a lot of bad blood and even frustration, to the point of almost triggering a riot.

The prices for the rarer and fancier machines, such as the Ferrari California, the Maserati and the Talbot Lago T26 was not all that surprising, but the way the hammer prices for the more ordinary cars exploded estimates – a rather battered Delahaye Type 43 for instance going for €65,600 instead of a sensible estimate of €6,000 to €8,000 – with most cars selling for five to ten times their estimate, is being seen as incredibly stupid, and something that has made a mess of the classic car market. To quote one of the automotive magazines in France l'Argus: "As expected, the intelligent enthusiast buyers were not present at the auction, leaving the field open for thugs and charlatans."

Right from the start of the Baillon Collection auction, the values were all going berserk: the very first car on sale, for instance, a most ordinary and rather tired Singer Roadster, estimated at between €200 and €800 (Rs 56,000) went for €10,790 (Rs 7.6 lakhs!). For the cars following, the prices too went spiraling, clearly there was a frenzy of buying that was not making any sense at all. That's when I advised three of my Indian collector friends – who were seriously interested in picking up some cars – to bail out of the bidding war, to abandon any hope of making a sensible, interesting acquisition.

Unfortunately, a fourth Indian (who wasn't in touch with me) went ahead and bought nine of the 59 cars, at prices that are, in my opinion (and that of most of the others around) ridiculously high, especially for cars that need a huge amount of work to be restored, and are not all that special either. Several of the cars came apart when they were transported from the Baillon barn to Paris – I really wonder how many of those nine will make it to India, and in how many pieces…