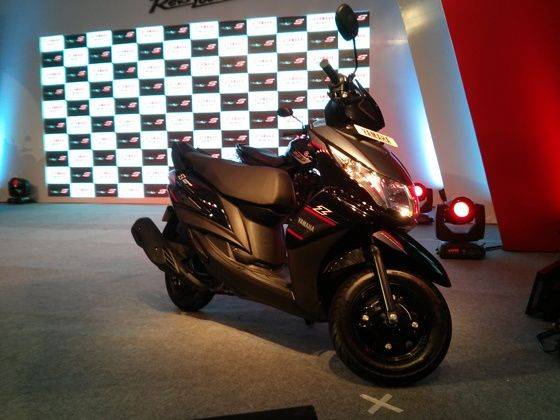 Believe it or not, Yamaha has in fact sold 70,000 scooters since the launch of the Ray, which accounts for 16 percent of the market share. Those are some impressive numbers considering the scooter was built solely for a female audience, which prior to the entry of the Ray was a rather undernourished segment.
As expected, Yamaha had something up their sleeve for the opposite sex as well and here's proof of that. It is simply called the "Ray Z" and will distinguish it's more masculine appeal with exterior shades that include a combination of red and black, white and black and even an all black version.
With weight and power figures identical to the Ray, the Ray Z will cost you a little more than the Ray at Rs 48,555 (ex-showroom Delhi), but a claimed mileage of 53 kmpl should even things out nicely.
The new Ray Z while keeping the same basic performance of the Ray released in September 2012 has a more sporty look and feel in comparison which is made evident through a smoked-finish visor, an aluminum rear wing-shaped tandem rider grab-bars, a new instrument panel and carbon fibre patterned seat cover material. Yamaha has also launched a string of accessories and riding gear to compliment the Ray Z (Read : Yamaha Ray First Ride).
Focus later shifted from the Ray Z to two new variants of Yamaha's SZ commuter range confirmed by Masako Asano, Yamaha India's Deputy MD, as the SZ-RR and the entry-level SZ-S.
The SZ-R is defined by sporty styling in its exterior design with special features like a 3D "SZ emblem" and others which have also been introduced on the Ray Z model. The SZ-S on other hand features a simpler design in the fuel tank that creates a calmer, more composed impression.
In simpler words, the SZ-S would target the more conventional commuter, while the SZ-RR will attract the more aspiration buyer looking to make the most of the bike's more sporty characteristics as compared to basic model. Prices for the SZ-RR and SZ-S variants are Rs 62,500 (ex-showroom Delhi) and Rs 59,500 (ex-showroom Delhi).
Hiroyuki Yanagi, President and CEO, Yamaha Motor Co., Japan also took this opportunity to announce and explain the company's new brand slogan "Revs your Heart", which best represents the company's new brand statement "Empowered by a passion for innovation".