Yamaha launches YZF-R1M and new variants of YZF-R1 in India
Apr 13, 2015
Views : 23877
---
Both the YZF-R1M and YZF-R1 share the same newly-designed engine, featuring a 998cc liquid-cooled, 4-stroke, in-line four- cylinder, 4-valve system with a crossplane crankshaft. The high-end YZF-R1M gets advanced suspension and electronics and will cost about Rs 7 lakh more than the YZF-R1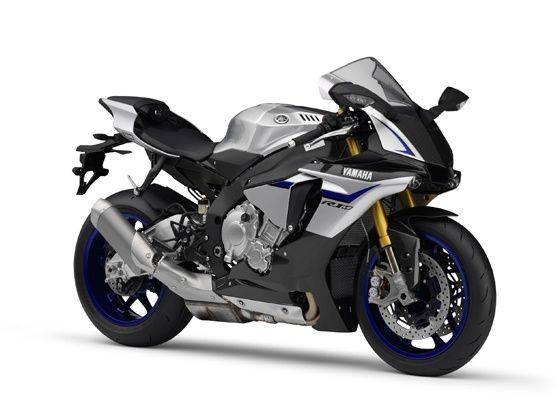 Yamaha Motor India Sales Pvt. Ltd has launched the new YZF-R1M along with new colour variants of the YZF-R1. The YZF-R1M has been priced at Rs 29.43 lakh (ex-showroom Delhi) while the YZF-R1 has been priced at Rs 22.34 lakh (ex-showroom Delhi).
The Yamaha YZF-R1M is available in a shade named Bluish White Metallic 2 and the YZF-R1 is available in two new colours - Deep purplish blue metallic C and Vivid Red Cocktail 1. The new bikes are based on Yamaha's "High Tech Armed Pure Sport" concept of an all-out supersport model fully armed with advanced technology.
Designed to be the fastest machines on the circuit, they allow riders to experience firsthand the technical philosophy behind Yamaha's MotoGP racing machine, the YZR-M1.
Both bikes share the same engine, featuring a newly-designed 998cc liquid-cooled, 4-stroke, in-line four- cylinder, 4-valve system with a crossplane crankshaft, incorporates design to substantially "increase air intake volume" and "reduce horsepower loss".
This new engine achieves maximum power of 200PS, an increase of approximately 18PS over the current R1 model. Yamaha Motor's engineers implemented weight reduction technology throughout the new model to lighten it by approximately 4kg. In addition, the engine width is reduced by 34mm.
FS titanium connecting rods reduce both weight and loss of horsepower. Cast magnesium wheels provide superior ride and a 17 litre aluminium tank provides further weight reduction and riding position flexibility. The high-end YZF-R1M also boasts an electronically controlled Ohlins suspension, lightweight carbon fairing and a digital interface that records valuable racing information.

The new bikes are the world's first two commercial motorcycles with a 6-axis position sensor that detects 3-axis angular velocity and 3-axis acceleration. The ECU is programmed with five different types of control systems. It includes a new traction control system that also conveys bank angle information, a slide control system (SCS) that reflects sideways slide of the rear, an LIF that deters loss through wheelies (lift control), and an LCS or launch control system that supports the quick takeoff required in racing and a quick shift system that supports fast gear shift.
The full screen of the TFT LCD digital meter created a "bar display tachometer", accelerometer and brake pressure displays etc. that give a similar visual impression to analog meters. The rider can select from two different display modes: "Street", which is tailored to travel on public roads, and "Track" which prioritizes the information displays required for race and circuit riding.
A communication control unit (CCU), standard on the YZF-R1M and optional on the YZF-R1 enables recording of the riding conditions through logging functionality, and automated circuit lap time measurement using GPS. It is also possible to create settings data on smartphones via an application that can be downloaded to any Android-based smartphone.
Based on the "Speed Racer" concept, the new models have a light, slim, and compact look. The new fairing shape features the cross-layered wing – an aerodynamic characteristic which allows airflow to cross between the inside and outside of the fairing. The front face of the new models inherits the twin-headlight configuration found in the R-series of the past, yet it bears a strong resemblance to YZR-M1.
The new YZF-R1M and YZF-R1 will compete against the recently launched Kawasaki Ninja H2 and Ducati 1299 Panigale in India.