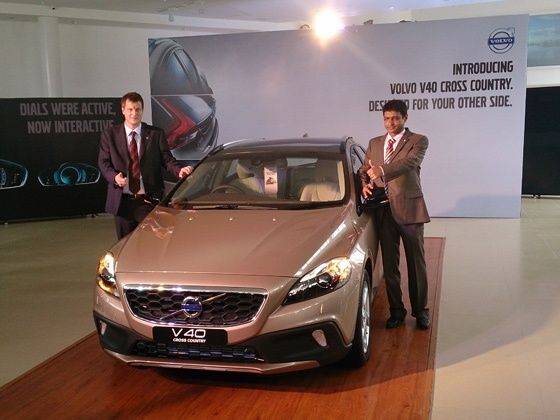 Volvo quite successfully managed to raise our antennas during the Paris Motor Show last year when it announced that its V40 Cross Country model would sooner than later be introduced here in India. While there were rumours that the Swedish car maker would in fact offer both petrol and diesel versions of the semi-off roading luxury hatchback, for now they have launched just the 2.0-litre D3 diesel model.
Producing 152PS @ 3500 rpm and 350Nm of torque the diesel spec Volvo V40 Cross Country will offer start/stop technology and braking energy regeneration as standard fitments. Mated to a six speed autobox with manual mode the V40 Cross Country will return an acclaimed mileage of 16.81kmpl.
Daytime running LEDs, front and rear skid plates, integrated roof rails and 17 inch alloy wheels are signature exterior details of the Cross Country as compared to the standard V40 model. On the inside the V40 Cross Country comes furnished with sculpted X-Shape design seats, a choice of 2-tone or single tone leather interiors, an illuminated gearshift knob and a panoramic roof (with electronic fabric curtain).
Besides renowned safety equipment like Laser Assisted Automatic braking, Dynamic Stability & Traction Control and Turn-with Steering Lights (ABL), the Cross Country is the first Volvo in India to be introduced with the V40's world-first pedestrian airbag technology (Watch : Pedestrian airbag technology video).
For easier access to vehicle insurance claims and convenience of its customers Volvo has also entered into an agreement with Bajaj Allianz here in India. A new Swede auto dealership in Gurgaon has now further expanded its reach to customers up North.
Speaking on the occasion, Tomas Ernberg, Managing Director, Volvo Auto India said, "The Volvo V40 has received the top rating of five stars in the Euro NCAP collision test. The overall result is the best recorded by the institute so far. Volvo V40 Cross Country is a variant of the V40 represents a model which is Premium in Design, Features, Technology and Safety."
Going head to head with the Mercedes B-Class and the BMW X1 the rugged Volvo V40 Cross Country has been priced at Rs 28.5 lakh (ex-showroom Delhi) and will be retailed through Volvo's dealerships across India starting June 2013. It should attract newer customers who are familiar with the Volvo brand, but were on the lookout for something a little unconventional and exciting at the same time.