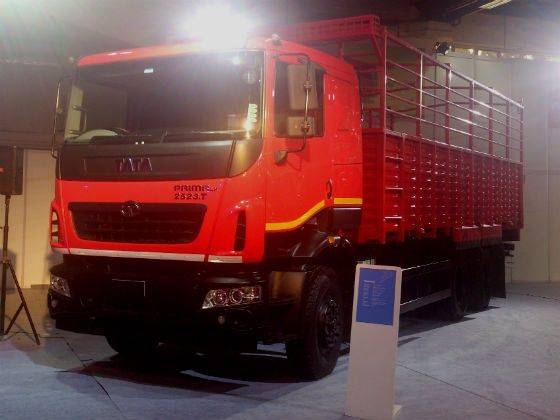 Tata Motors today increased its Prima range to a total of 15 products with ten new launches. Spanning across different Gross Vehicle Weights (GVW) ranging from 25 tonnes to 49 tonnes, the new Prima LX range is priced between Rs 18.3 lakh and 32.3 lakh and slots right between Prima range that is priced from Rs 23-65 lakh and the standard Tata range that costs between Rs 12.7 lakh and 35 lakh.
More importantly, Tata Motors has introduced a 25 tonne and a 31 tonne multi-axle truck in the Prima LX range that increases the customer base of the range. Tata Motors says that multi-axle trucks contribute to 65-70 percent of total M&HCV sales so with these new products, there will be a lot more Primas plying on Indian roads soon. Both trucks will be powered by the 5.9-litre Cummins CRDI engine producing 233PS.
The four new tippers that go on sale in the Prima range will be available in two engine options and have 25 and 31 tonne GVWs. The same 233PS block powering the multi-axle trucks will be available in the tippers but considering some of the applications these tippers could be used for like mining, it also gets a 284PS engine option that's also sourced from Cummins.
Finally, four new tractor trailers round up the LX range. Like the tippers, the tractors will sport the same engines but will have a higher haulage capacity of 40 and 49 tonnes.
The Prima range of commercial vehicles was introduced in 2009 by Tata Motors. It was a premium product compared to the rest of the range and gave operators the option of contemporary trucking and comfortable driving conditions, but the new range came at a higher cost. Thus the reach was limited but with these new midrange LX series products, the Prima platform will have a higher reach.
During the launch, Tata Motors also announced its warranty extension to trucks with lower GVWs in the Tata stable. Until now, Tata Motors was offering a 4 year/4 lakh km warranty on 25 tonne and higher trucks but from the beginning of March, this warranty has been extended to their medium duty range that includes 16 tonne GVW and higher.