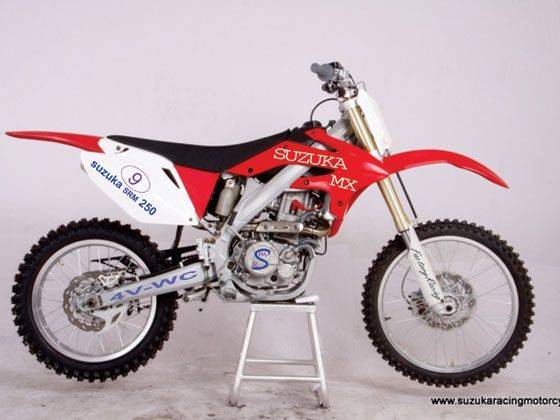 Suzuka Motorcycle introduces their dirt bike and ATV range in the market. Taking one step at a time, the Gujarat-based company has launched three off-roading bikes and three ATV models. The range of bikes and ATVs cannot be registered at the RTO nor can be used on public road; and are best suited for adventure riding on private land, farm use or for motocross racing.
Speaking to ZigWheels Nimish Patel, GM (Tech), Suzuka Racing Motorcycle Design & Manufacturing Company, said "Suzuka motorcycles have been developed in collaboration with a Japanese engineering company and promise 100 per cent Japanese quality". Though the company was formed back in 2000, it commenced its off-road bikes and ATV manufacturing business in 2005. Suzuka has its manufacturing facility near Sanand in Gujarat, where it is currently assembling most of its products. In future, as the demand increases, the company hopes to begin assembly as well.
There currently three 250cc motocross bike models on sale in India – the SRM D10 250A, SRM D10 250B and SRM D10 250D. The SRM D10 250A is the base model with an air-cooled 250cc 2-valve engine capable of 16.3PS maximum power at 7,000rpm and 17.5Nm peak torque. It uses regular cycle parts and has a claimed top speed of 120kmph. The Suzuka SRM D10 250A bike is priced at Rs 3.4 lakh plus taxes.
The Suzuka SRM D10 250B is based on the same platform but here the 250cc 2-valve motor is water-cooled, produces slightly more power at 17PS, while the other specifications remain identical. Other changes on the 250B include more robust SUYIDA front and rear suspension and sells at Rs 5,000, for 3.45 lakh plus taxes.

The range topping Suzuka SRM D10 250D motocross bike is powered by a 4-valve, water cooled 250cc engine which is more powerful than its sibling, churning out 22PS peak power and 20Nm of torque. The claimed top speed is also a bit higher at 135km/h and is offered at Rs 3.65 lakh plus taxes.
The company has also launched three All Terrain Vehicles (ATV) with engine capacity ranging from 110cc to 250cc priced between Rs 1.76 lakh to 1.93 lakh plus taxes. Besides these, Suzuka also offers a range of modification part for aspiring motocross racers to convert their street bikes in to off-roading machines.