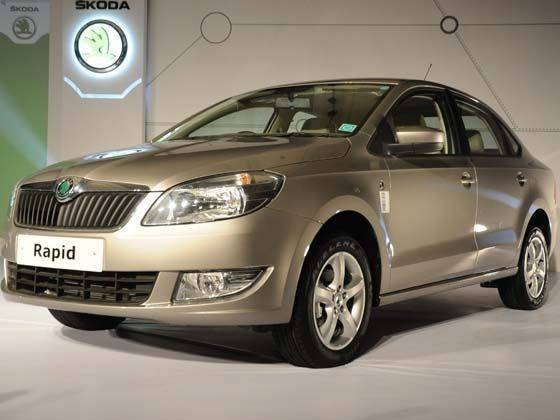 As a part of Volkswagen's aggressive game plan for global automotive domination by 2018, its Czech premium car brand Skoda recently announced the roll out of an all new product portfolio for India and the world, the most impressive of which so far is what we know as the 'Mission L'.


But in the Indian context, the further expansion of India's already eclectic assortment of international premium compact sedan offerings now sees worthy contribution once again, in the shape of the all new Skoda Rapid that shortly after starting production at Volkswagen's Chakan plant near Pune, has finally gone on sale in India.


Despite being styled around the same platform as the Volkswagen Vento, the Rapid is a true Skoda in the making, and this becomes amply clear when its exterior body lines and curves are looked upon closely. Targeted at a constantly growing customer base in a segment, where whims and fancies are pampered by sheer diversity of choice, the Skoda Rapid is surely no last minute compromise by the looks of it.
Speaking at the launch of new Skoda Rapid, Mr. Thomas Kuehl, Member of the Board & Director, Sales & Marketing, ŠKODA Auto India commented said, "ŠKODA Auto India marks a crucial milestone in India with the launch of Rapid. We intend to strengthen our presence in the highly competitive C segment in the country with this launch. We are confident that this car will become the cornerstone for the ŠKODA brand in India. It's distinctly fresh, young, smart and clear-cut design makes Rapid a well-balanced car and therefore successfully fills the gap between ŠKODA Fabia and the current Laura."

Starting with the performance potential on this urban Czech sedan for India, interested buyers have the choice of picking from either a 1.6 litre turbo diesel powerplant or an MPI petrol unit of the same capacity. Both units make the exact same power as well at 105 horses, but torque differentials are massive between the two models, with the TDI putting down 250Nm between 1500-2500rpm and the petrol making 153Nm @ 3800rpm.


Just like we saw earlier on the Volkwagen Vento the new Rapid will factor in both a 5-speed manual and a 6-speed automatic transmissions in its buyers wish lists, but the auto box will be featured only in the top petrol variant.

The Rapid from Skoda will come factory fitted with a 2-DIN audio player on the top of the line Elegance variant with AUX input as well as an SD/MMC card reader connectivity options. Top variants on this car also get electronically regulated climate control while the base Active and Ambition variants have to make do with a manually regulated air con.


Priced between 6.75 – 9.19 lakhs, the Skoda Rapid, like its name suggests could turn out to be fast paced contender in the current crop of premium sedans here in India. For a complete performance overview on the new Skoda Rapid read our first drive report: Skoda Rapid : First Drive


Variant wise prices of the new Skoda Rapid


Active 1.6 MPI MT : Rs 6.75 Lakhs*
Ambition 1.6 MPI MT : Rs 7.09 Lakhs*
Elegance: 1.6 MPI MT : Rs 7.99 Lakhs*
Ambition 1.6 MPI AT : Rs 8.09 Lakhs*
Elegance 1.6 MPI AT : Rs 8.99 Lakhs*
Active 1.6 TDI CR : Rs 7.95 Lakhs*
Ambition 1.6 TDI CR : Rs 8.29 Lakhs*
Elegance 1.6 TDI CR : Rs 9.19 Lakhs*

(* All prices are ex-showroom Delhi)