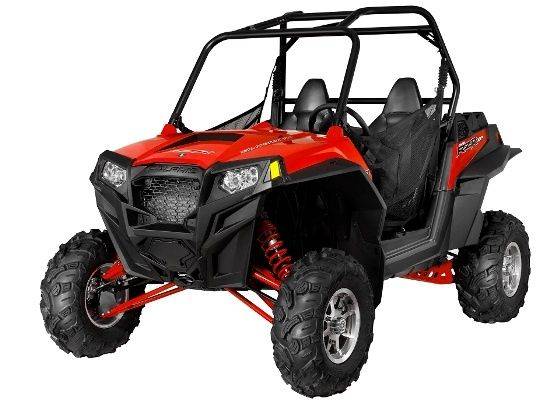 Polaris has taken the game up a notch in the ATV segment with the launch of the Ranger RZR XP 900 in India. The Ranger RZR S 800 was already a serious off-road performance machine with its high output 760cc twin-cylinder engine that generates 53PS of power. Imagine then what the 875cc DOHC motor generating 89PS of power will be like. At 540kg the Ranger RZR XP 900 does weigh 86kg more than the RZR S 800 but there is more than enough firepower to deal with the bulk.
The engine as usual in a Polaris is mounted under the dumpbox and is mated to an automatic gearbox that sends power to all four wheels as and when required via the On-Demand AWD system.
Polaris buggies are known for their comfortable ride over rugged terrain and the Ranger RZR XP 900 has been given a new 3-link trailing arm IRS paired with Fox shock absorbers to provide a supple ride no matter what the terrain. The suspension set-up gives the RZR XP 900 a monstrous 14 inches of terrain-absorbing rear travel along with 13.5 inches of front travel and 13 inches of ground clearance.
Polaris has also equipped the Ranger RZR XP 900 with high intensity LED headlights that provide consistent white light further into the horizon than conventional halogen lamps to tackle the most adverse terrain at night.
Priced at Rs 19.36 lakh, the Polaris Ranger RZR XP 900 maintains its premium appeal.
Pankaj Dubey, Managing Director, Polaris India said, "Polaris would be crossing another milestone with the unveiling of this stunning RZR XP 900, which has been admired by adventurists all over the world, as an addition to its vast product portfolio in the field of off-road sports vehicles. This launch is going to set the spirits high for adventurers and travel enthusiasts who will now be able to enjoy the ease of owning and maintaining this vehicle and exploring tough terrains with ease and comfort."
Polaris has recently tied up with HDFC Bank to provide easy finance solutions to customers with special rates and finance scheme that will be available across all Polaris dealerships and HDFC Bank branches.