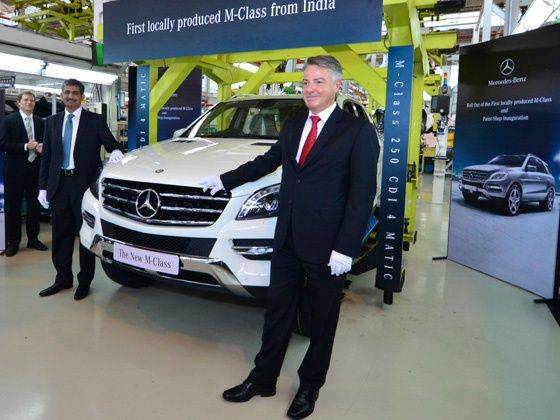 Piyush Arora Director Technical Mercedes-Benz India and Ralf Mungenast,
Director, International Productions, Daimler AG at the roll out of the first locally produced M-Class 250 CDI
We saw the more striking third generation M-Class return to the high end SUV spectrum earlier this year, and the three-pointed star's efforts at making the new ML-Class bolder, roomier and more efficient than ever before have not gone unnoticed.

With its top end ML350 CDI (Read : ML350 CDI Road Test) model having already caught the fancy of SUV enthusiasts with deep pockets, the Germans have now plonked a more frugal 2.2-litre twin turbo four-cylinder diesel mill into their new high tensile M-Class model, which now develops 206PS of power and 500Nm of torque.

The new M-Class 250 CDI like all models of its current generation has Bi Xenon Head lamps with LED daytime running lamps, an Intelligent Light System (ILS), an Electric Sunroof, 18" ten spoke light alloy wheels and a 7G- TRONIC PLUS transmission with 4WD among other salient features.
Safety technology features include anti-lock braking system (ABS), Electronic Stability Program (ESP) Acceleration Skid Control, Brake Assist and seven strategically located air–bags that ensure the safety of its passengers upon collision/accident. An ECO start-stop function helps reduce fuel consumption and overall emissions, while driver assist features such as Attention Assist, an Electric Parking Brake and Active Parking Assist make for hassle free driveability.
Speaking at the launch of the new ML 250 CDI, Peter Honegg, Managing Director & CEO, Mercedes-Benz India said, "The M-Class 250 CDI priced at Rs. 45.64 lakhs (ex-showroom Pune) is the first M-Class ever to be offered from a local production outside Mercedes-Benz's SUV plant in Tuscaloosa, USA. India becomes the 'first' market in the world to enjoy this elite status and further highlights Daimler AG's focus and commitment on the Indian market."
The start of local assembly operations for the new M-Class models means a drastic drop in excise and customs duties that were originally imposed on the vehicle when it came in via the CBU route. This has translated to a major reduction in overall assembly costs for the SUV, which with all its bulk, massive power and overall luxury quotient will now reach Mercedes-Benz customers at a more affordable price of Rs 45.64 lakh (ex-showroom Pune).


A new inaugurated state-of-the-art paint shop further bolsters production quality, flexibility and agility at its Chakan plant, and features fully equipped labs, intelligent conveyor systems and automated robotic painting among other highlights.


The new range of M-Class models have certainly upped their game offering reduced fuel consumption and lower emissions as compared to their predecessors, but with the introduction of the ML 250 CDI at this price point, Mercs German rivals Audi and BMW will now see stiffer competition for their smaller sized six-cylinder Q5 and X3 models, which aren't priced too far apart.


With 400 units of the new ML350 CDI already on Indian roads, the arrival of this equally spacious yet comparatively inexpensive and cheaper to run 250 CDI model should see the three-pointed star eating into a larger chunk of the luxury SUV market in the near future.