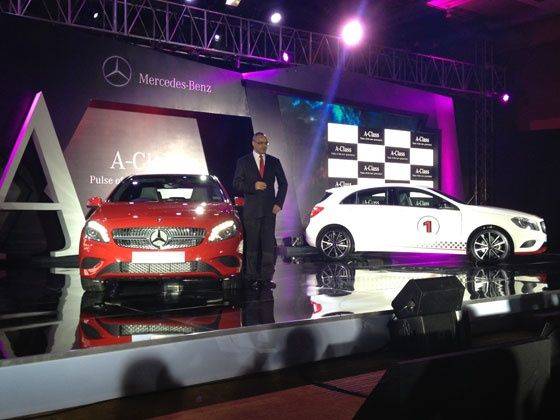 As my colleague Abhishek Nigam put it soon after his recent test run in the Mercedes-Benz A-Class, "The pictures simply do not do justice to the actual dimensions of the car." It's a completely fresh interpretation to the classic two-box design, and if looks could kill, that metallic front grille flanked by those swoopy LED striped headlights pierces you like an arrow through the heart.
There has indeed been an overwhelming sense of overall drama leading up to the launch of the German luxury car maker's tiniest yet shiniest star yet. And now that is has been officially launched and is standing right before us, it must be said that as far as styling is concerned Mercedes-Benz have simply outdone themselves, despite conceiving a much smaller package.
The A-Class range internationally gives buyers a range of models to pick from, but India just gets the A180 CGI and the A180 CDI. Well for now at least. The petrol A180 CGI packed with a high-tech 4-cylinder 1.6 litre unit featuring a turbo, variable valve timing and direct fuel injection pushes out 122 PS @ 5000 rpm and a meaty 200 Nm of twist between 1250-4000 rpm. Don't forget it's a hatchback and considering its modest proportions that's plenty of power for you to play around with.
Speaking of efficiency the A180 CGI we recently tested returned 6.8 kmpl in chock-a-block traffic conditions, while on the highways the figure rose to 12 kmpl. Safety equipment is like expected on any automobile with the three pointed star badge; it is top notch on the new Mercedes-Benz A-Class. With 295 mm discs up front and 276 mm discs at the rear coupled with ESP, ASR, ABS and Brake Assist, the A-Class stops with reassuring confidence (Read : Mercedes-Benz A-Class Road Test).
The front-wheel drive luxury hatch can comfortably seat four people backed by 341 litres of boot space with a 60:40 split mechanism for making extra room. The option of a panoramic sun roof makes the Mercedes A-Class that much more special and further deserving of luxury status.
On the inside the baby Merc is equally impressive and the first thing you will be smitten by is the air-conditioning vents, evocative of a fighter jet on the verge of a belching take off. Swathes of black and some fantastic F1 inspired sport seats with red stitching add to the comfort factor. The Central Media Display helps you control all your media from just one place. The 17.8 centimetre screen presents you with audio, navigation and web functions, on the go.
Now on sale pan India across Mercedes-Benz dealerships, the new A-Class will sell at an introductory price of Rs 21.93 lakh (ex-showroom Mumbai) for the A180 CDI Style model and Rs 22.73 lakh (ex-showroom Mumbai) for the A180 Sport model.
Related Mercedes-Benz A-Class stories:
Mercedes-Benz A-Class : Road Test
Mercedes-Benz A-Class : A look inside
Mercedes-Benz A-Class: Design Evolution
Mercedes-Benz A-Class launching on 30th May
Mercedes-Benz A-Class, A 180 CDI (Exteriors) : In Pictures!
Mercedes-Benz A-Class (Interiors) : In Pictures!
Mercedes-Benz A-Class (Design Evolution) : In Pictures!