Maruti Suzuki Kizashi Launched
---
MSIL's long awaited tryst with the high-end sedan club now comes to life in the form of its stunning new Kizashi. Priced between Rs 16.50 - 17.50 lakhs for its two variants on offer, the sporty yet elegantly designed Kizashi is now open for bookings across Maruti Suzuki dealerships with a Rs 50,000 deposit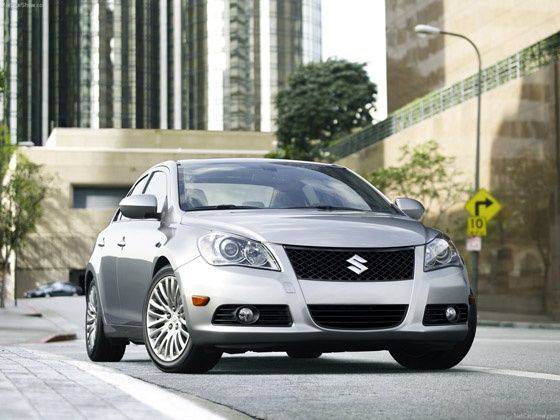 Much has been said, debated and argued over a car that in all probability will open new grounds for an auto manufacturer, whose domination in the Indian small car segment has remained steadfast and unparalleled over many years. We speak of MSIL's dashing new Kizashi, which after its grand showcasing at the 2010 Paris Motor Show has now been officially launched in India.

Powered by a 2.4litre petrol engine, the sporty sedan is capable of putting out 185 bhp and 230 Nm torque. With its sharp features and an all-wheel drive option, the new Kizashi is designed to deliver on every front, be it looks or handling. Being offered in both six-speed manual and six speed continuously variable transmission, the Kizashi is capable of racing from 0-100km/h in just 7.8 seconds flat.


Complementing the entire exterior design package of the Kizashi are its 17 inch alloy rims shod with 215/55 R17 tyres, which along with the cars dual tone dashboards and plush interiors adds the final touch to a car built for the classes but with appeal to the masses.
Coming in at an introductory pricing of Rs 16.50 lakh for the Manual Transmission variant and Rs 17.50 lakh for the Continuously Variable Transmission option (all prices are ex-showroom Delhi), the new Kizashi is expected to give existing players like the Skoda Laura, the Honda Accord and the Toyota Camry a serious run for their money.


The delivery for the Kizashi begins in March. It will come in as a Completely Built Unit (CBU) from Suzuki's Sagara plant in Japan. With its official launch here in India, only time will tell whether MSIL's first ever luxury sedan offering in the country makes a big splash or drowns in a segment already neck deep with competition.
KIZASHI
VIDEO: