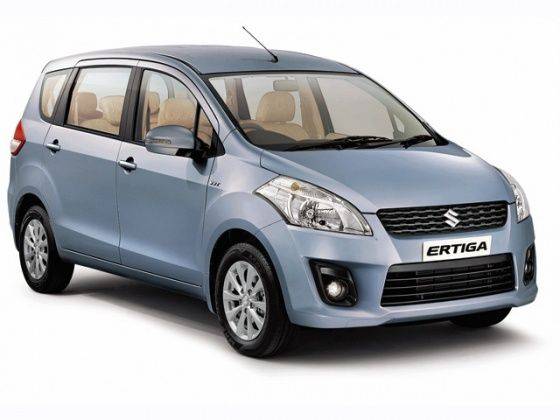 After the introduction of the special edition Ertiga Feliz, Maruti Suzuki has now launched CNG compatible variants of the Ertiga MPV. Badged as the 'Ertiga Green' the seven-seater CNG MPV will be available in LXi and VXi trims, the Ertiga Green LXi has been priced at Rs 6.52 lakh (ex-showroom Delhi) while the Ertiga Green VXi has been priced at Rs 7.30 lakh (ex-showroom Delhi).
Maruti Suzuki has fitted an i-GPI (intelligent-Gas Port Injection) Dual Engine Control Unit that is calibrated to deliver precise amounts of fuel into the engine under all throttle load conditions for maximum efficiency and optimum performance.
The CNG system of the Maruti Suzuki Ertiga Green is fitted on the company's conventional production line ensuring consistent quality of factory fitted equipment through stringent assembly line checks. The Ertiga CNG is capable of delivering a company claimed efficiency of 22.80 km/pl.
"As a market leader we are concerned about the environment. We continuously work to offer products that are high on fuel efficiency and low on overall cost of ownership. Ertiga Green, with a factory fitted CNG system, is another step of Maruti Suzuki to meet today's need of our customers. With the Ertiga Green our customers will be able to enjoy lower running costs and also take advantage of Maruti Suzuki's vast service network across the country," said Manohar Bhat, Vice President (Marketing), Maruti Suzuki.
With the introduction of the Maruti Suzuki Ertiga CNG, the company currently sells six factory fitted CNG models in the country, consisting of the Alto, Wagon R, Eeco, SX4, Estilo and Ertiga. Complete peace of mind with all these models comes from the fact that all Maruti Suzuki CNG cars can be serviced across the company's 2,900 service stations across the nation.
The Maruti Suzuki Ertiga Green has been introduced in places with CNG infrastructure in India which includes Delhi NCR, Gujarat, Mumbai, Pune, parts of Andhra Pradesh, Uttar Pradesh and Madhya Pradesh.
Also read: Maruti Suzuki announces June exchange carnival