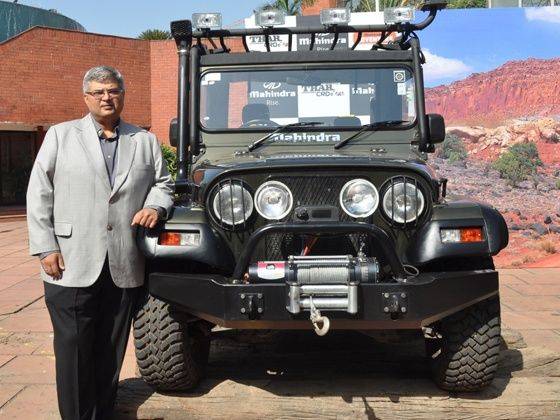 The Mahindra Thar CRDe has already established itself as the quintessential 4X4 vehicle in India. The topless retro Jeep makes for a thrilling drive in the mountains, but on city streets overexposure to scorching sunlight could mean discomfort.
To tackle this, Mahindra & Mahindra Ltd (M&M Ltd) has upped the cool quotient of its Thar CRDe model by introducing a factory fitted air-conditioner/heater that can handle the fiery Indian summer as well as the chill winter months. A digital immobiliser will also be an added safety feature on the A/C trim version.
At the launch. M&M also unveiled the Thar Expedition, a customised variant of the AC Thar, geared to traverse almost any terrain. This extreme off-road spec model boasts of specialised fitments such as a custom made front bull bar with an integrated electric winch, rock sliders, snorkel, expedition carrier and rollcage to boost its off-road capability.
At the launch of the cool new Thar, Vivek Nayer, Senior Vice President - Marketing, Automotive Division, Mahindra & Mahindra Ltd said, "We are always responsive towards evolving customer needs and the launch of the New Cool Thar (AC) is a step towards giving our customers utmost comfort while they navigate through challenging terrains. This further leverages the changing aspirations and lifestyles of the upwardly mobile Indian consumer without compromising on comfort."
Popular among off-roading enthusiasts in the country, the 105PS Thar 4x4 in its newly introduced A/C version will sell for Rs 6.75 lakh (ex-showroom Mumbai). The Thar is incidentally also available with a DI engine as a base variant in both 2-wheel and 4-wheel drive configurations.