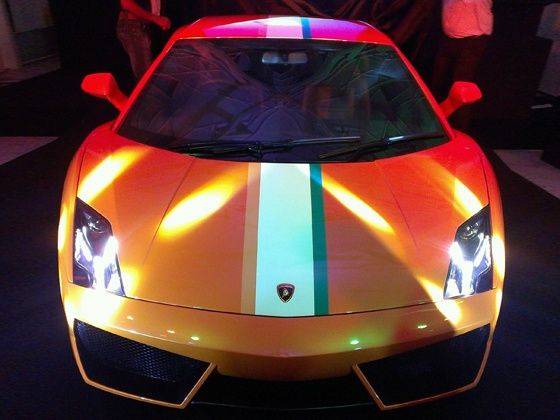 It was rumoured in early January that Lamborghini would be launching a special limited edition India model of its most successful supercar, the Gallardo. Lamborghini has kept its word and in doing so launched the Gallardo LP550-2 'India Serie Speciale', which is very exlcusive and hence limited to only six examples. As part of the Italian supercar manufacturer's 50th anniversary celebration this is the first India spec Gallardo model to be introduced by the Raging Bull as it had launched the Singapore Edition, Hong Kong 20th Anniversary Edition, Bianco Rosso (Japan Edition), Malaysia and Indonesia edition earlier.
The India limited edition Gallardo would be only available only in three colours options, which are pearl orange (Arancio Borealis), white (Bianco Monocerus) and pearl green (Verde Ithaca) symbolising the Indian tricolour. To distinguish the car's exterior from other Gallardos it is adorned in a tricolour stripe running the entire length of the car (from its front bonnet to the roof and engine bonnet) like the one found on the 'Balboni Edition'. Also the optional 'Cordelia rims' is standard on the car which has been given a brushed silver finish.
Swing open the door and one would be welcomed by an all-black theme interior which apes the standard Gallardo cabin, but therein lie a few details which differentiate the India Serie Speciale from just any other Gallardo. The colour of stitching used on the driver's seat is green whereas that of passenger's seat is orange and white stitching has been employed on the doors, centre console and dashboard signifying the colours of the Indian flag. Lamborghini has also added an 'India Serie Speciale' plate on the driver-side quarter glass plate close to the driver-side quarter glass to imply the limited edition credential.
There has been no change made to the heart of the Baby Bull as it uses the same fire-breathing V-10 as seen on the standard LP550-2 pumping out 558PS @ 8,000rpm and torque rating of 540Nm @ 6,500rpm. All this power is transmitted to the rear-wheels by a six-speed, single-clutch e-gear transmission for a 0-100km/h dash to be dealt in 4.1seconds and top speed of around 320km/h. This is the fourth model to be launched by the Italain brand for our country as it had launched the Aventador Roadster, 2013 Gallardo LP 560-4 and the Gallardo LP 570-4 Edizione Tecnica. Lamborghini has priced the Gallardo LP550-2 'India Serie Speciale' at Rs 3.06 crore (ex-showroom, Maharashtra).