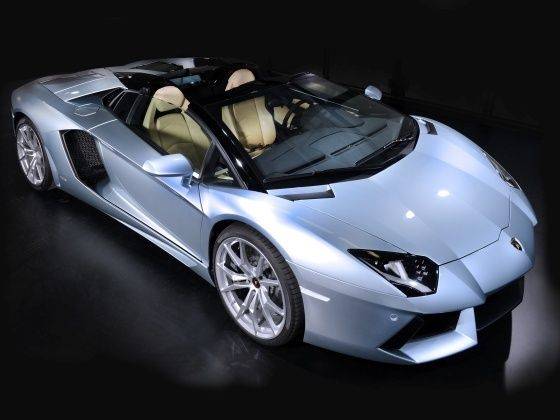 Lamborghini has launched the jaw dropping Aventador Roadster in India at an equally jaw dropping Rs 4.77 crore (ex-showroom Delhi).
The Aventador Roadster like the coupe is powered by Lamborghini's naturally aspirated 6.5 litre engine generating 700PS of power. Despite the added 50kg kerb weight, the Roadster can go from 0-100 km/h in 3.0 seconds (2.9 seconds for the coupe) and top speed is rated at 350 km/h with or without the removable roof.
The Aventador Roadster uses a removable two-piece carbon fibre roof that can only be arranged manually. The manual roof adjustment has been chosen to keep things simple and the weight down. Lamborghini states that the roof is easy to handle and simple to attach.
With the roof gone, the Aventador Roadster has not lost out on performance on paper but has gained a two-tone paint finish with the exterior featuring a gloss black shade on the roof, pillars and rear window area. The scissor doors of the Aventador Roadster have been given chamfered edges for better fit and finish for the frameless windows. Another Roadster exclusive are the new lightweight alloy wheels (20 inch upfront and 21 inch at the back) that cut weight by 10 kg.
Slideshow:
Lamborghini has also added a powered rear windshield and removable wind deflector that can be mounted on top of the front windshield to reduce air turbulence inside the passenger cabin at speeds.
The rear pillars of the Aventador Roadster have been modified to give the open top hypercar more strength when the roof is removed and more protection in the event of a rollover, they also provide more ventilation to the engine. The engine cover itself has also been redesigned to feature a spinal cord like design with hexagonal vents.
Bookings for the Lamborghini Aventador Roadster will start from February 2013 and deliveries are expected to take place from June 2013.
Also read: Lamborghini Aventador : First Drive
Slideshow: