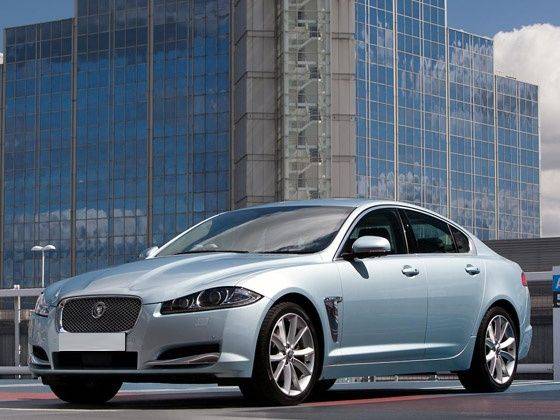 The luxury car market in India has gained considerable momentum over the years and Jaguar has been eyeing a larger chunk of the luxury executive sedan market by locally building its XF luxury saloon to bring down costs and go head to head with its German rivals. A move that has become a reality with JLR kicking off assembly of the XF 2.2 litre diesel in India at its Pune facility, alongside the Land Rover Freelander 2 which has been built in India since 2011.
The locally assembled Jaguar XF 2.2 is powered by the company's 2.2 litre diesel engine that also does duty in the Freelander 2. The 2.2 litre diesel engine in the Jaguar XF delivers 190PS of power and 450Nm of torque. Jaguar has also introduced an eight-speed ZF automatic gearbox across the XF model line-up to improve performance and efficiency.
The Jaguar XF range now gets an added an array of standard features such as a touch screen navigation , optimized audio and navigation controls, front passenger seat away, paddle shifters, TV tuner, rear view camera, electric sunroof, rear screen electric blind and a full size spare wheel to increase the value quotient.
Thanks to local assembly, the Jaguar XF model line-up now starts at Rs 44.5 lakh (ex-showroom Mumbai) for the 2.2 litre diesel model, the 3.0 litre diesel XF costs Rs 11.63 lakh more. Jaguar will continue to sell the XF with the 3.0 litre diesel engine and the 5.0 litre supercharged V8 petrol model as well.
The XF 2.2 is a crucial game changer for the British luxury car marque in India. As it can now compete directly with its German rivals, Mercedes-Benz, BMW and Audi on two fronts, price and variants.
Each of the three German luxury car makers in India sell two diesel versions of their executive luxury sedans, the entry level diesel is either a 2.2 litre (in case of Mercedes-Benz) or a 2.0 litre (in case of Audi and BMW) unit while the flagship diesel models are powered by 3.0 litre powerplants.
In the smaller diesel engine category, Mercedes-Benz has the most powerful car with the E250 CDI Avantgarde developing 206PS of power and 500Nm of torque while the Jaguar XF 2.2 diesel comes in a close second. Both cars wear an almost identical price tag too.
The Jaguar XF 2.2 litre diesel will compete against the Audi A6 2.0 TDI, BMW 525d, and the Mercedes-Benz E 250 CDI Avantgarde in India.
Also read: Jaguar F-Type to launch in India mid-2013