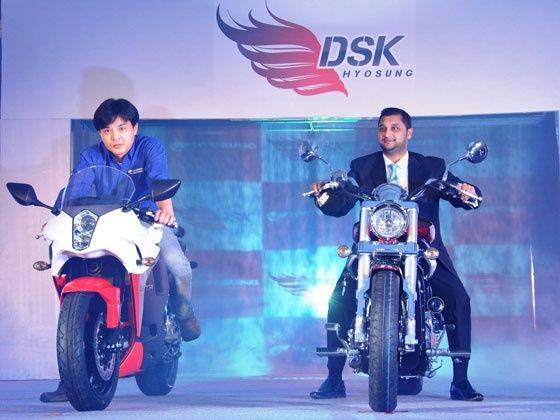 Cruisers aren't really the most commonly seen motorcycles on Indian roads, but the few that are up for grabs in the Indian market have grabbed quite a lot of attention. Needless to say Hyosung is an elite member of this squad.
But, while the ST7 is your typical laid back cruiser meant to ride the torque, Hyosung has now introduced a sleeker looking power cruiser to go after the sport bikes. This is the Hyosung GV650 Aquila Pro, which marks the return of the 'Aquila' moniker to the Indian two wheeler market after almost an entire decade.
Powering the new GV650 is a 647 cc DOHC, water-cooled 90 degree V-twin. It dishes out a meaty 75 PS at 9,000 rpm and 62.1 Nm @ 7,500 rpm. Transferring all that power to the rear wheels via a belt is a 5-speed constant mesh gearbox.
Built around a tubular steel cradle chassis the chrome clad power cruiser comes fitted with an instrument pod dominated by a digital speedometer (there's no tacho). There's also an engine temperature gauge, a fuel gauge, a clock, and a choice of two trip meters and an odometer. Inverted forks and a broad 180 section rear tyre would give the Aquila tremendous road presence no matter where it chooses to cruise.
Backed by all of its V-twin muscle the GV650 Aquila Pro will hit the 100 km/h barrier in 6 seconds flat Hyosung claims the bike is easily capable of 195 km/h, and our recent road test didn't leaves us wondering whatsoever. (Read : Hyosung GV650 Aquila Pro Road Test)
Priced at Rs 4.99 lakh (ex-showroom Delhi) the GV650 was surprisingly not the only hugely anticipated Hyosung offering to be launched. To everyone surprise, the Koreans have also introduced their all-new GT650R at Rs 4.79 lakh, which we were expecting sometime in February.
Nevertheless, the good news is that it is officially here and has undergone significant rework only to return more capable and if I may say so, far better to look at as compared to its predecessor. A revised headlamp design, Titanium two tone exterior colours, a different shade for the instrument panel offering better visibility, and very importantly KYB fitted front and rear suspension components makes the 2013 version GT650R a far superior product. Other technical specifications remain the same.
Sharing his thoughts at the launch of the super bikes, Mr. Shirish Kulkarni, Managing Director, DSK Hyosung said, "We are very passionate about promoting superbiking culture in India by introducing niche products for our valuable customers and superbiking fraternity as a whole. Aquila Pro as our campaign says 'soul of a cruiser, heart of a racer' is one of the best looking cruisers I have ever seen. It is basically about fun and the sheer joy of riding. When it comes to the newly launched GT650R - 2013 its sheer racing style is going to the win the hearts of lovers of super sports bike in India".
The Aquila Pro (650cc) power cruiser will be available in three colour variants - Red, Silver & Black. While the 2013 edition of GT650R will be available in 3 color variants - Titanium White, Titanium Red and Titanium Black.